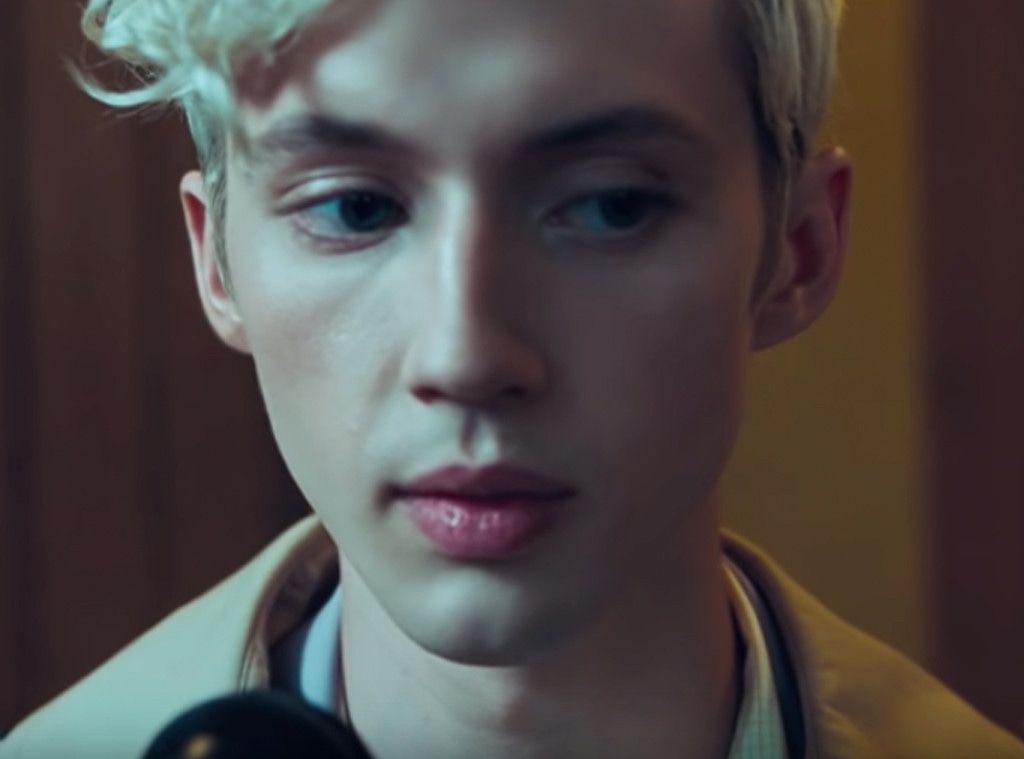 PSA: Troye Sivan turns 24 years old today and he's already done more than us mere mortals have done with many more years.
In 23 years thus far, the birthday boy has managed to dabble in just about everything Hollywood has to offer and he's not even from here. In fact, the singer was born in South Africa and raised in Australia and yes, he does currently reside in Los Angeles, but it's not like it was in his blood to be a super star...or was it?
The "My My My!" singer started out in showbiz back in 2006 by singing for the Channel Seven Perth Telethon in Australia and he hasn't looked back since.
In addition to releasing two albums and two extended plays over the past four years, Sivan has done theater and he's been in big blockbusters.
He was the young James Howlett in X-Men Origins: Wolverine, remember? Plus, more recently he recorded a song for Boy Erased, which he also starred in as Gary.
As a reminder, he did all of this before turning 24!
Sivan has also written a song for Love, Simon and Sierra Burgess Is a Loser all while focusing on his own solo projects.
While we are super excited to see the young star in movies, and writing songs for them, it's his all-in music projects that we continually live for.
Both Blue Neighbourhood and Bloom were amazing albums and his extended plays paved the way for their success.
As we celebrate Sivan and all he's done on his birthday, we've decided to focus even more on his epic music video catalog. Check out his very best videos below and then vote for the one that you can't help but watch on repeat!
"My My My!"
In 2018, the Australia native released his epic "My My My!" video and we're still talking about it. From the very beginning it feels like Sivan is channeling his inner Michael Jackson with his wardrobe and dance moves and it is killer. There are flashbulbs going off, Sivan dancing in a warehouse and then outside before it switches to him in a colored room working it.
"Dance to This" feat. Ariana Grande
Pick a time and place and Sivan and Ariana Grande will be there ready to dance…even if that means a random rec room full of bizarre characters. In "Dance to This" the singers join forces to entertain themselves and dance up a storm in a dreary room full of old people, kids drinking juice and others playing games. Everyone else might be bored to tears, but Sivan and Grande are having the time of their lives.
"Wild" feat. Alessia Cara
This fun video makes us feel like we are a part of Sivan's crew because it is shot like a home video. There are glimpses of him hanging out in the park with his friends, taking photos and goofing off with them. Plus, Alessia Cara's addition as a part of this squad (and musically) is super cool and fits perfectly into the real-world feeling the video has.
"Bloom"
Music is art and nothing proves that more than the video for "Bloom." While watching this video you will feel like you're a part of a modern art installation thanks to Sivan's bold and dramatic costumes juxtaposed between images of flowers, shapes and body parts, close up and in motion.
"Youth"
"Youth" gives off major retro house party vibes and we're for it. In the video, Sivan shows off his vocal chops in between party scenes, purple and blue lights, dancing scenes and falling in love while being young, wild and free.
"Lucky Strike"
Ready to go to the beach? Well, then we have the perfect video for you! Throughout this song, Sivan can be seen in fun summer colors singing on the beach while starring at a hot guy working at the beach bar. It quickly switches to a summer love story between the two guys shot like a retro film movie and it's totally swoon-worthy. Oh, and there is strange heart imagery throughout as well that will have you questioning what love can really do to your heart.
"There for You" with Martin Garrix
In 2017, the Aussie singer teamed up with Martin Garrix for an upbeat jam that we are still singing along to. With their video, you see Garrix killing it on stage with fire, lights and fireworks in between clips of him on the road, walking alone while trying to achieve his dreams of music success. There are also gorgeous moments of Sivan and Garrix enjoying the slower times while traveling like starring at the Golden Gate Bridge.
"Heaven" feat. Betty Who
"Heaven" is the perfect tribute to the gay community and finding love no matter what your gender and it will give you all the feels. The video itself shows footage from gay rights marches, men falling in love without fear and women getting married. We also see Sivan finding himself and getting real about being his full self as a gay man. It's powerful and touching.
"Wild"
"Wild" kicks off a trilogy of videos from Sivan from his Blue Neighbourhood album that tell quite a story. This song and its corresponding video shows two young boys, one of which is meant to be Sivan's character, who were best friends and did everything together. They ride bikes together, play games, and have each other's backs even though one of their dads is an alcoholic and is starting to spiral out of control. Their friendship runs deep and it's clearly becoming more.
"Fools"
"Fools" picks up with the two boys being teenagers, still friends, but now they've grown closer and become an item after kissing in the first video. In between images of one of the boys getting beat by his alcoholic father for kissing his friend (Sivan), you see the two boys clearly in love. In order to keep his friend safe from his abusive father, the one guy tries to stay clear of his childhood love and begins to date girls instead to keep his dad happy.
"Talk Me Down"
"Talk Me Down" is the final chapter in the story of childhood friends who are in love, but aren't together because of a homophobic alcoholic father of one of them. The video begins at the funeral of the alcoholic father. His son is with his girlfriend and family as his old friend (Sivan) shows up for support but is heartbroken seeing him with someone else. After everyone else leaves the two reunite and Sivan's character holds his friend close to comfort him until his girlfriend shows back up and what happens next is chilling.
Now that you've seen our favorite videos from the birthday boy, make sure to cast your vote for which one you think is best below.
Troye Sivan's Best Music Video