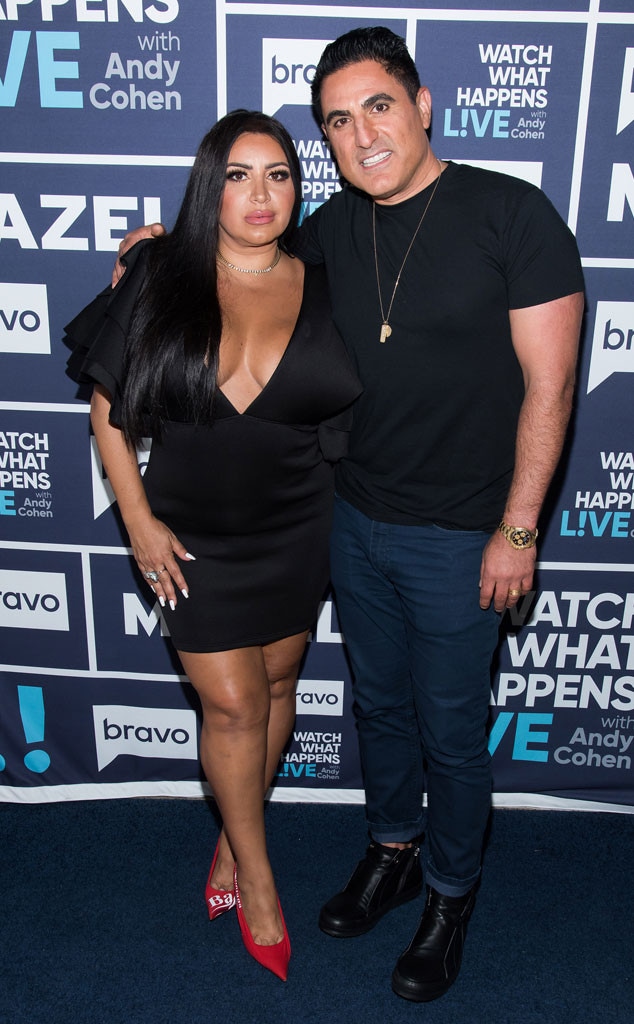 Charles Sykes/Bravo
UPDATE: Reza Farahan has obtained a three-year restraining order against Tommy Feight, the husband of his Shahs of Sunset co-star Mercedes "MJ" Javid, E! News learned on Friday. Feight was ordered to stay 100 yards away from him during that time period.
In July, Feight had pleaded not guilty to vandalism and trespassing charges brought forth by Farahan, who had obtained a temporary restraining order against him.
_____
Shahs of Sunset star Reza Farahan has filed a restraining order on Mercedes "MJ" Javid's husband, Tommy Feight.
E! News has obtained the restraining order Farahan filed again Feight. The 45-year-old reality TV star alleged that Feight not only vandalized his home (which he shares with partner Adam Neely), but he claimed that MJ's husband also "called and said he was going to kill me."
The Shahs of Sunset star wrote on the restraining order that the incident happened on Sunday, May 19. On Monday, May 20, he shared that he "went to the courthouse to file some paperwork" in Van Nuys, Calif.
In addition, the LAPD confirmed to E! News that "officers took a report after an act of vandalism occurred at the address."
Moreover, in the legal documents, Reza said that Adam allegedly saw everything happen on their home security camera, and they obtained a video of Feight supposedly "holding a bat" when he stepped onto their property.
Over the last few weeks, fans of the Bravo reality series may have seen both MJ and Reza feuding over social media.
Apparently, the 46-year-old star was fine with Reza before giving birth to her son, Shams Frances Feight. However, she alluded that their friendship was over when Reza allegedly failed to visit her in the hospital, especially after being admitted into ICU.
In a since-delete post, Mercedes shared a message in a notes app where she revealed she wouldn't be part of Shahs of Sunset season 8. Additionally, many fans assumed she was talking about Reza in her post. Although, she never explicitly mentioned his name.
"Hope you guys have a great season without me!! I cannot wait to watch!" she wrote in a now-deleted statement. "I'm truly impressed by the extraordinary level of SELFISHNESS you have shown me during something so serious. But it's crystal clear now and I appreciate the heads up. I'm declared a miracle to have lived thru [sic] a medical ordeal during 55 hours of childbirth, nearly never met my son, and had over 50 Cedars doctors & nurses come to see with their own eyes that I made it—doctors and nurses who had never even meet [sic] me—ever, came in repeated times.. and where are my f**king "friends?""
Watch:
"Shahs of Sunset" Star Mercedes "MJ" Javid Gives Birth
Furthermore, the 45-year-old star took to social media to shut down Mercedes' claims. In his since-deleted post, he shared several text messages between him and MJ that showed he planned to visit her.
"When you're evil and plotting against your best friend of 30 years, make sure not to leave receipts in plain sight," he captioned his statement. "The fact is someone that I loved, cared for and supported allowed fame to get to her head and she came for me while she was "dying" and in ICU. Luckily her health scare passed quickly and she was out and about going to the opening of an envelope."
He wished Javid's newborn all the best and closed his statement with: "If none of my friends came to see me while I was in ICU giving birth I'd look inward. AND TELL YOUR HUSBAND NOT TO THREATEN ME BY PHONE!!!!"
On Monday, The Blast reported Reza posted text exchanges to social media that alleged that MJ was not doing well after giving birth to her son. Reza told the outlet that he allegedly began receiving "threats" from Tommy via phone after that.
—Reporting by Jessica Finn 
(This story was originally published Tuesday, May 21, 2019 at 12:25 p.m. PST)
(E! and Bravo are both part of the NBCUniversal family.)