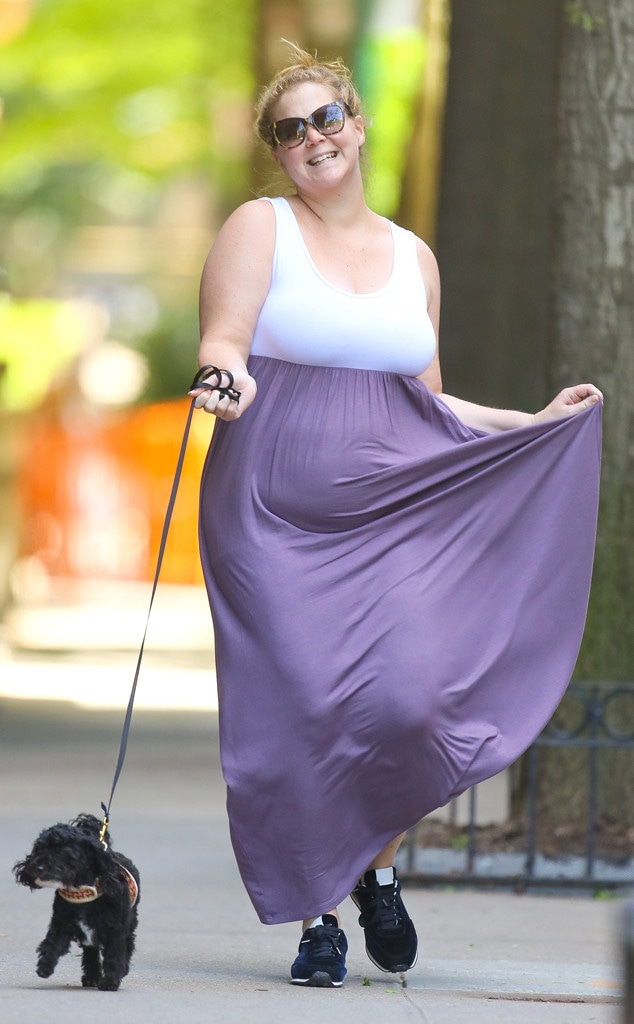 Felipe Ramales / SplashNews.com
Amy Schumer is back!
The 37-year-old returned to the stage on Monday night as she performed a set at the famous Comedy Cellar in New York City. Schumer posted a photo on Instagram from her set this evening. Fellow stand-up comedian Jon Laster took the picture and she captioned it, "Pic from tonight by @hewasfunny I'm back!"
What makes her return even more remarkable is that is comes just two weeks after she and her husband Chris Fischer welcomed their first child on May 5. She revealed two days later that they named their baby boy Gene Attell Fischer.
Schumer has been extremely upfront and transparent throughout her entire pregnancy about the difficulties and pain she endured over the course of nine months. However, she's always managed to balance the discomfort with comedy.
On Saturday, the Trainwreck star posted a photo of herself pumping breast milk and dubbed it her "outfit of the day."
Towards the end of April, many Schumer fans speculated that she had given birth because she shared a photo of a book and said that it "got me through pregnancy."
Once she saw that people were tentatively offering up their congratulations and birth rumors swirled even more, she quickly took to Instagram once again to clarify the situation. She added a picture of herself and Fischer walking down a path and mimicked tabloid articles in her caption.
"Amy Schumer And Chris Fischer set pulses racing while the heavily pregnant Schumer flaunts her growing bump," she wrote. "Amy is still pregnant and puking because money rarely goes to medical studies for women such as hyperemesis or endometriosis and instead goes to things like dicks not getting hard enough or old guys who want harder dicks."
Schumer suffered from hyperemesis gravidarum, which is severe nausea and vomiting, throughout her pregnancy. This took a major toll on her comedy career. In November, she was hospitalized for the condition and was forced to delay some tour stops.
The comedienne posted a picture of herself from a hospital bed on Nov. 15 and wrote, "Texas I am so deeply sorry. I have been really looking forward to these shows. I have to reschedule. I am in the hospital. I'm fine. Baby's fine but everyone who says the 2nd trimester is better is not telling the full story."
Her post continued, "I've been even more ill this trimester. I have hyperemesis and it blows. Very lucky to be pregnant but this is some bulls--t! Sending so much love to the doctors and nurses taking great care of me and Tati! They are cool as hell! And Texas I am really really sorry and I'll be out there as soon as I'm better."
She returned to the stage just a few days later at a show in New Jersey.
In February, Schumer canceled the rest if her tour due to "complications."
"The baby and I are healthy and everything looks good. But I am in my third trimester and I am still nauseous all the time and vomiting," she told her followers at the time. "I vomit mostly every time I ride in a car even for five minutes."
She added, "I hate letting people down and I love stand up and money! But more than that I have to think about my health and the baby."
The I Feel Pretty star talked about motherhood and pregnancy in her Netflix comedy special, Amy Schumer Growing, which came out March 19.
"So now that I'm a role model to my little fetus, which I am keeping, I've got to be more mature, more grown up, more dignified," she quips.