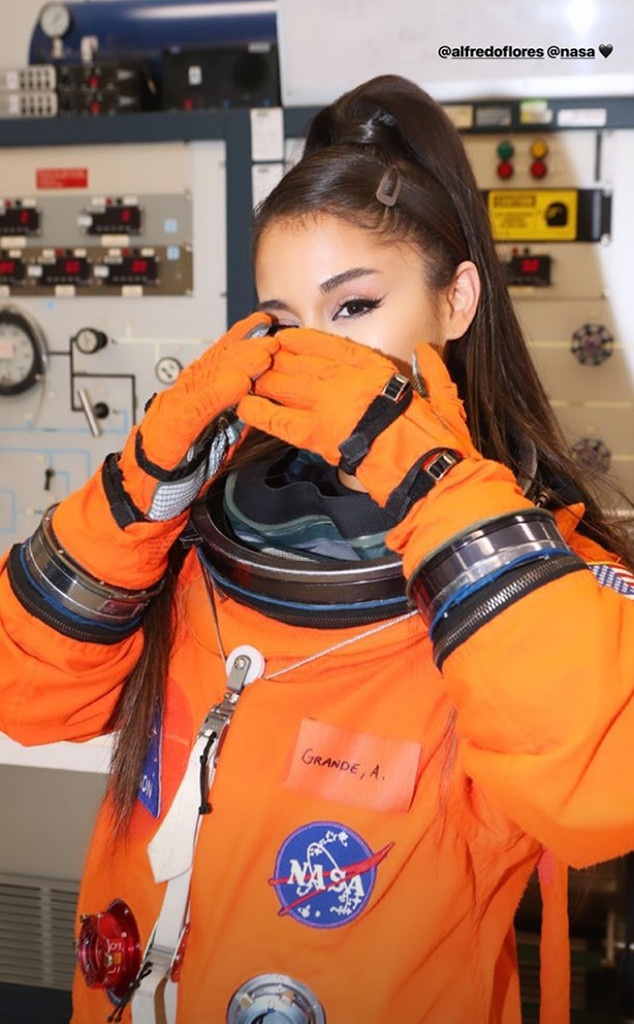 Instagram / Ariana Grande
Ariana Grande's Saturday was out of this world!
The 25-year-old pop star visited NASA's Johnson Space Center in Houston, Texas, a day before her concert in the city. And she dressed the part. She posted on her Instagram Story a video of her inside the building, happily wearing an astronaut's uniform and holding a helmet.
"Thank you for the coolest day of my life @nasa," she wrote. "My mind is still processing and devouring every second of what just happened but I can't wait to share more. What a special day and experience. Thank you so so so so much for your generosity and for showing my friends n i around."
During her visit, she met with astronomers and other workers, looked at and signed NASA equipment and even video-chatted with astronauts on the International Space Station. She also got to ride in a roving vehicle.
"THIS s--t. Was the coolest thing I've ever experienced," she wrote. "Some kinda rover that be going all kind surprise directions. Sooooooo brilliant and also fun (lol)."
Instagram / Ariana Grande
Grande received a special welcome when she arrived; Mission Control's screen read, "Welcome to Mission Control Ariana Grande."
Instagram / Ariana Grande
And her song "NASA," from latest album Thank U, Next, was played. 
A photo from the visit was posted on NASA and the NASA Johnson Space Center's Instagram Stories, along with a play on the song: "It's like you're the universe and we're N-A-S-A."
The track features a spoken word introduction to the song by RuPaul's Drag Race's Shangela, who says, "This is one small step for woman One giant leap for womankind." The TV star came up with the adapted line.