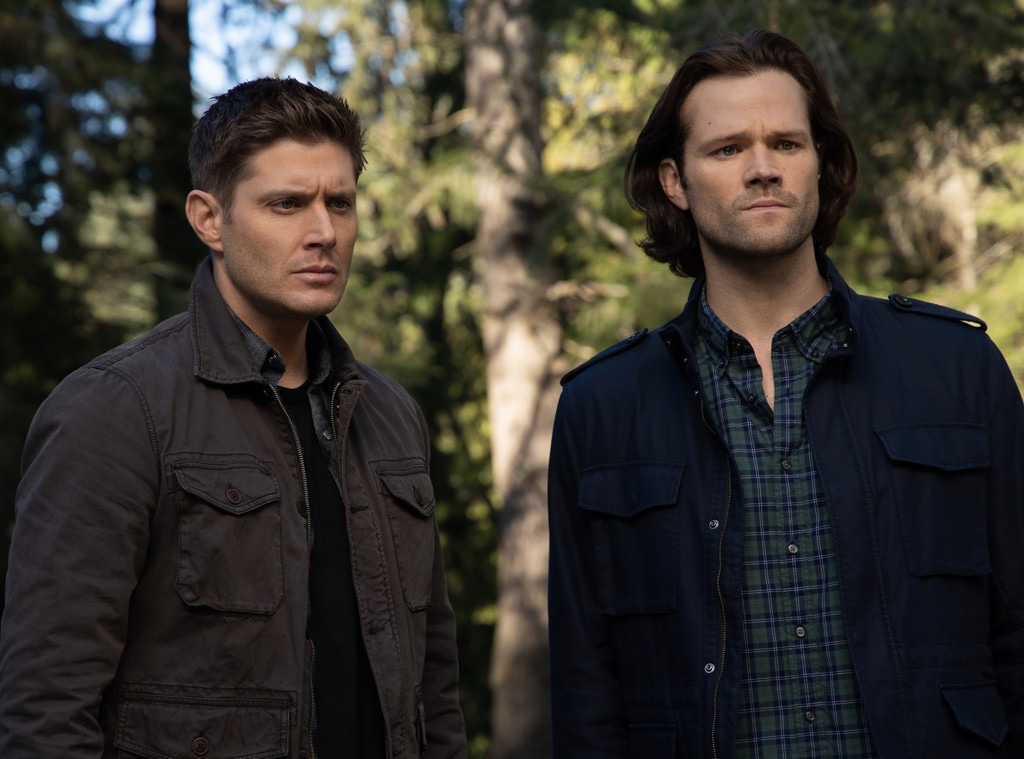 CW
The end is nigh for Supernatural. Series stars Jared Padalecki, Jensen Ackles and Misha Collins announced the show would end after 15 seasons. With the end set, have they started to say goodbye?
"Not yet," Ackles told E! News on the 2019 CW upfront red carpet.
"Are you trying to get us to cry?" Padalecki added.
"[Laughs.] Yeah, what are you, Barbara Walters? What's happening right now? No, again we still have a whole year. I was saying to him, 'It's not like we put in our two weeks notice.' We've got a 12-month notice here. So, we've got a little time to kind of marinate in it and let it soak in. But I will say that once we turn the corner, which is usually after the holidays, it's going to get pretty dusty," Ackles said.
But that doesn't mean things haven't gotten "dusty yet."
"There was a moment when Jensen conveyed a dream he had about how the show ends, and basically to sum it up, Sam is dead, and Dean is having to go off into the unknown on his own," Collins said. "When he conveyed that dream, he teared up, and then so did Jared, and then so did I. It was like, 'Oh my god, we actually are crying about an imaginary character.' But they became real to us, and so that's going to be hard."
When season 15 wraps up, it may not be the end of the line for Sam, Dean and Castiel—depending on who you ask.
"Well, can there be a definitive on Supernatural?" Padalecki asked.
"I was talking to him last night, I was like, 'I don't want to do the whole Game of Thrones thing where everything gets tied up all nice and neat,' I'm like, 'Let's just mess it all up,'" Ackles said. "I don't think I want a definitive ending. We got to keep that—I think we keep that door cracked open for a feature in a few years…There's always ways to bring people back."
Collins has a different take.
"I would love to see a definitive ending, personally. It feels like the show and the audience deserves that," he said.
Whatever happens to the Winchester brothers, Padalecki said there will be no moment where Sam Winchester is truly gone from his life.
"…It occurred to me I don't I ever could say goodbye to Sam Winchester, you know? He's been a part of my life for 14 years, about to be 15 years, he is a part of me. I learned a lot from Sam, I learned a lot from Dean, hopefully Sam learned something from Jared as well. I'll carry that character with me. I mean, 15 years of my life is a long time to be really indebted in somebody else's journey, so I'll carry him with me in some way, shape or form."
Supernatural returns to Thursdays at 8 p.m. on The CW this fall.