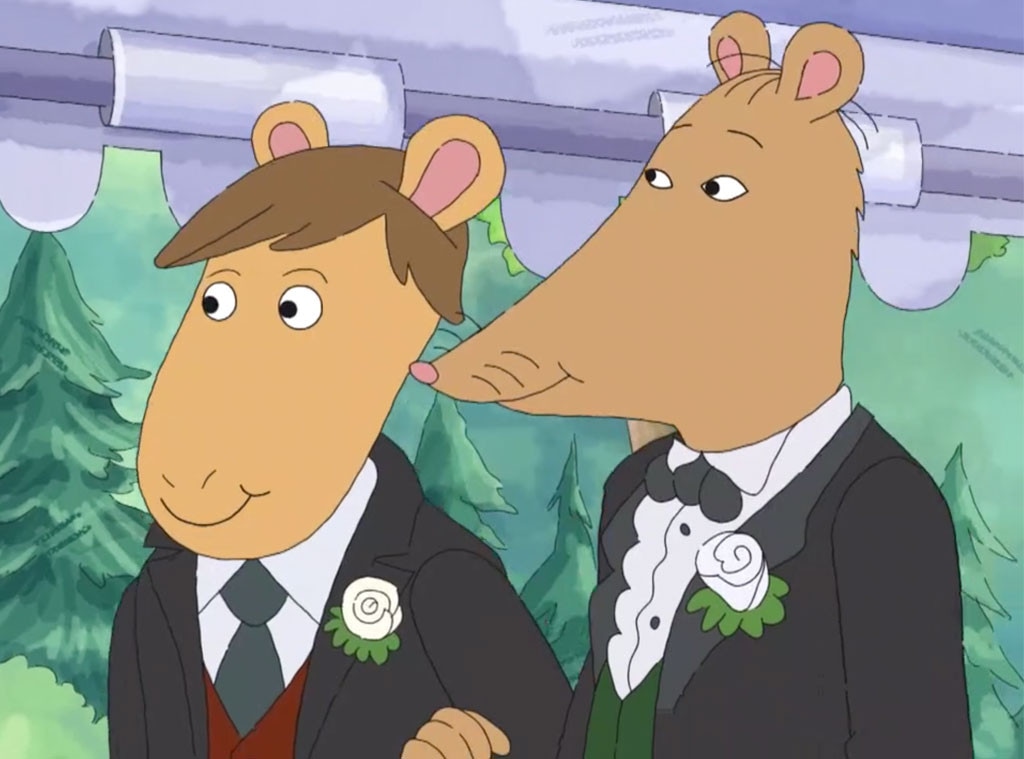 Courtesy of PBS Kids
Save the Arthur hand memes for another day, because the beloved children's show has fans jumping for joy.
Believe it or not, the animated kid's series Arthur is still going strong on the air. Right now, it's currently in its 22nd season on PBS Kids and the show's premiere is receiving praise for its inclusive storyline.
It turns out Mr. Ratburn, the cake-loving school teacher, is gay. That's right, in Monday's premiere episode, the famous character is marrying the man of his dreams. From the feedback on social media, many are rejoicing over the plot.
"Omg I'm crying Mr. Ratburn got married!! Arthur really said gay rights," one person tweeted about the news. Another fan wrote online, "i'm grown ass is still watching Arthur and y'all, when i saw that Mr Ratburn got married aND HES GAY, my wig got snatched."
One person perfectly summed it up with their post, "genuinely didn't know arthur still made new episodes but we stan mr ratburn."
The episode, titled "Mr. Ratburn and the Special Someone," shows Arthur and his pals trying to figure out who their teacher is engaged to. The mystery is finally revealed when the students see Mr. Ratburn walking down the aisle with his soon-to-be husband.
Courtesy of © 2012 WGBH Educational Foundation
And because this is Mr. Ratburn we're talking about, Arthur and his friends confirm that the wedding cake was good. "This is the best cake I've ever had," Buster tells Francine and Arthur. During that same conversation, Francine can't help but notice that "it's a brand new world."
TV Line pointed out that this isn't the first time the children's TV show includes a gay character. Back in 2005, the series' spinoff, Postcards From Buster, featured the rabbit visiting Vermont to learn about sugar and how it's made. There, he meets other kids, whose parents are lesbians.
However, the word lesbian or gay is never mentioned in either episodes.
You can see the season 22 premiere, here.