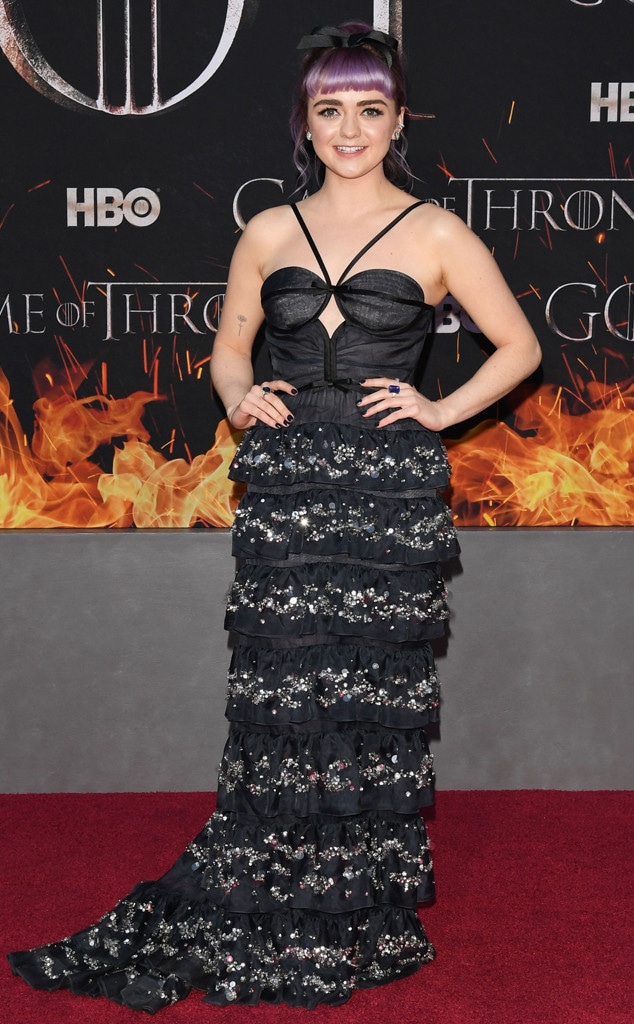 Andrew H. Walker/Variety/REX/Shutterstock
Maisie Williams is opening up to fans like never before.
Just a few weeks after her close friend and co-star Sophie Turner opened up about her mental health, the Game of Thrones star is sharing her own struggles in a new interview.
While appearing on the Happy Place podcast with Fearne Cotton, Maisie revealed a recent change in her thought process that has had a positive impact on her life.
"Last year, in my own personal life, I think I just went through a lot of real revelations where I was like I'm not very happy doing this and pretending everything was fine. And so, that wasn't a public thing but after going through that, now I've sort of tried to be a lot more genuine and it just becomes a lot more relaxing after that I think," she explained. "You just drop it all and that's when you can really have fun."
While the actress is quick to say she's far from perfect, she has many more good days than bad.
"I still lay in bed at like eleven o'clock at night telling myself all the things I hate about myself. There's still a journey, I think. But at least dropping the act and just being who you truly are, I think that's definitely a first step," Maisie continued. "Not trying to be who you want me to be right now in this moment..."
With a solid support system of people around her, Maisie feels comfortable talking through her emotional struggles.
Watch:
Maisie Williams Calls Sophie Turner Friendship a "Godsend"
And with being open, the 22-year-old knows that she is not alone.
"One thing that I've learned is that everyone is a little bit sad, and it was really eye opening to me to understand that. But the more that we talk about it and the more that we help one another, I think that's really important," she shared in the podcast.
Maisie continued, "I think there was a period of time where I was very sad and then I came out of that, and now it's just really terrifying that you're ever going to slip back into it. That's still something that I'm really working on because I think that's' really hard. It's really hard to feel sad and not feel completely defeated by it."
Ultimately, when you are doing things you love—like acting in Game of Thrones, speaking on a podcast and other projects—it's less about what other people think. Instead, it's focusing on yourself and your happiness.
"I definitely made a couple of really big changes in the last few of months. And it was the most incredible thing when one morning a few weeks ago I just woke up and I'm like, 'God, all the things I'm doing this week I'm really excited for.' That was like a real breakthrough for me because I'd been doing so many things that had got so many—so many people thought were amazing but actually I didn't get a lot of fulfillment from at all," Maisie shared. "I think that's something I want to take with me for the future, try to do more things that I'm excited for rather than what people want me to."