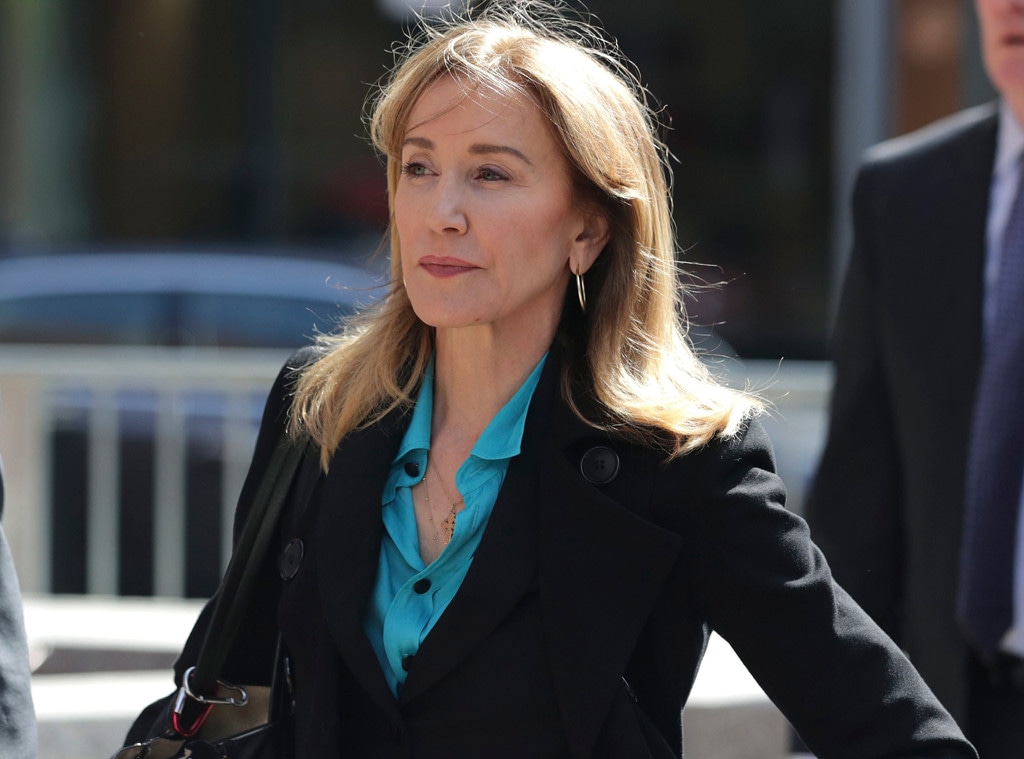 Charles Krupa/AP/REX/Shutterstock
Two months ago, life as she knew it changed for Felicity Huffman. 
It was on March 12 that the star was arrested after being named one of many defendants accused of being involved in a college admissions scandal, including fellow actress Lori Loughlin. As the news sparked headlines, the Oscar nominee was taken into custody in Los Angeles and charged with conspiracy to commit mail fraud and honest services mail fraud.
"Beginning in or about 2011, and continuing through the present, the defendants—principally individuals whose high-school aged children were applying to college—conspired with others to use bribery and other forms of fraud to facilitate their children's admission to colleges and universities in the District of Massachusetts and elsewhere, including Yale University, Stanford University, the University of Texas, the University of Southern California, and the University of California—Los Angeles, among others," an affidavit in support of the criminal complaint stated. 
In regard to the American Crime star, "Huffman and her spouse made a purported charitable contribution of $15,000 to [Key Worldwide Foundation] to participate in the college entrance exam cheating scheme on behalf of her oldest daughter," the affidavit further alleged. "Huffman later made arrangements to pursue the scheme a second time, for her younger daughter, before deciding not to do so." William H. Macy, the star's husband of more than 20 years, was not charged. The couple are parents to two teenage daughters. 
After being taken into custody, Huffman faced a judge in a Los Angeles courtroom. There, the Desperate Housewives alum was granted a signature bond of $250,000 with promise to return to court. The bond did not require any money or property to be posted. The actress was also ordered by the court to surrender her passport and is required to seek pre-trial services approval for any travel within the United States. For any international travel, she must get approval from a judge. 
By the end of that week, the star had deleted her social media accounts and kept out of the spotlight until she returned to court, this time in Boston, in early April. There, she confirmed she understood the charges against her and agreed to conditions set for defendants in the case. 
Less than a week later, the Department of Justice announced Huffman was one of the defendants who agreed to plead guilty to one count of conspiracy to commit mail fraud and honest services mail fraud. 
"I am pleading guilty to the charge brought against me by the United States Attorney's Office. I am in full acceptance of my guilt, and with deep regret and shame over what I have done, I accept full responsibility for my actions and will accept the consequences that stem from those actions," Felicity said in a public statement. "I am ashamed of the pain I have caused my daughter, my family, my friends, my colleagues and the educational community."
She continued, "I want to apologize to them and, especially, I want to apologize to the students who work hard every day to get into college, and to their parents who make tremendous sacrifices to support their children and do so honestly."
Huffman's statement concluded, "My daughter knew absolutely nothing about my actions, and in my misguided and profoundly wrong way, I have betrayed her. This transgression toward her and the public I will carry for the rest of my life. My desire to help my daughter is no excuse to break the law or engage in dishonesty."
According to the plea agreement obtained by E! News, Huffman faces a maximum of 20 years in prison, but she has not yet been sentenced. The star is due to appear in court on Monday to enter a guilty plea, almost exactly two months after her arrest.