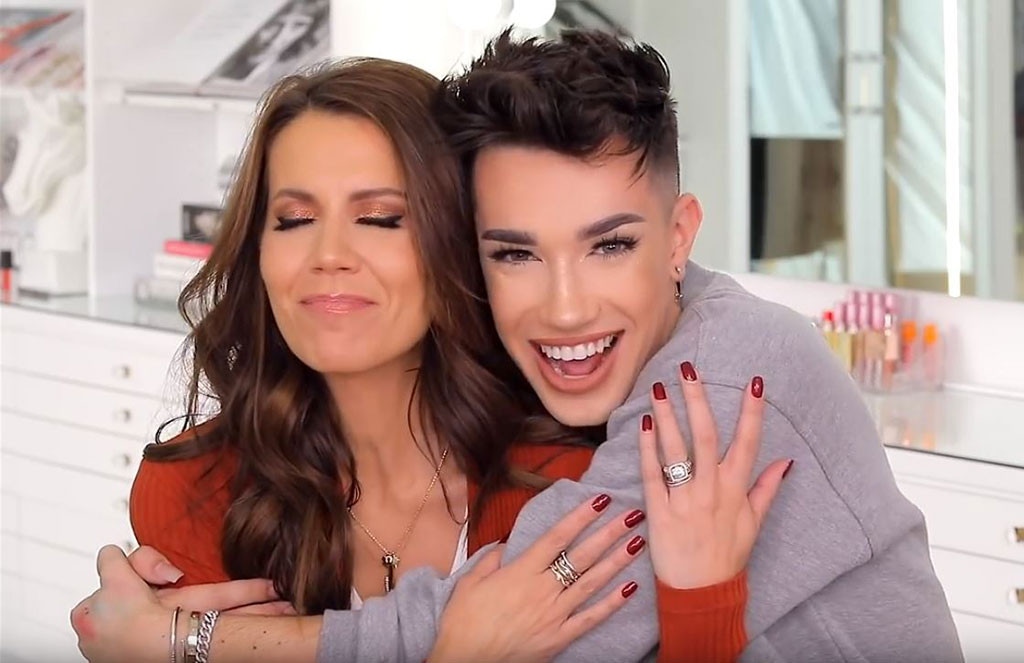 YouTube
The saga continues.
Hollywood celebrities appear to be taking sides in the dramatic and stunning feud between YouTube stars James Charles and Tati Westbrook, which escalated to even greater heights on Saturday.
On Friday, Tati officially severed ties with her once-close YouTube beauty protégé, James. Tati published a 43-minute long video titled "Bye Sister" and sounded off on the 19-year-old and his actions. Tati's video has already received over 16 million views.
James published an apology video of his own later that day (his was 8 minutes, not 43) and spoke about how Tati has been "like a mother" to the YouTube star ever since he got started on the scene.
His video, which has over 13 million views, wasn't enough to sway some A-list influencers because in one day, James lost over 1 million subscribers and followers on various social media platforms.
According to Newsweek, the list includes Miley Cyrus, Kylie Jenner, Katy Perry, Demi Lovato, Tana Mongeau and Shawn Mendes.
Their feud goes back to when James ended up doing an ad for the supplement company Sugar Bear Hair Care, which is a rival to Tati's Halo Beauty. Newsweek reports that Tati asked if James would promote her Halo Beauty products on his channel, but he refused. James' subsequent Sugar Bear ad left Tati feeling "betrayed" and "lost."
During her 43-minute long upload, Tati spoke about how she thought James was ungrateful and criticized his behavior.
"How entitled do you have to be to think that you have it rough? You are a 19-year-old millionaire. You do not get to wake up and stress out about how unfair your job is. That is so ridiculous to me," she said at one point. "Get off your high horse and have some respect. You don't have any for the people who are in this industry and that's the sad fact."
She then asserted towards the end of her video, "You sold out me, but you threw away our friendship. You lied to me, made up a story, you knew this would be embarrassing for me. No our relationship is not transactional. I have never asked you for anything in return."
Tara Ziemba/WireImage; Emma McIntyre/Getty Images for Vanity Fair
James apologized to Tati again and again in his video. 
"I'm sorry for every that that is going on, everything that I put you through over the past few weeks," he said at the top of his upload. He called his former mentor "an amazing person" and that she "truly does want the best for everybody around her."
He concluded, "I'm so disappointed in myself that I hurt her."
James' former friend Jeffree Star later weighed on Twitter, writing, "There is a reason that [my partner] Nathan [Schwandt] banned James Charles from ever coming over to our home again. There's a reason why I haven't seen him since [Tati]'s birthday in February. He is a danger to society. Everything Tati said is 100% true."
Tati and James' feud is hardly the only one in the land of YouTube stars. Check out the list below to see other scandals that went down in the YouTube sphere.
So far, James has yet to post about his loss of subscribers.