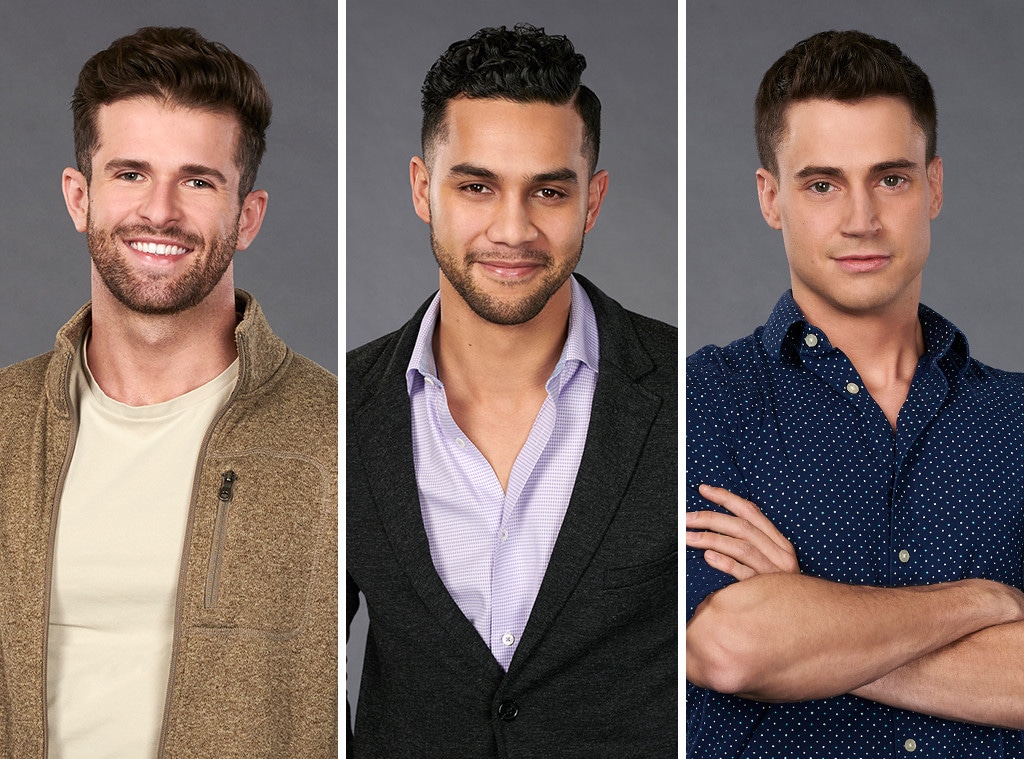 ABC
It's bio time, ladies and gentlemen. 
ABC has finally released full bios and brand new pics for all of the men competing for Hannah Brown's heart on this season of The Bachelorette, which means it's now time for us to scour them for the most ridiculous and most promising bits. 
Already, we're incredibly disappointed that these bios were not done in the style of a beauty pageant introduction, but we can get past that. In fact, we're past it, already distracted by men with boats and airline pilots who can get us (or Hannah) free flights and guys with 114 biological children (REALLY). 
Below, we've compiled the best bits from all the bios, and below that, we've got all of the bios for you to peruse along with our judgment on each and every guy. 
Disclaimer: We're basing all judgment on these bios and these bios alone. 
Cam "is the self-proclaimed 'dance floor king'" and claims he "can freestyle rap about anything and play the harmonica." All three of these things are a no from us, dawg. 
30 year-old Chasen's favorite pasttime is "watching The Bachelor and drinking cocktails with his mom" which is lovely but also...that's his favorite pasttime? 
Connor J's biggest turn-off is a girl who gossips and we heard that Connor J. isn't very fun. 
Connor S. LOVES Justin Bieber. LOVES. In all caps. 
Grant thinks he's "the real-life 'The Dude,'" and he doesn't care about your Crossfit or your Instagram. We might just not care about Grant. 
John Paul Jones only goes by John Paul Jones, loves to drink champagne, and rarely uses words that are less than three syllables long, and somehow John Paul Jones is not a Parks and Recreation character.
Jonathan loves sparklers! 
Kevin won't travel anywhere that doesn't have an available gym. 
Luke P. considers Tim Tebow his hero. 
Luke S. claims to have once hit on Emily Ratajkowski and made her blush, but was she blushing or turning red with rage? We may never know. 
Matt Donald only goes by Matt Donald but is otherwise much more palatable than John Paul Jones. 
MATTEO IS A SPERM DONOR WHO HAS HELPED CREATE 114 CHILDREN. 
Mike is an Air Force vet who loves a trampoline park and wants to learn Parkour. Parkour! 
Peter's grandma's name is Rose. Cool for Peter. 
Scott is a big fan of Kris Jenner and has a really fun story about pretending to be a chicken at a mall. 
Tyler G. has a side business in Dream Therapy Analysis. 
MATTEO. HAS. 114. BIOLOGICAL CHILDREN. and somebody here is suggesting he use that fact as an ICE BREAKER. 
"Hello, I'm Matteo, you'll never guess how many kids I have!" 
No!! 
Anyway while we calm down about this, please take a look at all the guys below! 
The Bachelorette premieres Monday at 8 p.m. on ABC.