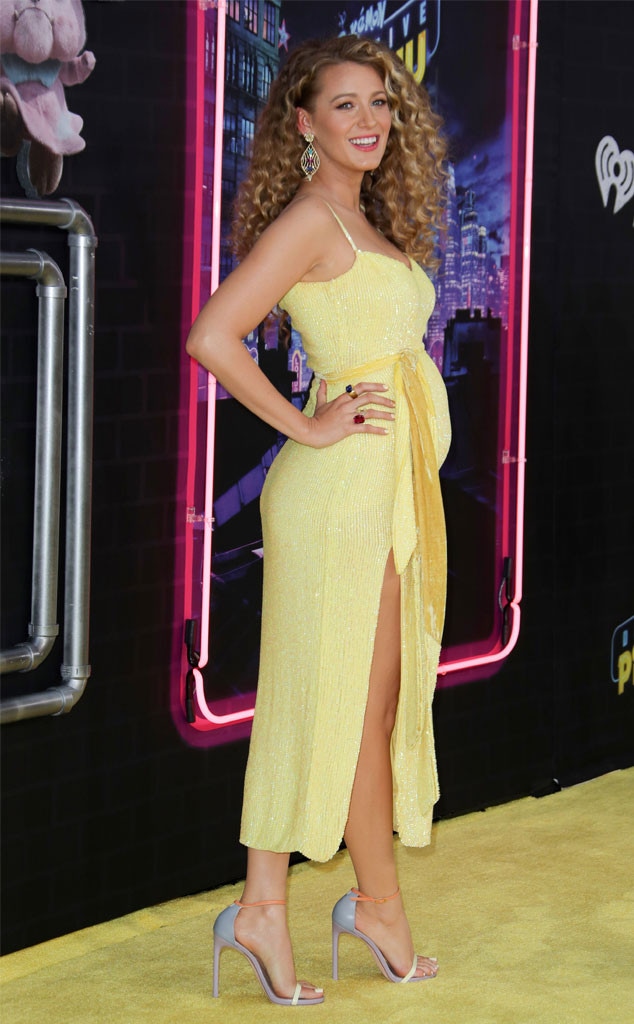 Matt Baron/Shutterstock
When it comes to pregnancy announcements, Blake Lively has never said a word.
On Thursday, it was revealed that the 31-year-old actress is expecting her and husband Ryan Reynolds' third child when she showed up visibly pregnant at the premiere of his latest film, Pokémon Detective Pikachu. Wearing a yellow Retrofête Rebecca Dress, to match Pikachu, Lively showcased a sizable baby bump.
In 2014, the actress announced her pregnancy with her and Reynolds' first child, later revealed to be daughter James, via a photo of her cradling a bump. The pic, taken by her brother Eric Lively, was posted on her website, Preserve, which has since shut down. The image was accompanied by a promotional statement about family, not personally written by the actress.
In 2016, Lively again initially said nothing to the public about her pregnancy with her and Reynolds' second daughter, Inez.
Following media speculation about photos of her covering her seemingly larger midsection on the set of her film The Shallows, multiple reports later said she was pregnant. At the time, a source told E! News, "They are very excited. Blake always wanted two or three kids." 
Weeks later, Lively attended the 2016 Met Gala, wearing a pink down that did not particularly accentuate her baby bump, and said nothing about her pregnancy. Later that month, she attended the 2016 Cannes Film Festival, and again did not speak of it.
By June, she was fine talking about her and Reynolds' plans to grow her family, saying on the Today show, "We're officially breeders," and by July, her baby bump was on full display as she splashed around in the ocean in a bikini at Taylor Swift's Fourth of July party.