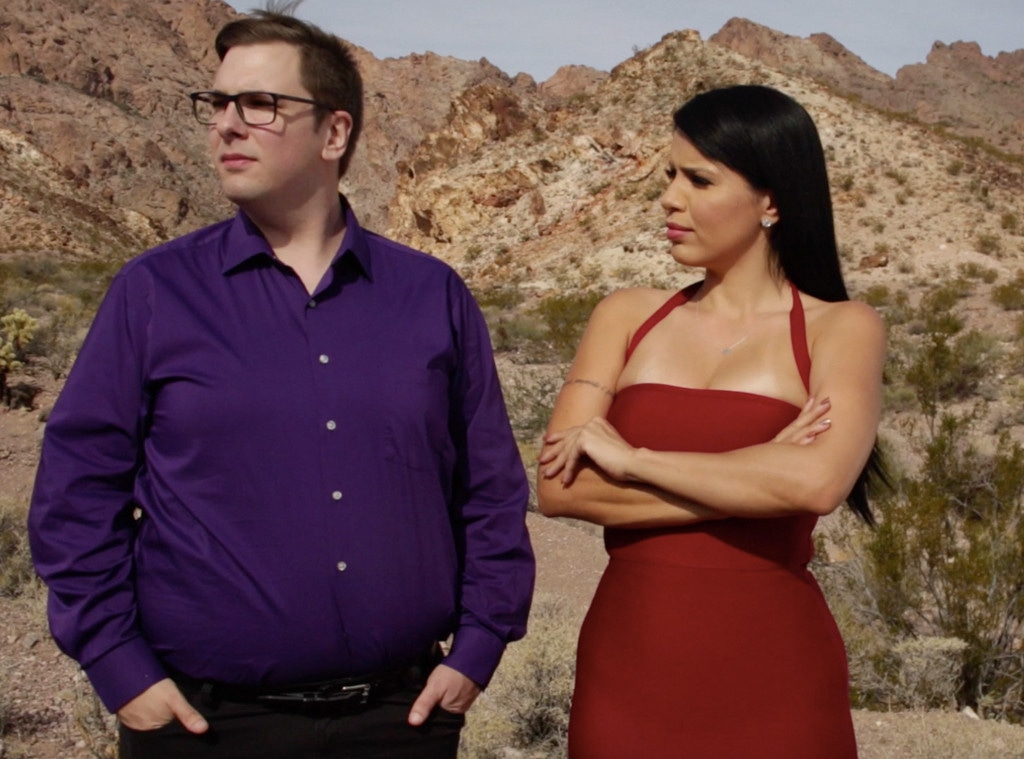 TLC
The 90 Day Fiancé: Happily Ever After? season four premiere ended with Larissa doing an interview in a van, afraid that Colt and his mother Debbie might hear what she had to say. So, what did she have to say?
"Something wrong. I feel like a prisoner and I don't trust Colt," Larissa said. She said Debbie is pulling the strings and working against her with Colt, she made her life and marriage horrible.
Inside, Debbie lambasted Larissa and said, "She's really, really mean."
So, what else happened? Read on!
Larissa and Colt
While Larissa prepared for her trial, Colt and his mother got some alone time. Over margaritas, they discussed the current situation, which Colt called "dark times."
"It would be easy to say goodbye, no thank you, but I love her," Colt said about ending things with Larissa.
The two still aren't communicating. Larissa blames Colt for her arrest and potential deportation. She threatened to divorce him. Spoiler alert: They eventually did.
Nicole and Azan
The two continued to live their lives in different countries, but Nicole grew tired of the long distance and tried to plan a vacation for them to be together. Only one issue? Nicole doesn't have a job—and she's the source of money for the both of them. Nicole also revealed she and Azan previously tried to meet in South Korea, but he was denied entry and the botched trip cost her thousands of dollars.
Chantel and Pedro
The fight over the fight continued. In Chantel's eyes, Pedro still won't take responsibility for the physical fight that happened between him and her family. Chantel tried to mend her fractured relationship with her brother, River, but he's still not ready to accept Pedro in his life. Pedro declined a Thanksgiving invite, and it was probably for the best. Chantel's mother, Karen, pulled out a taser at the dinner table and said the fight that happened between Pedro and her family has made her ready for anything.
Elizabeth and Andrei
The same problems continued for this couple. Elizabeth's family wanted to be more involved with her pregnancy, Andrei wanted them to respect boundaries. At the gender reveal party, Andrei told Elizabeth's dad he would step up and take care of his own…but Andrei's dad said he has yet to see that.
Russ and Paola
Russ and Paola made their way to Oklahoma for Paola's baby shower, but Russ was keeping a secret: He had a job opportunity that would bring him back to the state. He thought if Paola and his family can bond at the baby shower, she'd be open to moving back to Oklahoma for his job.
Ashley and Jay
Jay still didn't seem to understand why Ashley was mad that he was on Tinder. Tension continued between the two and Ashley told Jay she did not want to file for the change in his visa status because she was unsure if they'd remain together. No amount of Chinese food can undo the hurt she felt, she said.
90 Day Fiancé: Happily Ever After? airs Sundays, 8 p.m. on TLC. Get more scoop and commentary from 90 Day couples in a "Pillow Talk" edition airing Mondays at 8 on TLC.