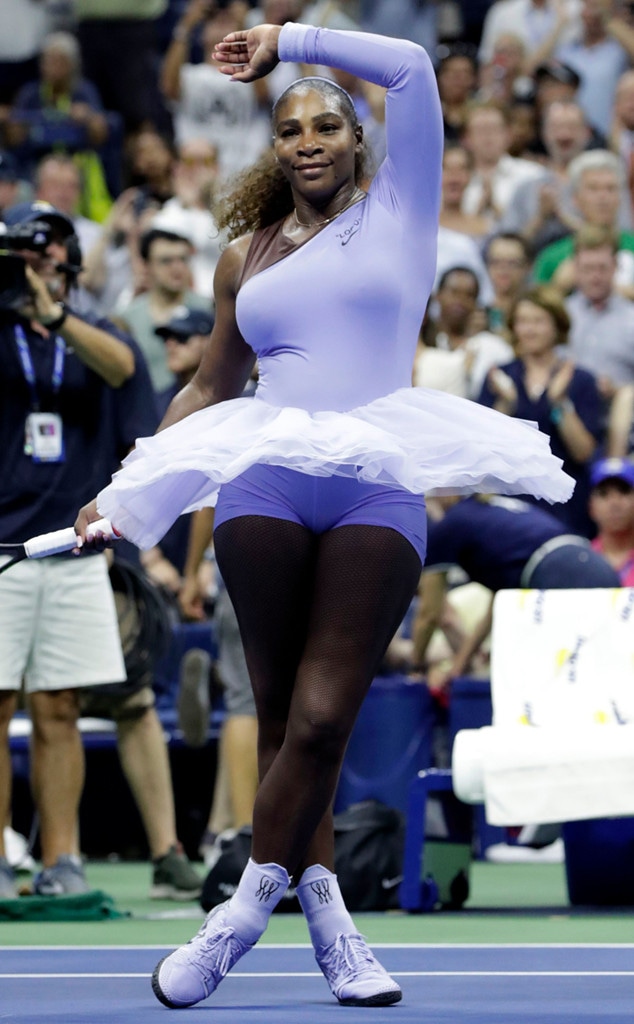 Julio Cortez/AP/REX/Shutterstock
By now, the world probably knows that Serena Williams is more than just the greatest tennis player in the history of the sport.
She is also an entrepreneur, a mother, an inspiration to young girls everywhere and a bonafide style icon.
From wearing braids on the tennis courts, to sporting Off-White in Grand Slam finales, it's safe to say that Williams has completely changed the image of what a tennis star can be. Some of her most memorable court looks include a tutu, denim miniskirts, statement jewelry and even a controversial catsuit that sent the French Tennis Federation up in arms, causing them to ban similar outfits in the future.
"The policing of women's bodies must end," tennis legend Billie Jean King tweeted in defense of Williams' catsuit. "The 'respect' that's needed is for the [exceptional] talent @serenawilliams brings to the game."
With a new clothing line set to launch, it's easy to see why the tennis star is ready to share her style secrets in the world and, in her own words, create a line "'fit for a Royal Princess.'"
David Fisher/REX/Shutterstock
"If we're giving our stuff to Meghan [Markle], it has to be the highest quality that we can get," she said in an interview with Business of Fashion. "That's what I tell our team internally: 'We have to make sure it's super high quality.'"
The S by Serena fashion line launched less than 10 months ago, but has already amassed over 169,000 follows on Instagram, and a best-selling "boss blazer" which has become a favorite of the Duchess of Sussex.
"We just started in May and we have all this stuff coming," she told the publication. "And eventually we're coming out with beauty and then we have jewelry."
But the star's foray into fashion is hardly surprising.
In between high school and winning several US Opens, the tennis star studied fashion at the Art Institute of Fort Lauderdale in Florida where she excelled in pattered making. Eventually, tennis became the main priority but Williams made sure that each fashion choice she made on court was fierce. And because she is a skilled seamstress, "wardrobe malfunction" isn't even in the superstar's vocabulary. 
Watch:
Met Gala 2019: By The Numbers
"[On court] is where a lot of people see me," she said in the same interview. "I didn't want to have the exact same look that everyone else was wearing. I like to stand out." 
Another place the tennis icon stands out is on the red carpets. She stunned in a Laquan Smith gown last summer as she arrived to the premier of the documentary Serena. In 2014, she turned heads in a Michael Costello gown at The Vanity Fair Oscar Party. And who can forget the jaw-dropping feathered gown she wore to the 2011 Met Gala to pay homage to Alexander McQueen?
So it's no wonder why Williams, who has become a red carpet fan favorite in recent years, was chosen to co-host the 2019 Met Gala this year alongside Harry Styles and Lady Gaga.
"I've been trying for years and years to do something in fashion" she told BOF. "Millions of people have ideas every day and they just remain ideas…There have been so many times I was like, 'I should just stop' … but I love what I do. And if you truly love what you do then setbacks are just a motivation for you to keep going. You get through it by knowing that it's vital to have setbacks, or you won't appreciate it when you make it."
So, who else is excited for Monday night?