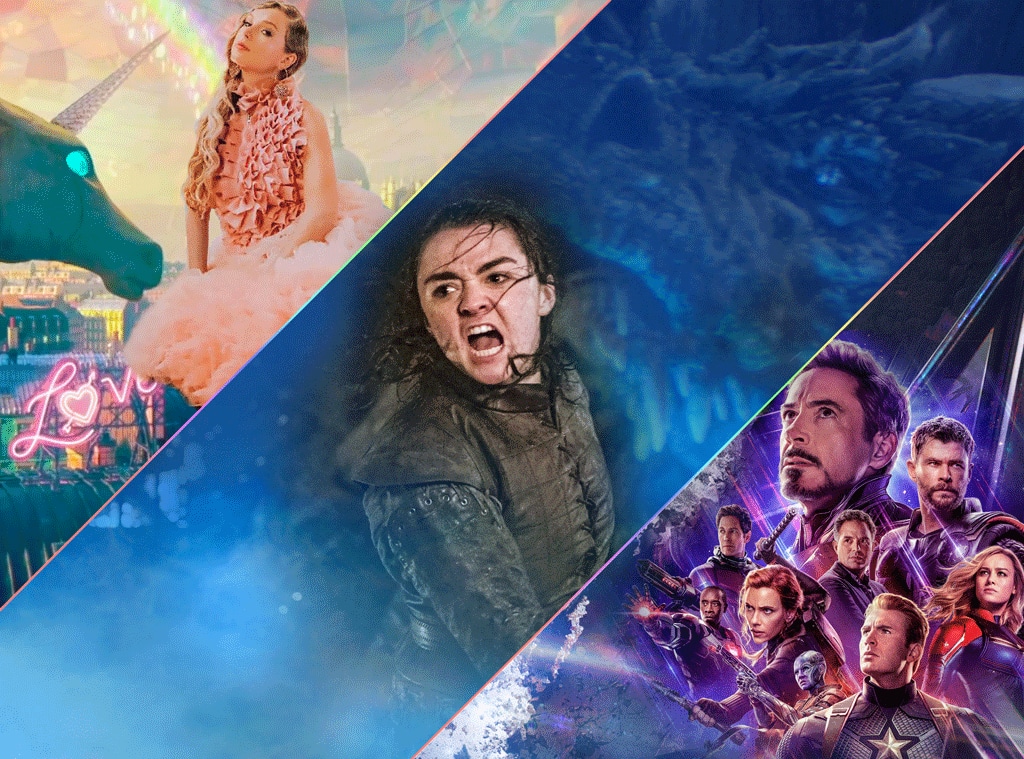 VEVO; HBO; Marvel/E! Illustration
So the biggest movie franchise in the world, the biggest TV show in the world and the biggest music artist in the world all pick the same weekend to release their biggest ever...which do you care about the most?
The pop culture gods blessed us with many gifts this past weekend and reader, we are emotionally, physically and literally exhausted. The all-out entertainment assault began with the premiere of Avengers: Endgame, a cinematic feat 10 years in the making. Then Taylor Swift came along, with the help of Panic! at the Disco's Brendon Urie, to drop her first single in two years, "ME!" on the very same day.
Consider the Infinity Stone gauntlet thrown...except there was yet another contender for pop culture conversation dominance: HBO's Game of Thrones, which aired its (and TV's) biggest episode ever on Sunday night, featuring the long-awaited Battle of Winterfell as its final season heads into the home-stretch.
Christmas Swiftmas came early and consider your birthday already celebrated because really, it doesn't get much better than this; it was hard to focus on social media, trying to divide our attention equally between all of the record-breaking releases. How was Monday not considered a national holiday in order to give people the proper and appropriate amount of time to decompress is beyond us. 
But really, between Game of Thrones, Avengers: Endgame and Swift, which pop culture giant would come out on top in an entertainment battle royale? Which would dominate the conversation come Monday morning, when the long night finally ended, the endgame was finally revealed and "ME!" became E!'s obsession? 
Before we fully dive in, let's just get this out of the way now:
 SPOILER WARNING! The following contains massive spoilers about ending of Avengers: Endgame and Game of Thrones' "The Long Night." Duck on out of here if you're the one in 14 million people who has yet to see Endgame or forgot to suit up for the Battle of Winterfell, as we will be revealing major plot points from both.
Avengers: Endgame
The Build-Up: 10 years. 22 films. It all came to this...with "a real fanboy" at the helm in Marvel Studios boss Kevin Feige, who championed Iron Man as the film to take a chance on, with a then-almost-uninsurable Robert Downey Jr. as its star, to kick off what would become the MCU way back in 2008.
"People forget Iron Man was an independent movie," Feige told Vanity Fair. But even then, he had an idea that would end up setting everything up: adding a post-credits scene with a major Easter egg: Samuel L. Jackson as S.H.I.E.L.D. director Nick Fury, the man behind the Avengers coming together. 
After Iron Man's surprising success, Disney acquired Marvel in 2009, paving the way for the billion-dollar franchise. 
The biggest struggle for Feige early on was getting actors to commit longterm to his vision, telling Vanity Fair that waiting for Chris Evans to agree to a six-picture deal was one of the most nerve-wracking experiences of his career. But once Evans and a then-unknown Chris Hemsworth signed on (as Captain America and Thor, respectively), his ultimate Avengers plan truly began as he had three of the main players assembled.
And Thanos (played by Josh Brolin), the ultimate big bad of this first generation, was first introduced in 2012's The Avengers, paving the way for his infamous snap years later. 
Back in 2017, Feige promised that Endgame, which didn't even have an official title yet, would bring "things you've never seen in superhero films: a finale." 
He told Vanity Fair, "There will be two distinct periods. Everything before Avengers 4 and everything after. I know it will not be in ways people are expecting." 
Feige wasn't lying, with the end of Infinity War wiping out half of the population, including major superheroes like Spider-Man, Black Panther, Doctor Strange, Peter Quill and more, in the snap heard 'round the world, leaving audiences with their jaws on the popcorn-littered theater floor. 
Left standing were the original six Avengers, ready for one much-hyped, long-awaited final mission.
Even before the dust had settled, Endgame was breaking pre-sale ticket records in just six hours, according to Fandango. 
"We've never seen anything like this—it's truly a groundbreaking accomplishment—as fans simply cannot wait to see how this epic saga comes to a close," Fandango managing editor Erik Davis told EW at the time.
But no one knew just how monumental Endgame would be after its April 26 release.
The Records: Consider the box office completely decimated. Like Sokovia after the battle in Age of Ultron-level of decimated.
With an estimated global debut of $1.2 billion, Endgame is the first film in history to pass the $1 billion benchmark in its opening weekend. The previous record-holder? Infinity War, which grossed just $640 million back in 2018.
To put those insane numbers in perspective: Endgame made in just five days what took Infinity Wars, the previous-record holder, 11 days to make.
Domestically, it brought in $350 million, a new record that is actually quite poignant, as The Avengers, the 2012 film that truly kicked off this era, was the first film to ever break the $200 million barrier. $60 million of that came on Thursday night, which added to its first-day gross (a record $156.7 million). 
It's hard to imagine any upcoming film coming even somewhat close to to these numbers, let alone beating them. 
Consider it the end of an era. And the somber start of a new one. 
Courtesy of Sony Pictures
The Follow-Up: "You need an ending for a great story," Marvel Studios boss Kevin Feige said of Endgame at its world premiere to The Hollywood Reporter. "You also need an ending for a new beginning."
More than its two competitors, Endgame really did feel like the end of the story for so many beloved characters...and the end of a major era for the MCU. For the first time in a long time, the immediate future feels uncertain. 
What we do know for sure, as in Marvel has officially confirmed their respective releases: Spider-Man: Far From Home is set to open in July, bringing Marvel's Phase 3 to an end. Given Peter Parker's (Tom Holland) devastating loss at the end of Endgame and his quick-yet-emotional reunion with BFF, it's safe to say we will definitely be experiencing some post-snap PTSD with Spidey. 
But then what? The only other confirmed sequels are Black Panther 2 and Doctor Strange 2, as well as Guardians of the Galaxy Vol. 3 now that director James Gunn is officially back on Star-Lord's ship. And Captain Marvel 2 is a given, right? 
A Black Widow prequel film was already announced ahead of Endgame, and now we know why, given how Natasha Romanoff's storyline came to a conclusion in the film.
But Phase 4 is set to introduce some major new characters to the mix, which makes sense seeing as how Marvel has the rights to over 7,000 characters: Fans can expect a Shang-Chi movie—the first Marvel movie with an Asian lead—as well as The Eternals, with Angeline Jolie, Kumail Nanjiani and Dong-seok Ma reportedly set to star in the movie that will take the MCU even further into space. 
In an interview with io9, Kevin Feige said Phase 4 was a "five year" plan set to kick off in 2020, but he was hesitant to compare it to the groundbreaking phases that came before it. 
"The slate that we're building over the next five years [is] not apples to apples," he said. "It is two very distinct things and I hope they'll feel very distinct. But there is a similar mentality going into it, which is 'How can we continue to tell stories with some of the characters that audiences already know and love in a unique way, in a different way, in surprising way, of which we have a lot of plans and ideas and work already going into it?' [Then] 'How can we introduce new characters that even hardcore fans, comic fans, have barely known or barely heard of.' That's really exciting too."
Marvel / 20th Century Fox
And given Disney's recent acquisition of Fox, the X-Men (and Ryan Reynold's Deadpool) are also now in the mix, though the five-year plan was drawn out before the merger. 
"It's much more, for us, less about specifics of when and where [the X-Men will appear] right now and more just the comfort factor and how nice it is that they're home," Feige told io9. "That they're all back. But it will be a very long time."
But the MCU is officially expanding to the small screen in a major way following the wrap-up of ABC's Agents of S.H.I.E.L.D. and the cancellation of all of Netflix's Marvel series, including Daredevil and Jessica Jones. 
Launching in November 2019, Disney's new streaming platform, Disney+, will include some very familiar faces. In its first year, an Anthony Mackie and Sebastian Stan-fronted Falcon and Winter Soldier series is slated, while Loki (yes, Tom Hiddleston is attached), and WandaVision, starring Elizabeth Olsen, are set for year two. 
The Emotional Resonance: 
We knew it was the end of Phase 3. We knew were basically saying goodbye to the original six. But man, we were not prepared for just how emotional it would be. 
Natasha sacrificed herself to save the only family she's ever known. Tony Stark, the man who once required physical proof that he had a heart, died so that everyone else, including his young daughter and protege Peter, could live. Steve signed off as Captain America on his own terms, living out the life he always dreamed of with Peggy Carter (Hayley Atwell).
All were bittersweet happy endings, which each character getting what they've always wanted in a way: Family. Redemption. Love. 
"Her journey, in our minds, had come to an end if she could get the Avengers back," screenwriter Stephen McFeely told The New York Times of Natasha's death. "She comes from such an abusive, terrible, mind-control background, so when she gets to Vormir and she has a chance to get the family back, that's a thing she would trade for."
As for Tony, the man responsible for this entire empire in the first place, thanks to 2008's Iron Man, McFeely said, "Everyone knew this was going to be the end of Tony Stark...the watchword was, end this chapter, and he started the chapter." 
After moving on with Pepper and their daughter after the snap, Tony got his happy ending for five years, with screenwriter Christopher Markus saying, "We had the opportunity to give him the perfect retirement life...it's a good death. It doesn't feel like a tragedy. It feels like a heroic, finished life."
Like Pepper said, he can rest now. 
Finally, when it came to closing out Cap's story, he was always going to get that damn dance. 
"He's postponed a life in order to fulfill his duty. That's why I didn't think we were ever going to kill him," McFeely explained. "Because that's not the arc. The arc is, I finally get to put my shield down because I've earned that."
Game of Thrones
The Build-Up: "The Long Night," episode three of the final season, was easily the most hyped episode of GOT ever; the trailer for season eight, which was all about the character preparing for the Great War, shattered records for HBO. Released in March, it had been viewed over 80 million times across all platforms within its first 24 hours. The previous season's trailer held the previous record, which was a paltry 61 million views in comparison. 
Then there is the whole TV-making history of it all; the sheer spectacle of that the cast and crew were about to pull off. While Game of Thrones has staged impressive and award-winning battles in the past ('Sup, "Battle of the Bastards"?), director Miguel Sapochnik acknowledged "Battle of Winterfell" was on another level.
The Emmy-winning director revealed in an interview with EW that he's been working on the episode, which clocked in at 82 minutes (GOT's longest ever), since June 2017. 
"I'm shooting for seven and a half months, which is like 130 days, which is longer than most of the big movies that get made," he said. "So in terms of the amount of work, it's been six- and seven-day weeks, 16-to-18 hour days and, yeah, it's a lot."
In April 2018, Jonathan Quinlan, an assistant director in 20 episodes, including the Battle of Winterfell, shared a note the producers wrote to the crew, captioning the post, "Says it all. 55 consecutive nights. 11 weeks. 3 locations. You'll never again see anything like it." (He later deleted the post, likely after chastising from HBO.)
"This is for the Night Dragons. For enduring 55 straight nights. For enduring the cold, the snow, the rain, the mud, the sheep shit of Toome and the winds of Magheramorne," the note read. "When tens of millions of people around the world watch this episode a y ear from now, they won't know how hard you worked. They won't care how tired you were or how tough it was to do your job in sub-freezing temperatures. They'll just understand that they're watching something that's never been done before. And that's because of you."
In Entertainment Weekly's cover story about the battle, it's revealed that 750 people worked on the episode in the countryside, with the temperature usually hovering in the low 30s' some of the crew members were "getting 40,000 steps a day on their pedometers," Liam Cunningham (Ser Davos) said. "They're the f--king heroes." 
There's also all of the extras, who generally earn around $100 day.
"The extras in Northern Ireland were spectacular in terms of their enthusiasm, and the realism they brought to it," showrunner David Benioff told the magazine. "They work so hard with these insane hours. You think back on how many of our scenes where the extras play such a major part."
Expectations were high, to put it mildly.
"What we have asked the production team and crew to do this year truly has never been done in television or in a movie," co-executive producer Bryan Cogman told EW. "This final face-off between the Army of the Dead and the army of the living is completely unprecedented and relentless and a mixture of genres even within the battle. There are sequences built within sequences built within sequences. It's been exhausting but I think it will blow everybody away."
The Records: While HBO has yet to reveal just how many people tuned in to see who made it out of the Battle of Winterfell alive, Twitter confirmed "The Long Night" was the most tweeted about episode of scripted television ever. (The most tweeted about character during the Battle of Winterfell? Arya, of course.)
There were 7.8 million tweets about the April 28 episode, easily topping the previous record holder: the season eight premiere, which had over five million tweets. 
Seeing as how the season eight premiere shattered ratings records for HBO and TV this year, as it was the the biggest telecast in the network's history and the most-watched scripted entertainment program of 2019 so far, it's likely "The Long Night" may just stick that record with the pointy end, too. 
The Emotional Resonance: The HBO hit's biggest advantage going into this pop culture battle royale was its placement: Sunday night, meaning it had the best chance of dominating Monday's headlines simply because the reactions would still be so raw and fresh.
Given that it was basically an 82-minute anxiety attack, fully capturing the chaotic and frenetic energy of an actual battle, the emotional weight of the Battle of Winterfell was actually more present in the previous episode, "A Knight of the Seven Kingdoms," which almost played like a character study, featuring long-awaited reunions, reveals and hook-ups.
"This episode is really a love letter to the characters," writer Bryan Cogman told EW of the hour. 
While fans were preparing for the deaths of many beloved characters given the stakes, most of our heroes (and anti-heroes) made it out of the Great War alive.
The fallen? Fan-favorite Lyanna Mormont (Bella Ramsey), who took out one of the Night King's giants on her way out, Jorah Mormont (Iain Glen), who died defending his beloved Dany; and Theon Greyjoy (Alfie Allen), whose redemption arc was complete as he defended Bran (Isaac Hempstead Wright) until the very end. We also said goodbye to Melisandre (Carice van Houten), Beric Dondarrion (Richard Dormer), Edd Tollett (Ben Crompton), and The Night King. (Oh, and ALL OF THE DOTHRAKI, WTF?!)
However, their deaths, while sad, don't exactly change up the political game heading into the Last War against Cersei (Lena Headey). All the major players are still on the board, a surprising move by the producers, who've shown a complete lack of restraint in terms of killing off integral characters in the past.  We never considered Avengers: Endgame would end up being more savage than GOT heading into this weekend.
So yeah, we're expecting the final three episodes to start many swan songs for some of the series' original players. hitting us when we least expect it: the calm after the icy storm. 
Taylor Swift
The Build-Up: She's ba-aaack...and she's everywhere, which is exactly where we want her, thank you very much. 
Ironically enough, Swift may have actually kicked off this new era during her old one, with fans noting a major tip-off in "Endgame" off of 2017's reputation: "Reputation precedes me," she sings in the duet with Ed Sheeran. The name of her new single? "ME!"
But before finally dropping the song and accompanying music video on April 26, Swift officially began teasing a big announcement on April 13, posting a countdown clock on her Instagram, Twitter and Facebook accounts, along with a new pastel color palette. 
"Step into the daylight and let it go," was the last tine Swift wrote in her Elle essay, which hinted at what was to come; soon after launching the countdown clock, Swift began posting whimsical photos of palm trees, bicycles, flowers and rainbows, a far cry from the darker and moodier vibe she adopted for the reputation era. 
In March, Swift actually teased an impending countdown, writing in her Elle essay, "I make countdowns for things I'm excited about. When I've gone through dark, low times, I've always found a tiny bit of relief and hope in getting a countdown app (they're free) and adding things I'm looking forward to."
Good things come to those who wait, a Swift continued to post teasers on her social media accounts, even debuting her own Instagram filers in the days leading up to the big reveal. 
And Swift herself loved all of the speculation, later telling Robin Roberts, "I cannot believe how dedicated they are, how thoughtful. I can't believe how much they care. So it makes it more fun for me to create music, to create videos knowing they will care about Easter eggs or clues or hints. It's great to make it for people who care."
Ahead of a new song's release, Swift showed up in Nashville to greet hundreds of fans who had figured out that she had commissioned a butterfly mural, created by interactive street artist Kelsey Montague. The artwork had the word "ME!" written in the middle of it, with Swift saying there were major clues in it. She then teased an appearance that night on ABC, which would reveal yet another clue.
Swift then appeared live on 2019 NFL Draft for an interview with Good Morning America's Robin Roberts, officially confirming new music was on the way, beginning with "ME!" featuring Panic! at the Disco's Brendon Urie. 
"It's always been there," Taylor said of the many, many hints. "It's just gotten more fun as time has passed."
The Records: The colorful and Easter egg-filled music video for the highly anticipated single smashed a few of YouTube's records, with Swift now holding the all-time leading female and solo 24-hour debut for any music video on the platform. The video was watched an average of four million times each hour in its first day.
Swift set a new 24-hour Vevo record, notching 65.2 million views, besting Ariana Grande's "thank u, next," which had held the previous record with 59 million. (Swift now holds three spots on Vevo's top five list for the most viewers in 24 hours.)
Of course, leave it to Swift to have her record-breaking view count add up to her lucky number: 13, with fans also speculating that will be the name of the album. 
Over on Amazon, "ME!" broke TWO records for most first day streams and on-demand voice requests with Alexa than any other single debut.
The Follow-Up: The 29-year-old is just getting started with #TS7. Next up, Swift is set to open the 2019 Billboard Music Awards on May 1 in Las Vegas, performing the new single live for the first time, with Urie joining her on stage.
Like GOT fans, Swifties are still anxiously awaiting official confirmation from Swift about the album's name and release date, as well as the title of the next single, which was also hidden somewhere in the "ME!" music video. 
Theories are being Tumbled and tweeted, along with screen-grabs from the music video., with Swift more than happy to encourage the sleuthing efforts of her fans.  
Emotional Resonance: As she approaches turning 30 in December, Swift is ready to say goodbye to the past, with the infamous snake that symbolized her reputation era literally transforming into butterflies in the beginning of the "ME!" music video.
And for Swift, the song is about finally revealing her true self to the world, flaws and all. 
"ME! is a song about embracing your individuality and really celebrating it and owning it," Swift told Robin Roberts of "ME!"'s meaning. "I think that with a pop song we have the ability to get a melody stuck in people's heads, and I just want it to be one that makes them feel better about themselves, not worse."
Pop Culture Thunderdome Winner: It is a cop-out to say WE! are the winners of this epic showdown? Come on, it's hard to imagine another time when this amount of records in the major trifecta of pop culture—movies, TV and music—will be broken again.
Oh, what's that? You really want us to crown a definitive winner? OK, fine: While GOT still has three episodes left to go and Swift is just getting started on this #TS7 journey, it's Avengers: Endgame that so beautifully and historically brought to a close 10 years of storytelling. Respect must (and deserves) to be paid. It's hard to imagine ANY film coming anywhere near Endgame's insane-in-the-membrane $1.2 billion haul. 
But it's worth remembering Game of Thrones will likely be the last hurrah of appointment television, as streaming services continue to change the game, adopting a drop-an-entire-season-at-once strategy. And what other artists aside from Swift could maintain such a secretive and all-out roll-out game plan...for just the single's release? 
Look around, how lucky are we to be alive right now?