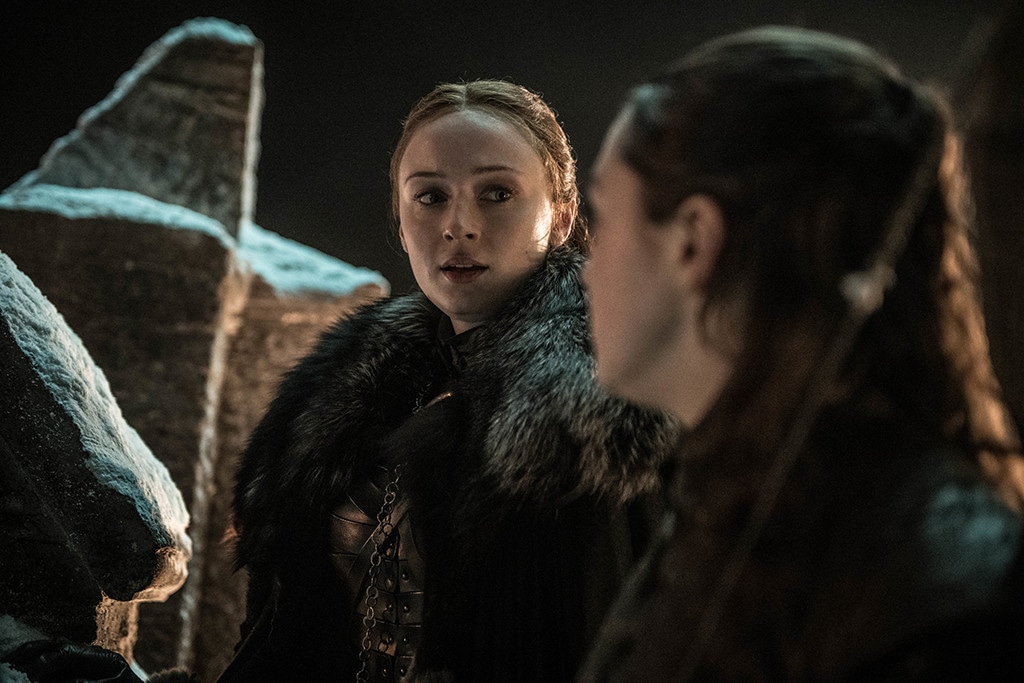 HBO
Sophie Turner is the gift that keeps on giving. First, she teased Maisie Williams over Arya Stark's first Game of Thrones sex scene in the second episode of the final season, and now she's returned to praise her TV sister once again on Instagram.
Warning, spoilers follow!
Fresh off her first Instagram story about Arya Stark (Williams) losing her virginity to Gendry (Joe Dempsie), Turner returned to praise Williams and her character for slaying the Night King during the epic Battle of Winterfell in the third episode of Game of Thrones' final season.
"Arya really is that bitch! Yes, you are, bitch!" Turner said on Instagram.
Turner also posted a tribute to Theon Greyjoy and actor Alfie Allen. See it below.
In "The Long Night," the assembled characters at Winterfell faced the Night King and his army of the dead. Arya ended up being the warrior to end the battle when she stabbed the Night King with her Valyrian dagger.
In an interview with EW, Kit Harington said the moment "got a huge f—king cheer" at the table read for the final season.
Williams said she thought people would hate the moment and think Arya didn't deserve the big kill.
"The hardest thing is in any series is when you build up a villain that's so impossible to defeat and then you defeat them. It has to be intelligently done because otherwise people are like, 'Well, [the villain] couldn't have been that bad when some 100-pound girl comes in and stabs him.' You gotta make it cool. And then I told my boyfriend and he was like, 'Mmm, should be Jon though really, shouldn't it?'" she told EW.
But creators D.B. Weiss and David Benioff said it was always going to be Arya who ended things.
"We hoped to kind of avoid the expected. Jon Snow has always been the hero, the one who's been the savior, but it just didn't seem right to us, for this moment," Benioff said.
A scene in the episode references a prophecy Melisandre (Carice van Houten) made about Arya, which sparked the character into action.
"When we did the whole bit with Melisandre, I realized the whole scene with [the Red Woman] brings it back to everything I've been working for over these past six seasons — four if you think about it since [Arya] got to the House of Black and White," Williams said. "It all comes down to this one very moment. It's also unexpected and that's what this show does. So, then I was like, 'F—k you Jon, I get it.'"
Game of Thrones airs Sundays, 9 p.m. on HBO.