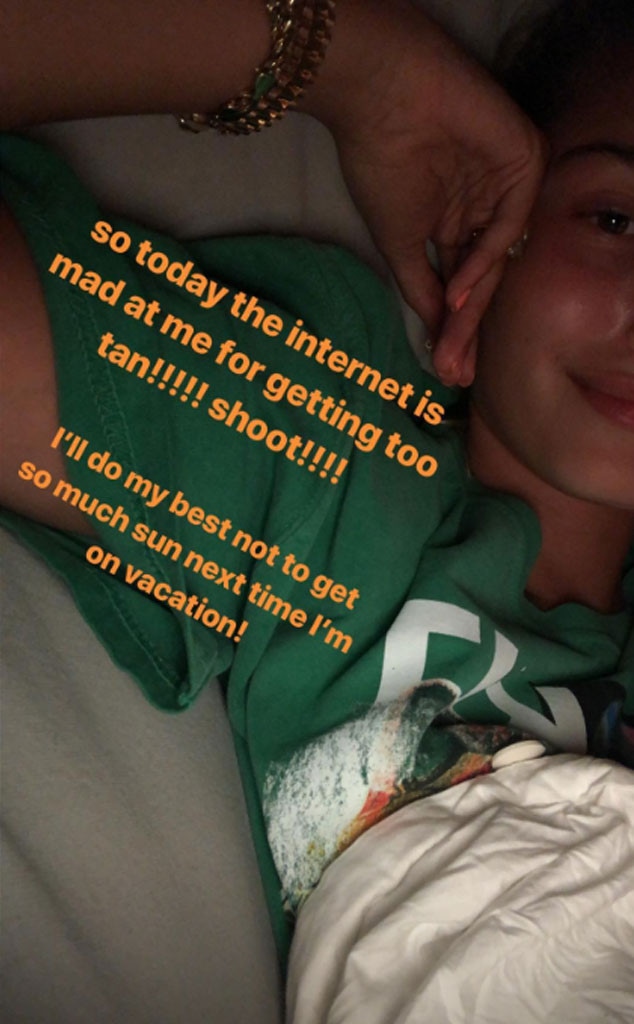 Instagram
Can't Hailey Bieber just soak up the sun in some peace?
The 22-year-old model is currently vacationing with her husband Justin Bieber in the Bahamas (same location where they got engaged) for a low-key getaway that included lots of tanning and relaxing in the sun. Hailey shared some pictures of her bronzed skin on social media, but some of her followers are taking issue with just how dark she got.
On Sunday evening, Hailey posted a photo on her Instagram Story that showed her in bed and smiling, although only half of her face is showing. She took the moment to throw the shade right back at her haters who took issue with her tanned skin.
"So today the internet is mad at me for getting too tan!!! shoot!!!" she wrote. 
Hailey added, "I'll do my best not to get so much sun next time I'm on vacation!"
Other than clapping back at her haters' mundane comments, she also said on her Instagram Story that is "trying to slowly go all vegetarian." The one caveat? "I just really love pepperoni pizza," she said.
Hailey and Justin's tropical vacation comes on the heels of their fun-filled weekends at Coachella 2019. The couple partied it up with fellow stars like Kendall Jenner and Emily Ratajkowski. During Weekend Two of Coachella, Justin surprised everyone—including himself it seems—and joined Ariana Grande onstage and sang his hit song "Sorry."
"I haven't been on a stage in like two years," he told the roaring crowd after the song.
The 25-year-old explained onstage that he "had no idea" he was going to perform that night, but wearing his "fly outfit" clearly worked out in his favor as he showed it off to tens of thousands of people.
He said later, "I had to get my groove back, I had to get my swag back, you know what I'm saying? Thank you so much, Coachella, thank you so much, Ariana Grande."
Plus, there's a big chance that new music will be "coming soon."
Hailey's tan skin clap back was just the latest in a series of seemingly never-ending responses to critics. On Friday, they made fun of false news reports that Hailey was pregnant and he walked out on her.
"How dare you walk out on me and my very pregnant belly...not," Hailey quipped in a video on social media.
Justin added in a comment to the tabloids, "These are real lives you guys are talking about real emotions stop acting like you know anything about anything.. go to school read your books and focus on your own personal life."