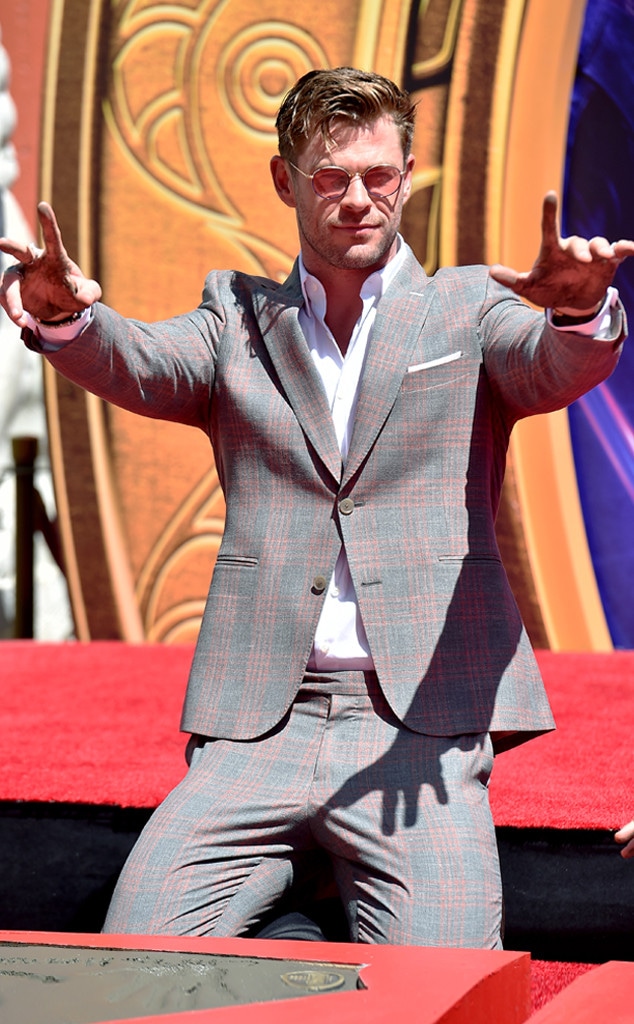 Axelle/Bauer-Griffin/FilmMagic
Chris Hemsworth is sharing a poignant link between his childhood in Australia and his accomplishments as a Hollywood actor.
On Sunday, the Thor star posted a series of photos on Instagram from his handprint ceremony that occurred on Wednesday outside the TCL Chinese Theater in Hollywood. The Avengers: Endgame actors, including Scarlett Johansson, Robert Downey Jr., Chris Evans, Jeremy Renner and Mark Ruffalo gathered outside of the famous theater to quite literally cement their legacy with the storied Marvel franchise.
The historic moment reminded Hemsworth of something that he did when he was a young boy.
"I remember many years ago carving my name into wet concrete on the sidewalk outside my grandmas place," he captioned the pictures. "Little did I know that years on those skills would come in handy!"
Practice makes perfect.
He concluded his caption by talking a bit about the moment itself and the people he stood beside.
Hemsworth wrote, "Honoured to share this moment with my Avenging mates on the Hollywood Walk Of Fame."
There was a tiny bit of speculation that the 35-year-old misspelled his name underneath his handprints and fans were extremely concerned about it. To be fair, the actors really had to be mindful of how big they wrote their names so all letters could fit. Robert Downey Jr. opted for just his initials underneath his hand.
Avengers: Endgame came out in theaters on Friday and has already completely smashed box office records. According to Variety, the film grossed $350 billion in North America and $1.2 billion worldwide. Endgame beat its predecessor Avengers: Infinity War's records by over $100 million.
Endgame marks the end of an era, which has left many fans emotional and nostalgic. According to the New York Daily News, one woman got so upset during the movie that she began hyperventilating because she was crying so hard. She will reportedly be just fine.
Maybe Hemsworth really wasn't exaggerating when he said, "This movie's gonna blow ya socks off."