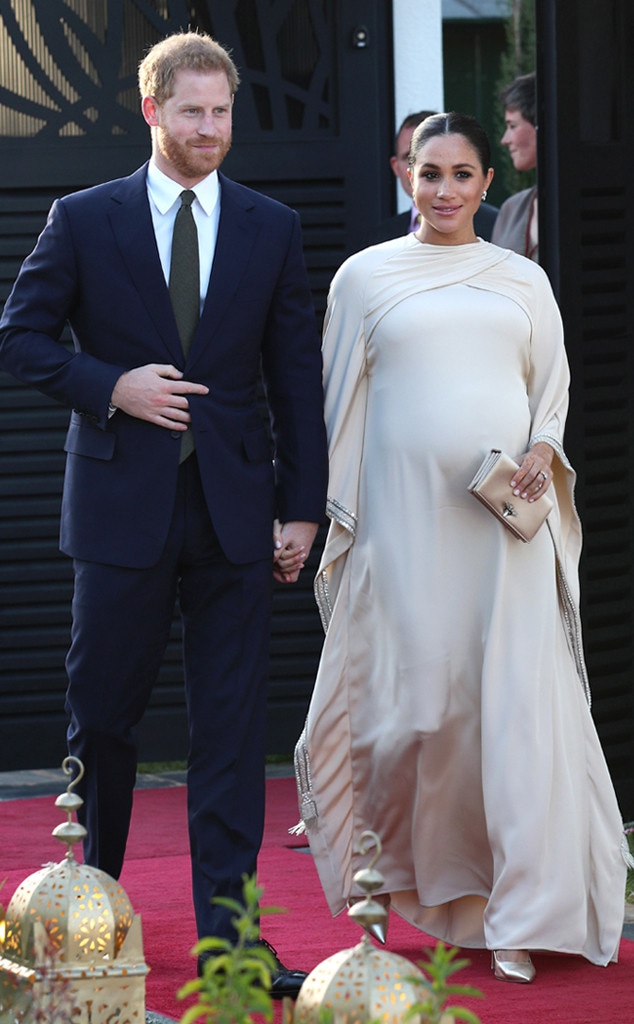 Yui Mok/POOL/EPA-EFE/Shutterstock
Prince Harry and Meghan Markle are set to embark on a tour of Africa with their baby months after he or she is born, according to a new report, which follows a recent one that stated the couple could move to and work in a country on the continent for an extended period of time.
Buckingham Palace has not denied that such a trip, which would mark their future child's first overseas visit, is being planned. A press officer for the Duke and Duchess of Sussex declined to comment on the report when asked about it by E! News, adding that "any official visits or tours undertaken by any members of the royal family are announced in the usual way." Harry and Meghan are expected to announce the birth of their first child any day now.
According to the Sunday Times, the couple is planning an official tour of Africa with their child in the fall and the trip is scheduled to last for about two weeks in October, when their baby will be around six months old. Their proposed visit, requested by the government, is expected to focus on youth empowerment, education and conservation, the report said.
"They hope to take the baby with them but will make a decision nearer the time," a royal source told the newspaper. "Potentially, Meghan and the baby could do some, if not all, of the trip."
Last weekend, The Sunday Times, one of Britain's most trusted newspapers, reported that Harry's advisers have been working on plans to establish a "bespoke" role for him and his wife abroad that would "combine some work on behalf of the Commonwealth along with charity work and a role promoting Britain." A source told the outlet that while "discussions are at an early stage," "the plan is to find a new way of using their soft power abilities, most likely in Africa."
Buckingham Palace has not denied the report and had said in a statement, "Any future plans for the Duke and Duchess are speculative at this stage. No decisions have been taken about future roles. The Duke will continue to fulfill his role as Commonwealth Youth Ambassador."
The Sunday Times had quoted palace insiders as saying that an overseas role for the couple would last two or three years, and that any decision on where they would go was unlikely to be made until 2020. British network ITV disputed part of the report, saying that the role that is being discussed would see Harry and Meghan relocate to a Commonwealth country in Africa for a few months.
Harry spent his gap year in the African kingdom of Lesotho in 2004 and later co-founded the charity Sentebale there. In 2016, he and Meghan took a romantic trip to Botswana and a year later, they returned to celebrate her 36th birthday. Harry has also visited the country alone as part of his work for Rhino Conservation. After their 2018 royal wedding, the two honeymooned in East Africa.
In addition, Meghan visited Rwanda in 2016 as an ambassador for the World Vision charity.