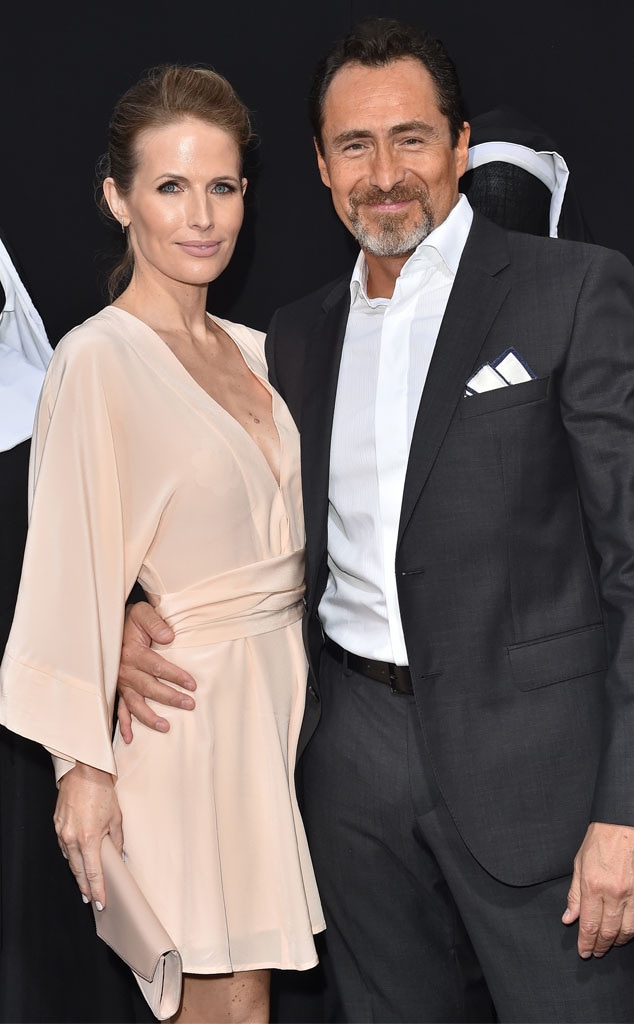 Axelle/Bauer-Griffin/FilmMagic
Demián Bichir is opening up about the recent passing of his wife, Stefanie Sherk.
"It is with courage, dignity and love for our Stefanie, that we confirm such information," he captioned his Instagram post. Earlier this week, reports surfaced the Canadian actress and model passed away at the age of 43.
In addition, the Los Angeles County Medical Examiner-Coroner confirmed to E! News that her death was ruled a suicide. The causes of her death included anoxic encephalopathy—a condition caused by lack of oxygen to brain tissue—drowning and asphyxia. The case status is now listed as closed.
The Hateful Eight actor shared the heartbreaking news with fans on Wednesday, April 24, and has since uploaded several posts on Instagram about his wife.
"Stefanie was an extraordinary daughter, a generous loving sister, a smart and funny friend, a dignified, elegant and talented actor and a compassionate human," he began his in-depth message on Friday, April 26. "She was the perfect woman for me. My soul mate. My best friend."
He continued, "She made me better in every sense. I fell under her gorgeous spell ever since I laid eyes on her for the first time. And that was the same effect she caused on everybody who had the fortune to know her." 
While the 55-year-old actor kept his message focused on Sherk, he also asked that everyone give him and his family time to "grieve in peace and privacy."
"Our dear families and I are devastated by this powerful event that have changed our lives forever. We respectfully ask once again for your understanding in allowing us to grieve in peace and privacy in this sad and difficult times," he wrote in that same post. "Any statements regarding this matter will be issued here... Stefanie's life and legacy were way bigger and more wonderful than what made her leave us so early. We love you deeply, Stefanie Sherk."
Furthermore, Bichir stated that while he hopes to bring more awareness around the topic of depression, he also needs time to process the news.
"It was our hope that we would have some time to heal and grieve before we could talk about this issue that affects way too many people around the globe," he explained. "This is a serious and, in many cases like ours, an invisible affliction that corners human beings in a terrifying and dark place."
Watch:
Demian Bichir Announces Death of Wife Stefanie Sherk
He added, "The nightmare that we have been through over the last several days will only be eased if we succeed in taking our pain and sorrow out into the world as an important message of awareness so, hopefully, other lives can be saved."
Sherk and Bichir began their relationship in 2010, and starred in Un Cuento de Circo & A Love Song, which was written and directed by Bichir. In September 2018, the couple walked the red carpet together at the premiere of his film, The Nun.
Our thoughts go out to the Sherk and the Bichir Nájera families during this difficult time.