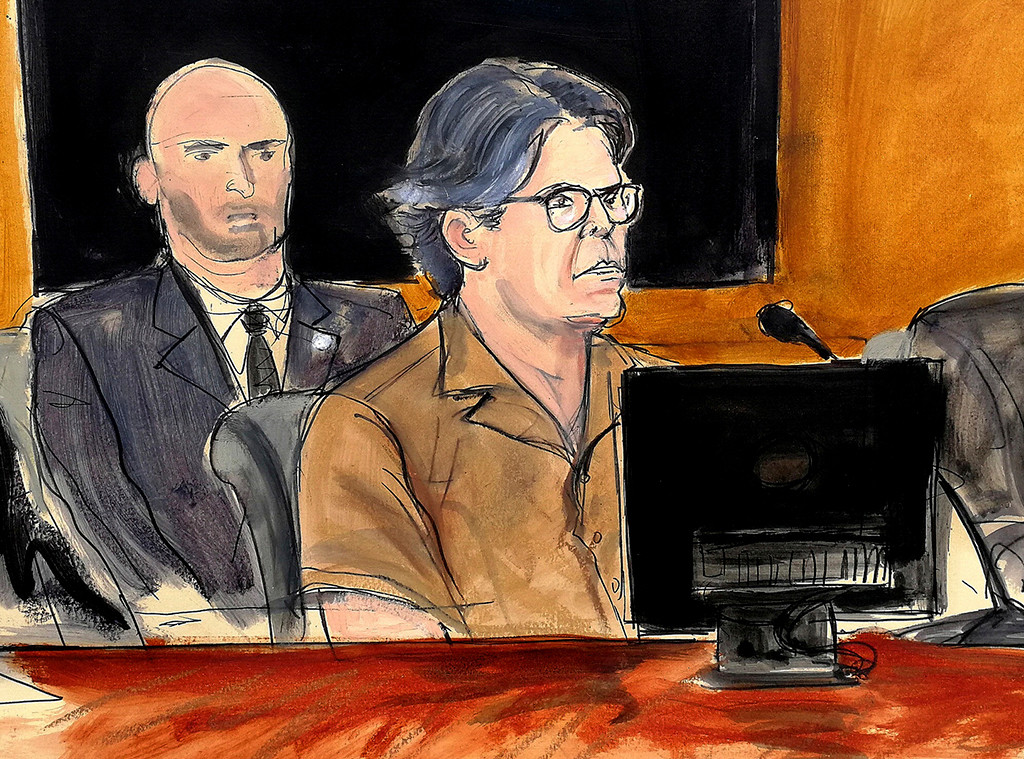 Elizabeth Williams via AP, File
NXIVM co-founder Keith Raniere was accused of running a female slavery ring within his purported self-help program for which women were recruited as "slaves" by other female members, or "masters," and manipulated into having sex with him.
On Wednesday, the 58-year-old was found guilty of sex trafficking, attempted sex trafficking, sex trafficking conspiracy, forced labor conspiracy, wire fraud conspiracy, racketeering and racketeering conspiracy.
Earlier this year, five women, including Smallville actress Allison Mack, pleaded guilty to lesser charges, leaving Raniere as the only one who went to trial following a months-long federal investigation into NXIVM and DOS—the secret sorority that included 15 to 20 women whom Raniere would have sex with, while they were instructed to be faithful to him.
DOS was said to be an acronym for the Latin "Dominus Obsequious Sororium," which roughly translates to "Master of the Obedient Female Companions."
"Over the last seven weeks, this trial has revealed that Raniere, who portrayed himself as a savant and a genius, was in fact, a master manipulator, a con man and the crime boss of a cult-like organization involved in sex trafficking, child pornography, extortion, compelled abortions, branding, degradation and humiliation," said Richard P. Donoghue, U.S. Attorney for the Eastern District of New York, shortly after the verdict was handed down.
"His crimes, and the crimes of his co-conspirators, ruined marriages, careers, fortunes and lives. The evidence proved that Raniere was truly a modern-day Svengali."
Neither Raniere nor Mack ended up taking the stand, but multiple women—some identified only by their first names—did to testify to the abuses perpetrated by Raniere and those he enlisted to carry out his sordid vision.
Keith Raniere Conversations Youtube
In a motion to have the charges dismissed that was filed in December, Raniere's legal team argued that NXIVM was a "wonderful humanitarian organization" whose members have "sought to end the violence in Mexico, have introduced tools useful to people with difficult conditions, such as Tourette's syndrome, have pioneered multi-linguistic schools for young children, who would become proficient in multiple languages and later multi-cultural adults, and have developed approaches to help people lead happier, more productive, more enriched lives."
Prosecutors alleged, meanwhile, that NXIVM—a purported self-help organization based in Albany, N.Y., that since the late 1990s has attracted more than 16,000 people, including actors and corporate leaders, to its Executive Success Programs and other seminars—resembled a pyramid scheme in which participants could only move up the ladder by paying more and recruiting more people. To even get the chance to meet Raniere, participants usually had to complete a 16-day course that cost $7,500.
Mack, who once called Raniere "a wonderful teacher and mentor" was also originally charged with sex trafficking before pleading guilty to racketeering and racketeering conspiracy.
One former DOS member, Nicole, testified that she was ordered to address Mack as "Madame Mack," and was asked to sign a waiver releasing NXIVM from liability in the case of incidents such as "disfigurement" or "physical and psychological injuries." But Nicole didn't want to sign and, eventually, Mack seemed to forget about it.
Another woman, Sylvie, testified that she signed similar papers.
A third woman, Jay, testified that Mack would also refer to DOS as "The Agency," because "her slaves were all actresses and models and were beautiful, so it was as if she was running an agency."
Incidentally, multiple women testified that Raniere had erectile dysfunction issues. 
Mark Lennihan/AP/REX/Shutterstock
Nicole said in court last week that she was first drawn to NXIVM's self-help program as an aspiring actress looking to jump-start her career after moving to New York in 2014. An ex-boyfriend had told her about all the rich and famous people, including several actors, associated with the organization. 
From the beginning, Nicole said, she thought that the general fawning over Raniere—his annual birthday celebration was "V-Week," referring to his nickname "Vanguard"—was strange. After a week-long program, she was urged by her ex and Mack to sign up for more classes. She ended up teaching classes to supplement her income. When she told Mack that she was worried she was making the wrong choices, Mack told her about a society within NXIVM for women called "The Vow," Nicole recalled. 
The Vow was DOS.
"[Mack] said that she couldn't let me out no matter how hard I cried because it would show me that if I cried hard enough, I could get out of anything," Nicole testified. She ended up remaining in DOS for over a year. When she finally got Raniere's attention after sending him multiple emails (at Mack's command, she said), Nicole said that Raniere took her to a cabin in the woods one day where he blindfolded her, had her lie on a table, tied her to the table, and had another woman perform oral sex on her. Nicole said she didn't realize another person was in the room till it was happening and Raniere started talking at the same time.
Prosecutors said the entire encounter was videotaped.
Nicole said she finally extricated herself from NXIVM in 2017. She never got her collateral back. "Once I'd gotten enough separation, there's not been one moment that I am not grateful that I am no longer in that situation," she said on the stand.
The defense didn't call any witnesses during the trial. Raniere's attorney Marc Agnifilo told the jury, "You may find him repulsive, disgusting and offensive. We don't convict people in this country for being repulsive or offensive. Unpopular ideas aren't criminal. Disgusting ideas aren't criminal."
Until his arrest, Raniere had been running NXIVM for years in plain sight, touting his programs as key stepping stones for people who wanted to harness their best selves and realize their true potential. Here's a primer of some of the key players and the roles they played in creating—and unraveling—this tangled web:
Raniere is scheduled to be sentenced Sept. 25. He's facing the possibility of life in prison.
(Originally published April 27, 2019, at 3 a.m. PT)