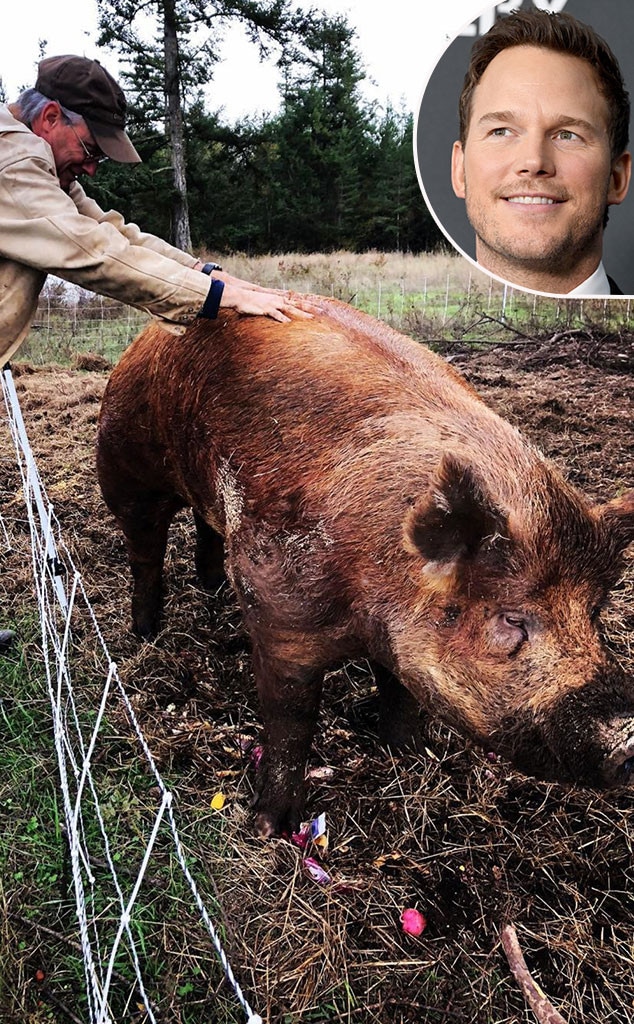 Steve Granitz/WireImage, Instagram
Chris Pratt is paying tribute to his 700-pound boar following the animal's recent death.
The Avengers: Endgame star, who often spends time away from the spotlight on his farm, took to Instagram to mourn the loss of Magnus, who passed away this week.
"RIP 'Magnus' Our magnificent gentle Tamworth giant fell ill and passed away two days ago," Pratt wrote alongside a picture of Magnus. "This was a hard one. He was as cuddly as a 700lb boar could be. We'll miss him."
The 39-year-old actor went on to add, "He had the biggest nuts of any mammal I'd ever seen in person. I'll miss seeing those bowling ball size testicles waggle to and fro as he rooted for hazelnuts in the hay. #farmlife."
When he's not on the set of a movie or promoting a new film, Pratt retreats to his farm, where he looks after a number of animals. In February, Pratt welcomed his eleventh lamb, which he named Alice Coopworth.
"Welcome Lamb #11 Alice Coopworth!" Pratt wrote on Instagram along with a photo of Alice. "Lamb Jam 2019 in full affect. This new Coopworth is a cross of Border Leister Ewe 'Zha-zha' and Romney Ram 'Rex Dangerfleece.' She will supply beautiful silky wool for many years to come. Christmas stockings, pot holders, sweaters, scarves and hats all courtesy a happy, sustainably and lovingly raised Alice Coopworth. #farmlife."
Pratt is often joined on his #farmlife adventures by fiancée Katherine Schwarzenegger. Earlier this week, the couple was in Los Angeles for the premiere of Avengers: Endgame, where they made their red carpet debut.