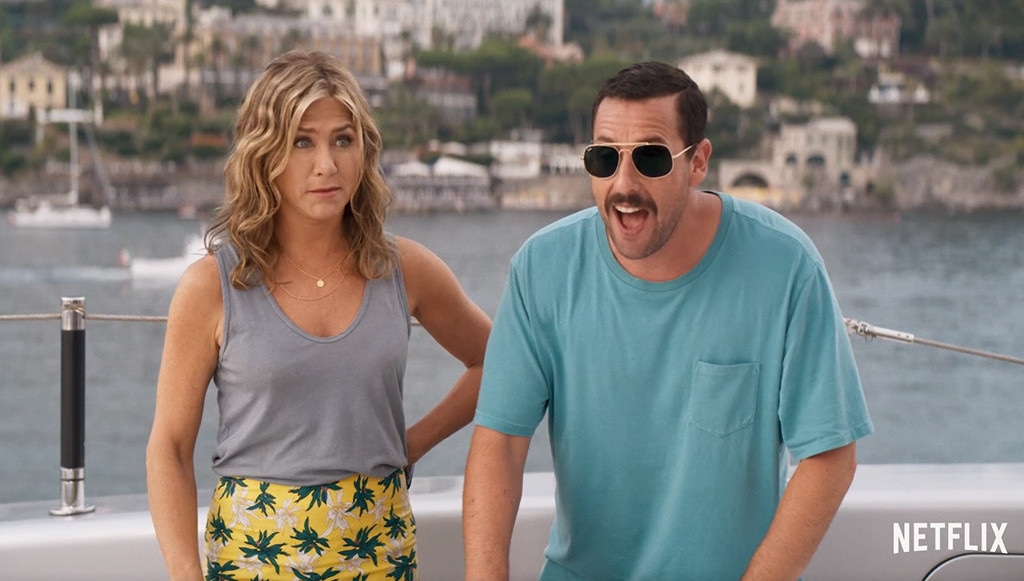 Netflix
Adam Sandler and Jennifer Aniston reunite and bring the laughs again in a film about...murder.
In the movie, set for release on Netflix, Sandler plays a NYPD officer who takes his wife, played by Aniston, on a trip to Europe. On the flight over, they meet a man who invites them to a yacht party. They attend and someone ends up murdered—and they become the prime suspects.
Sandler appeared on The Ellen DeGeneres Show on Friday and debuted the trailer for Murder Mystery, which brings to mind The Pink Panther and James Bond movies, and shows the two running for their lives and taking part in a car chase.
Kyle Newacheck, creator of the series Workaholics, is the director.
Murder Mystery also stars the likes of Luke Evans, Gemma Arterton, Terence Stamp, and Workaholics' Erik Griffin.
Murder Mystery was filmed in Italy. During production, Sandler and Aniston stopped by their friend George Clooney and his wife Amal Clooney's Lake Como villa for dinner.
"They made us homemade pizza. It was an amazing time. I sat next to Bono. It was a good day," Sandler told Ellen Degeneres.
"Every time I'm with Jennifer, something great happens because everybody loves Jennifer," he added. "I tend to stay at home and do nothing, and my wife is so much going, 'Why didn't I marry Aniston? Why am I stuck with you, man?' Even in Italy, she's like, 'I'll telling you, we gotta leave the room, man.' I don't do- I like hanging out with the kids, I like hanging out with the wife, I like playing basketball and then I like going to sleep."
Sandler, 52, and Aniston, 50, last starred together in the 2011 romantic comedy movie Just Go With It. Murder Mystery marks her second Netflix film, following last year's Dumplin'.
Murder Mystery and will be made available to stream on Netflix on June 14.