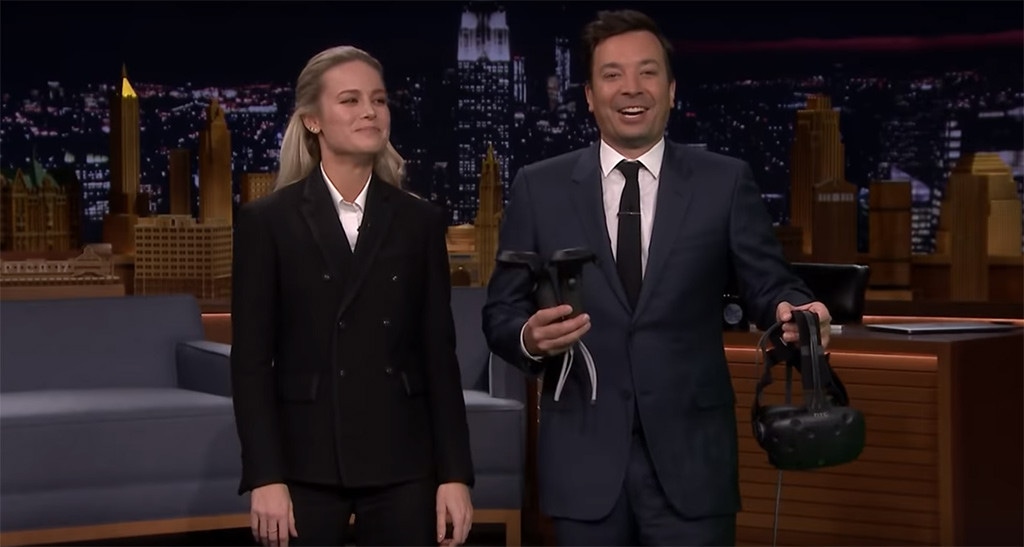 NBC
Brie Larson makes a pretty cool Captain Marvel, but she'd make an even more awesome Jedi...or Sith.
On The Tonight Show Starring Jimmy Fallon on Wednesday, the Avengers: Endgame star and Oscar-winning actress and host Jimmy Fallon competed in a virtual reality game called Beat Saber, in which they took turns slashing targets with lightsaber-like laser swords to the beat of a song.
Larson was a natural, showcasing some pretty cat-like reflexes and kick-ass Jedi/Sith moves. The actress is a Star Wars fan and both that franchise and Marvel and its films are owned by Disney, so it would be an extra seamless transition to have her wield a lightsaber onscreen.
Larson told Fallon that her Avengers and Captain Marvel co-star Samuel L. Jackson even showed her the lightsaber he used while filming the Star Wars prequel trilogy years ago, which made her emotional.
"It's engraved with something on it that I can't say on TV," she said, before admitting the prop reads, "Bad motherf--ker."
Larson appeared on the show two days before Avengers: Endgame hits theaters on Friday.
"We filmed Endgame before Captain Marvel," Larson said. "Flew to Atlanta to start shooting, had no idea what I was doing, and I arrived and they gave me a piece of paper that had like, it was a full page of dialogue and action but all of it was redacted except for my one line. And I even went to hair and make-up and was like, 'Who else is here?' And they were like, 'We don't know. We don't know. I was like, really? They're not allowed to tell me either?"