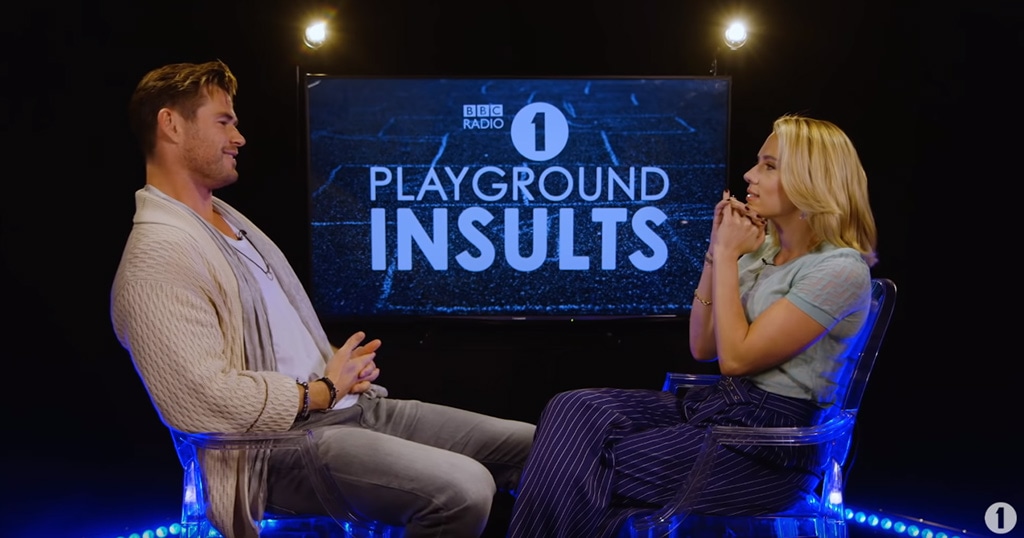 YouTube
If you don't have anything nice to say, sit next to these Avengers stars.
Ahead of the official release of Avengers: Endgame this Friday, two of the movie's biggest stars came together to participate in an unconventional game.
Chris Hemsworth and Scarlett Johansson appeared on BBC Radio 1 for another round of "Playground Insults."
For the rules, all players shouldn't hold back when delivering insults about the other. Don't take the attacks personally. And remember the sassy comments leave the room when you do.
So, who's ready to play?
"Chris, you're ugly," Scarlett shared right from the beginning. "Everybody's been talking about it. You're just really ugly."
Chris replied, "Beauty is on the inside and inside you are just awful." We don't mean to laugh but this is getting good.
"You've got a growing collection of grandma cardigans and I've been meaning to talk to you about it. It's cray," Scarlett continued. "It's like you're basically a walking Ann Taylor ad."
You want to talk about clothes? Chris has something to say about that!
"When you went to the beach the other week and you had that beach umbrella, did you know it would eventually turn into the pants you're wearing today?" he asked his co-star. Zing!
"Have I mentioned how ugly you are?" Scarlett replied. "Your biceps look like thanksgiving turkeys." LOL!
We'd share even more insults with you. But perhaps it's best to just watch the video above to experience it for yourself.
And for the record: Both Hollywood stars shook hands and called a truce at the end of the game. Job well done, you two!