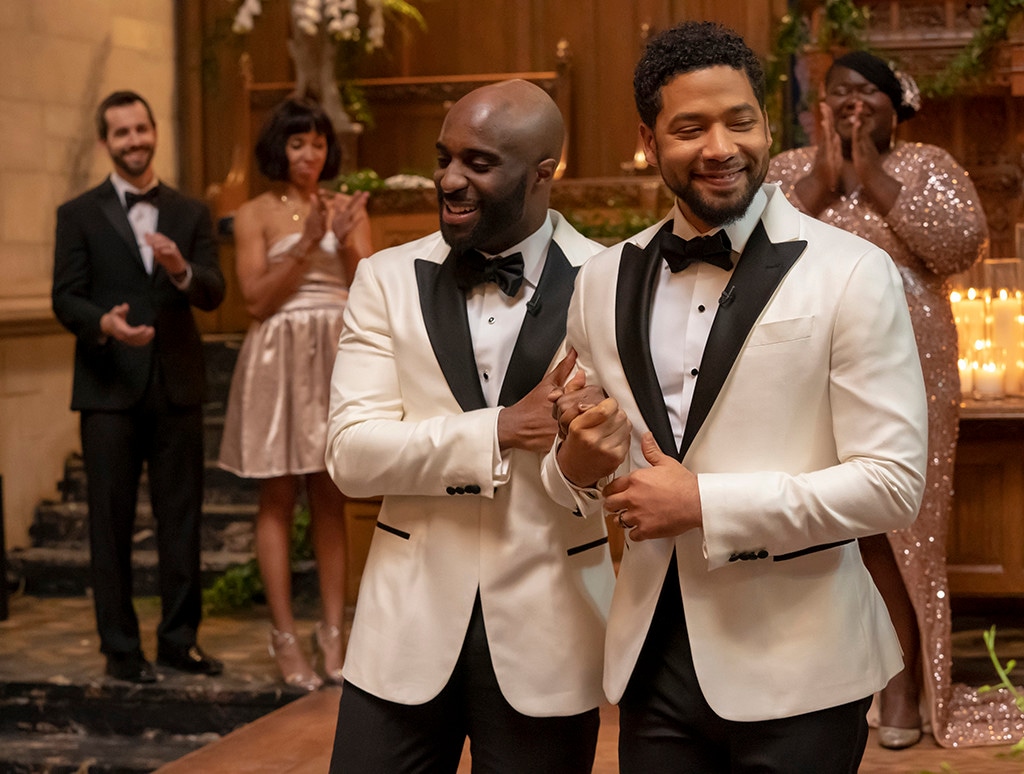 Fox
Raise your glass to the newlyweds Jamal (Jussie Smollett) and Kai (Toby Onwumere)!
Wednesday's episode of Empire featured some pretty spectacular nuptials, which started with a performance by Chaka Khan 
Since this is Empire, some drama threatened to derail the wedding when someone sent an email claiming the wedding was off because Kai had hidden his HIV status, which wasn't true. There was also a moment of sadness when Jamal asked his dad to join Cookie in walking him down the aisle, and Lucious refused. He later changed his mind, and the three Lyons ended up walking together, and the wedding went off without a hitch, at least as far as Jamal and Kai are concerned. 
It's the first time two black gay men have been married on TV, and star Gabourey Sidibe (whose character Becky officiated the wedding) tweeted about the occasion. 
"Tonight, Empire will give life to a monumental love story by marrying 2 black, gay men for the first time in television history," she said. "Please join us in celebration until it's no longer a phenomenon to see 2 people of the same sex and race love each other proudly, on prime time TV." 
The wedding also served as the explanation for Jussie Smollett's exit, as he was written out of the final two episodes of the season while Chicago PD investigated the possibility that he faked the attack he claimed had happened in January. Charges against Smollett have been dropped and his costars have written an open letter asking to keep him on the show should it return in the fall, but his future on the show (and the show's future) is uncertain for now. 
Jamal and Kai now have a honeymoon to get to, though it does not look like the drama will stop for Jamal or Jussie. 
The wedding was pushed up after Andre had been diagnosed with cancer, and while he told everyone the cancer was under control, that didn't mean he was out of the woods. He told Lucious at the end of the episode that he may only have a few weeks to live, and he wants to die in his own way, as opposed to withering away. 
So yeah, a devastating ending, but the wedding was nice! 
Empire airs Wednesdays at 8 p.m. on Fox.