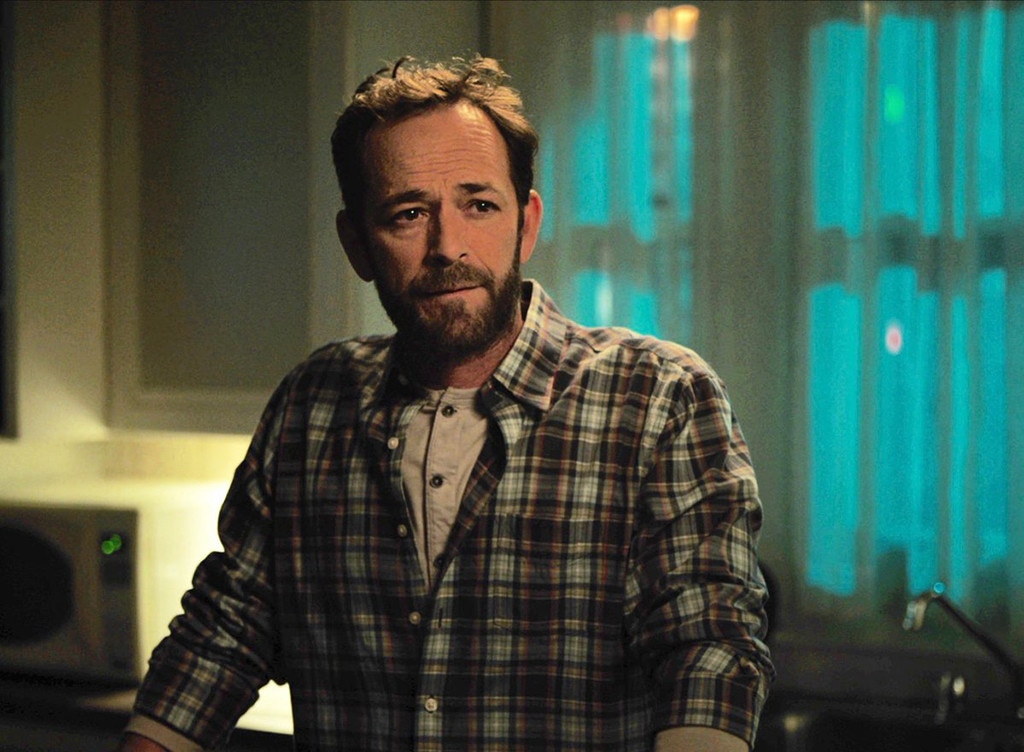 The CW
We now know what Luke Perry's final Riverdale scene was, and it was a fairly fitting one. 
Fred Andrews, who Perry played from the pilot until his death on March 4, hasn't yet been written off the show, but according to executive producer Roberto Aguirre Sacasa, tonight was the last episode Perry filmed, and his last scene was "a beautiful, true moment between a father and his son," which is fairly accurate. 
At the end of last week's episode, Archie's boxing opponent Randy died in the ring, which was distressing for many reasons, as he was also foaming at the mouth at the time. Veronica spent much of tonight's episode trying to prove that it was Elio's drugs that killed Randy, while Archie was racked with guilt anyway. Lucky for him, Fred was there to at least offer him some comfort. 
"Son, from everything you've said, it's clear that Randy died from those drugs. An autopsy will support that. You're innocent." 
"But I'm not, dad," Archie said, because he knew Randy was using the drugs and could/should have stopped the fight, but he didn't want to forfeit. "I'm never stepping into that ring ever again. 
Unfortunately for Archie that wasn't true, but at least he had a nice moment with his dad before he had to box again. 
Elsewhere in tonight's episode, the Jones family had to go to some great lengths (including robbing Pop's) to save Jelly Bean from having been kidnapped, and Betty continued her quest to figure out what the heck is going on with the Farm ahead of Alice's impending wedding to Edgar. 
The biggest thing she discovered is that Evelyn has been a 26 year-old masquerading as a teen this entire time (...LOL), transferring to new high schools over and over again, redoing her junior year to recruit teens into the cult. In fact, she's actually Edgar's wife, and not his daughter. Alice was not surprised to learn this information, and definitely not discouraged from marrying him (probably helps that he's Chad Michael Murray), and all Betty's actions did was make the Farm even more intent on getting Betty into the Farm. Betty's still not into it, and now she's got something new to worry and wonder about: it appears that her dad died while he was being transferred to Hiram's cushier prison. But are things ever quite as they appear on this show? He is a serial killer, if a sort of clumsy one. 
Josie, meanwhile, got her dad to come see her play at La Bonne Nuit, and asked him if she could join him on tour. After he saw her play, he agreed, and told her they had a gig the next night. This makes sense given Ashleigh Murray's upcoming move to the Katy Keene spinoff series, but this makes no sense given the fact that Josie is still a high school student. Poor Archie now doesn't get to take her to prom like he was planning. 
The Gargoyle King has also returned, because the drama never stops in Riverdale. 
Perry died on March 4 after a massive stroke and was laid to rest in Tennessee. 
"We are deeply saddened to learn today about the passing of Luke Perry," Riverdale executive producers Roberto Aguirre-Sacasa, Greg Berlanti, Sarah Schechter and Jon Goldwater, along with Warner Bros. Television and the CW said in a statement at the time. "A beloved member of the Riverdale, Warner Bros. and CW family, Luke was everything you would hope he would be: an incredibly caring, consummate professional with a giant heart, and a true friend to all. A father figure and mentor to the show's young cast, Luke was incredibly generous, and he infused the set with love and kindness. Our thoughts are with Luke's family during this most difficult time."
Riverdale airs Wednesdays at 8 p.m. on The CW.