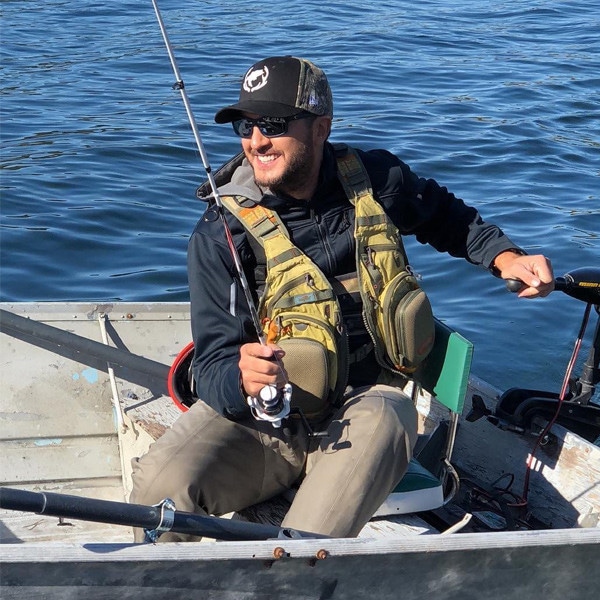 Instagram
What makes Luke Bryan country? Funny you should ask!
Sure, the American Idol judge has more than 20 No. 1 country music hits. And yes, he can sell out massive arenas across the country including Dodger Stadium and Wrigley Field.
But when it comes to this CMA Award Entertainer of the Year, being country comes when he's away from the spotlight and hanging out with his family in Nashville.
"What makes me proud to be country is the fact that I've navigated so many aspects of this career and held on to being country in a lot of ways," Luke previously shared with People. "I wake up, I get to go take my boys out and do country things."
While the 42-year-old will be waking up in Indio, Calif., this weekend to headline the Stagecoach Music Festival, there's nothing sweeter than being at home in Nashville.
Happily married to wife Caroline Boyer, the couple has two boys together. They also have a nephew and two nieces they took in after Luke's sister Kelly died in 2007. Kelly's husband would also pass away in 2014.
"We never thought twice about it," Caroline shared with ABC News' Robin Roberts. "You know, it was never something that he and I had to sit down and talk about. 'Should we take this on?' We just did that."
Luke added, "You keep going and you try to be as positive as you can and you try to appreciate every day."
In Southern Nashville, Luke owns a farm known as Red Bird Farm. Sitting on 150 acres, the property also includes a guest house, a special barn for rescued animals and a party barn.
The barn hosts special events and raises money for The Brett Boyer Foundation, which goes to support research for finding treatments for kids who live with congenital heart disease.
"When I was able to buy this farm, it just gives me and my family a place to be outdoors," Luke previously shared with People.
As seen on Instagram, you can sometimes find Luke posting photos with his family dove hunting, fishing or wearing holiday sweaters under the Christmas tree.
Luke has admitted to loving a Chick-fil-A spicy chicken sandwich when looking for a quick meal. And instead of focusing on a six-pack in a fancy gym, this country singer just wants to be healthy and live his best life.
"I got the right kind of six-pack," he previously joked to fans on his What Makes You Country tour. "I ain't gonna give up no cold beer on a Sunday."
While live shows of American Idol take him to Los Angeles, Luke prefers staying close to Nashville. He has a restaurant downtown called Luke's 32 Bridge that includes live music everyday, a rooftop patio and plenty of delicious food including gourmet burgers and sushi.
And of course it's where he can watch his boys turn into men. "They come home and sit down. They do their homework and I'm like, 'I didn't do that when I was a kid,'" he previously told reporters at the 2018 iHeartRadio Music Awards. "They're just well-rounded kids.  Learning farm life and how to live on a farm and do outdoor things, but they've also come with me and been on set of American Idol and to these big cities and watched me do Dodger Stadium and [have seen] the whole world and have a nice perception of it."
While Luke will be back on the road for the 2019 Sunset Repeat tour with Cole Swindell and Jon Langston, the country music superstar knows home is where the heart is.
And as he continues raising five growing kids with his wife, Luke promises to never lose sight on what's most important.
"We feel like if we just stay positive through this, maybe we'll be a positive inspiration for people that had these things happen to 'em," he told ABC News in 2015. "You just have to plow on and play the hand that's dealt."
Now that's our kind of music superstar!