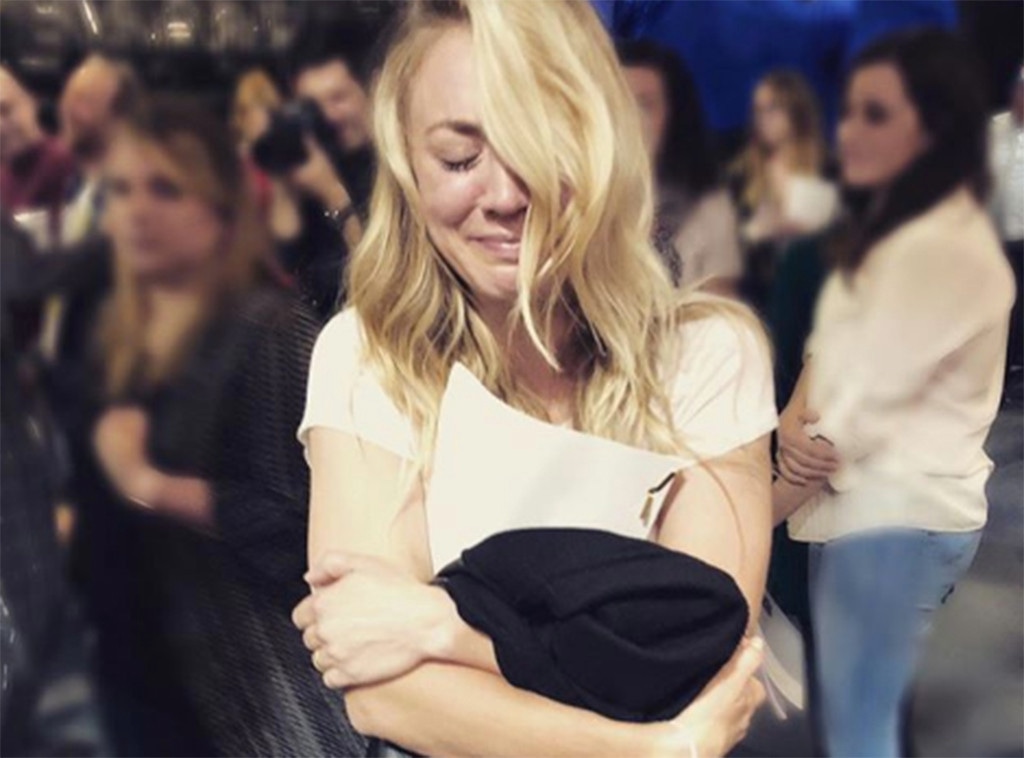 Instagram/Kaley Cuoco
Sounds like the last episode of The Big Bang Theory is going to be a tearjerker. 
The final table read happened on Wednesday, and the cast documented some of their feelings on Instagram after finishing the final page. Kaley Cuoco in particular appears to have had trouble keeping it together. 
"Yea, didn't sleep," she captioned a pic of the final page, which reads "End of Series." 
She followed that up with a pic of her in tears, and followed that up with a pic of the script covered in used tissues. 
"Prepare yourselves...for a finale that has truly given me a loss for words," she wrote before leaving us with the start of that catchy theme song. "Our whole universe..."
Sing it with us now: ...was in a hot dense state, then nearly fourteen billion years ago expansion started, wait...
Cuoco's tears have been a concern for this final episode, as she told E! News earlier this spring, and it's actually going to be filmed a little differently than the typical episode, which is filmed in front of an in-studio audience. 
"We're actually going to pre-shoot the whole thing, so we'll have shot it, and then we will have an audience taping," she said on Daily Pop. "That was probably because they knew I'd be crying the entire time. So we still want the audience experience...so we're gonna still do the audience, but we will have taped it and shot it beforehand, so if the tears come unexpectedly, then that's just what's going to happen, because I guarantee you it's going to happen." 
Kunal Nayyar also posted a pic of the "End of Series" page, captioned simply: "Just read the final episode...Gnite." 
"Roughest page ever read," Johnny Galecki commented. 
Melissa Rauch posted a before pic, featuring the entire cast and creative team, including EPs Chuck Lorre, Bill Prady, Steve Molaro, Steve Holland, and more.
"About to go into our table read for the series finale, written by this group of geniuses, AKA: the heart and soul of The Big Bang Theory," she wrote. "People often ask what the secret is behind the success of the show...well, it's no secret...it's the sheer brilliance of these incredible minds. Love them all so very much." 
While Galecki didn't post about the table read himself, he has also been honoring some of the behind-the-scenes people who keep the show running, including the wardrobe department, the writer's room, and the transportation department, all of which you can see below, along with all of the posts the cast has shared about the final couple of episodes. 
The Big Bang Theory airs Thursdays at 8 p.m., and the series finale will air on May 16 on CBS.