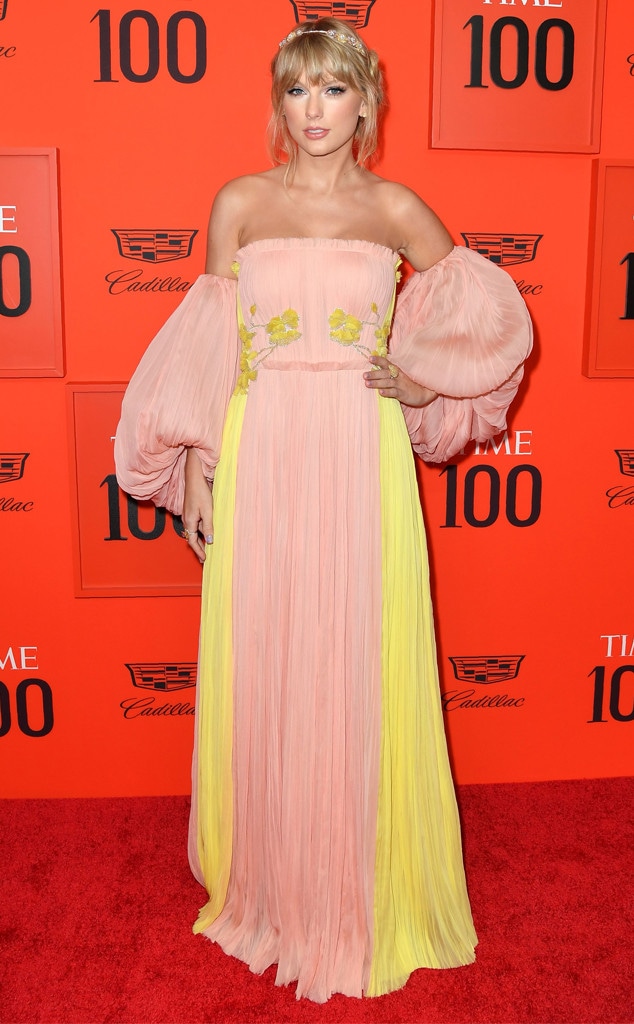 ANGELA WEISS/AFP/Getty Images
Taylor Swift is fulfilling all of our "Wildest Dreams" on the TIME 100 stage.
The musician is giving fans everything they've ever wanted with her performance at the TIME 100 Gala at the Lincoln Center in New York City. Dressed in a whimsical pink and yellow sleeveless dress designed by J. Mendel, the singer looks every bit like the pop goddess she is. 
Unsurprisingly, Swift is once again one of TIME's 100 most influential people, but this time around she was profiled by fellow musician Shawn Mendes. So, in honor of the accolade, the 29-year-old took to the stage at the Gala for an acoustic performance of the hit song "Style"  from her album 1989. 
The singer continued her big moment at the TIME 100 Gala by delivering a speech about the influence that songwriting has had on her ability to cope with the ups and downs of life.
"I've always known it was the main pillar of kind of my sanity as well, like I always looked at writing as sort of like a protective armor. Which is weird, because you think of writing about your life, that's usually like a vulnerability, but I think that when you write about your life, it gives you the ability to process your life. I use it as a way of justifying things that have happened to me," she told the audience. "Whether they're good or bad.  I like to honor the good times and really process the bad times when I write."
After her brief speech, the singer delivered another rousing acoustic performance with the song "Delicate." She also sang the classic song "Love Story," which had everyone in the crowd reminiscing about the summer of 2008. As for the grand finale, the singer sang "Shake It Off."
Some fans were hoping the artist would take to the stage to perform new music in light of all the Easter eggs she's been dropping, but it looks like T. Swift is keeping her fans waiting. 
While she builds anticipation for a big music release, the star is giving fans a lot of style inspo with her latest looks. 
On Monday, the singer debuted a new hairdo that is absolutely pretty in pink. Taylor's blonde locks now flow down into pretty pink tresses, similar to the soft pink strands that softly accented her ponytail at the 2019 iHeartRadio Music Awards.
She was later seen rocking the cute look at Gigi Hadid's 24th birthday celebration. A source told E! News, "Taylor looked really happy. She was very relaxed but looked happy to be there. She was bopping her head to the music, dancing a bit. Gigi was super excited to see Taylor and they gave each other a huge long hug."