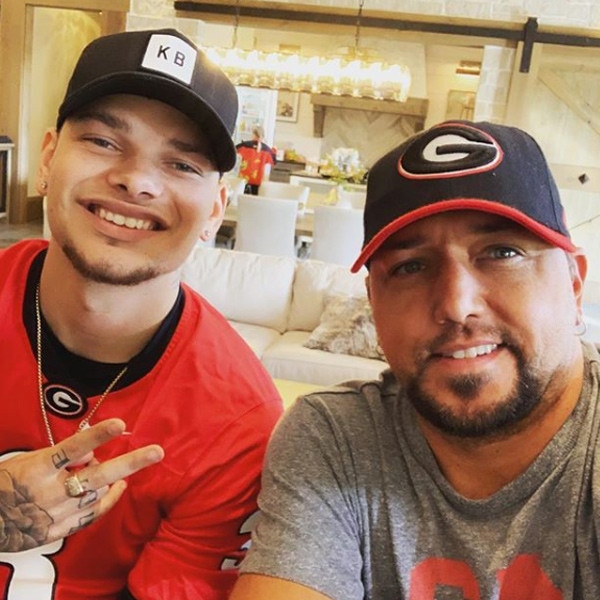 Instagram
When it comes to bromances, these two artists are burnin' it down. 
As country music fans know, there are no shortages of friendships and close bonds in and around Nashville.
But out of all the talented artists and performers in the popular genre, there's a certain relationship that deserves some recognition.
Oh yes, we're talking about Jason Aldean and Kane Brown's solid bromance.
The two artists are both in Indio, Calif., this weekend where they will perform their biggest hits for thousands of country music fans at the Stagecoach Music Festival. And this summer, the duo will hit the road together as part of the 2019 Ride All Night tour.
"Kane was out with us a couple years ago, and I just kind of hit it off with him. He's kind of become like my little brother almost," Jason previously told reporters at a party celebrating his No. 1 hit with Miranda Lambert. "When I'm on tour, I want to be out there with guys I like hanging out with and it doesn't hurt that Kane is on fire right now."
He continued, "He's about as hot as it gets. Just excited to have him back out, excited to see his show and have a buddy out there for a year."
This friendship, however, isn't just reserved for the biggest stages across the country. For life's special moments, you can likely find Jason and Kane cheering each other on.
When Kane said "I Do" to Katelyn Jae, Jason and his wife Brittany Aldean decided to go big with a "high-tech blender" that the groom admitted "wasn't a regular blender I'll tell you that much."
Most recently, the "Heaven" singer announced he is expecting his first child with his wife. As you likely could have guessed, Jason and Brittany were quick to congratulate the couple.
"So happy for u guys man," Jason shared in the comments section of Instagram. "Can't wait to meet that kid." Brittany added, "EEEEEEEEEK!!!!!!" with a series of heart emoji's.
And when Jason and his wife were expecting their second child together, Kane was on hand for the baby shower.
"That was my first baby shower," Kane recalled to Taste of Country Nights. "It was awesome. Dee Jay Silver was there, Dan + Shay was there and we just hung out and had a few drinks and then afterward we ended up going back to Jason's house to watch some football and hang out all night."
Speaking of football, you can likely find the two artists cheering on Georgia Football whenever they are in the same town on game day.
As seen on Instagram, the guys can't help but fan-girl when watching their team win big. But when things get a bit more serious, Kane knows the Grammy nominee is a dude he can count on.
"He's my big brother. We watch every Georgia game together, we bowl, I call him if I need advice," Kane shared with Billboard. "He's always been there for me. He's my guy."
And with the Ride All Night tour kicking off May 3 in Connecticut, the next few months are going to be a summer to remember.
"We are pretty close now. I call him whenever I have a problem or whenever I am going through something and he's always there," Kane once shared with Sam Alex Radio. "Two a.m., whatever, he says, 'Just call me.' He's one of the good guys."
Find out when Jason and Kane (and special guest Carly Pearce) are heading to your neighborhood by checking out tour dates online now.