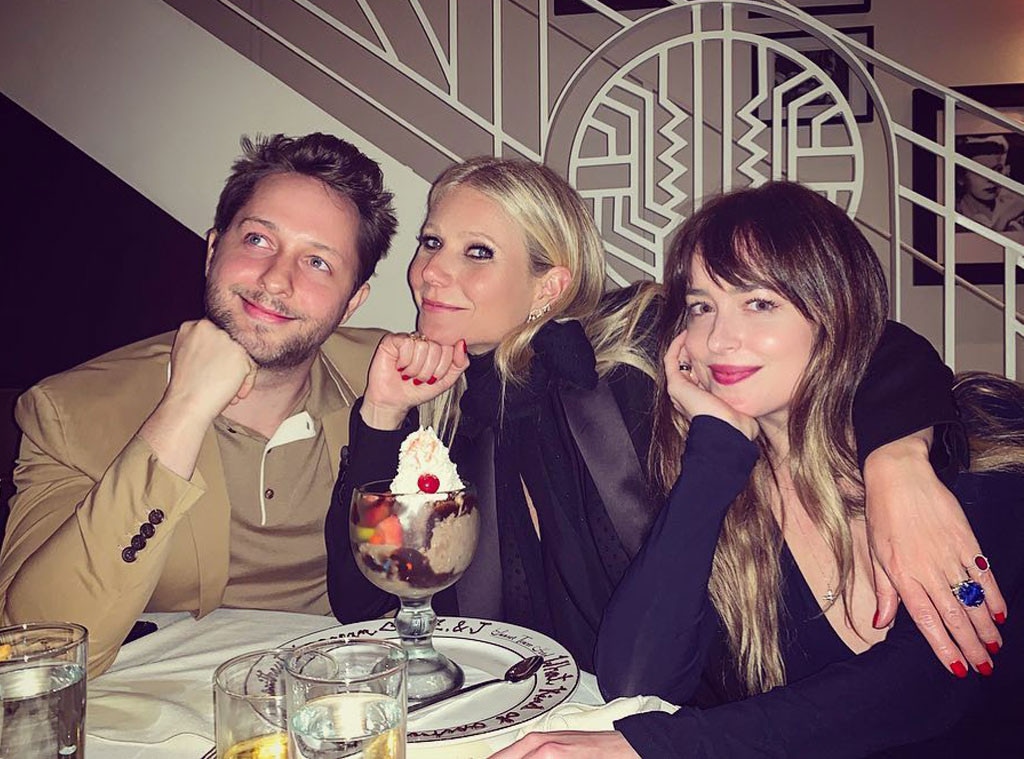 Instagram
Chris Martin who?
It was 50 shades of friends at what was likely a birthday dinner for Derek Blasberg that featured Gwyneth Paltrow and Dakota Johnson. There's a chance that Paltrow stopped by after the Avengers: Endgame World Premiere in Los Angeles as she sported the same G. Label little black dress that she wore on the carpet.
Johnson is in a happy relationship with Martin, who also happens to be Paltrow's ex and father of their two kids, Apple Martin, 14, and Moses Martin, 13. 
Paltrow and the Coldplay frontman split in 2014 and announced the news in a Goop blog post that was titled "Conscious Uncoupling." The term quickly transformed into a colloquial phrase, which Blasberg referenced in his Instagram post on Tuesday afternoon. He uploaded two pictures of the three of them where they're smiling and laughing at a dinner table with a large glass cup of a fruit dessert in front of them.
"Consciously throupling," he captioned it.
For what it's worth, Paltrow said in 2016 that she would have gone about the separation and "conscious uncoupling" announcement a bit differently.
"It was such a difficult time in my life and I was trying so hard to protect my children and my family, Chris included. We were both fragile. It was really tough. To me it felt like this is a quiet way to do this and it is contained," she said at the time.
But now the Goop founder and the 50 Shades of Grey star have consciously become friends and have a presence in each other's lives.
Neither Johnson nor Martin has spoken publicly about their relationship with the exception of the 29-year-old star telling Tatler for their November issue that she was "very happy."
Paltrow and Martin are all about having their "modern family" and so Paltrow and her new husband Brad Falchuk spent the Thanksgiving holidays with Martin and Johnson. A source told E! News at the time, "Gwyneth thinks she is lovely. She gets on very well with her and is happy for Chris."
The source also explained that the two women have "spent a good amount of time together and have a very nice friendship."
Additionally, and perhaps most importantly, "The kids really like Dakota and enjoy spending time with her."
The exes have a positive relationship and seem to have co-parenting down pat. The Avengers star told Savannah Guthrie in March, "We really made the commitment to maintaining the family—even though we weren't going to be a couple."
She added, "Both Chris and I have made a commitment to continue to love the things about each other that we've always loved and to really continue to develop our friendship and to find ways to continue to communicate." 
They shared, "They are very much in love and happy."