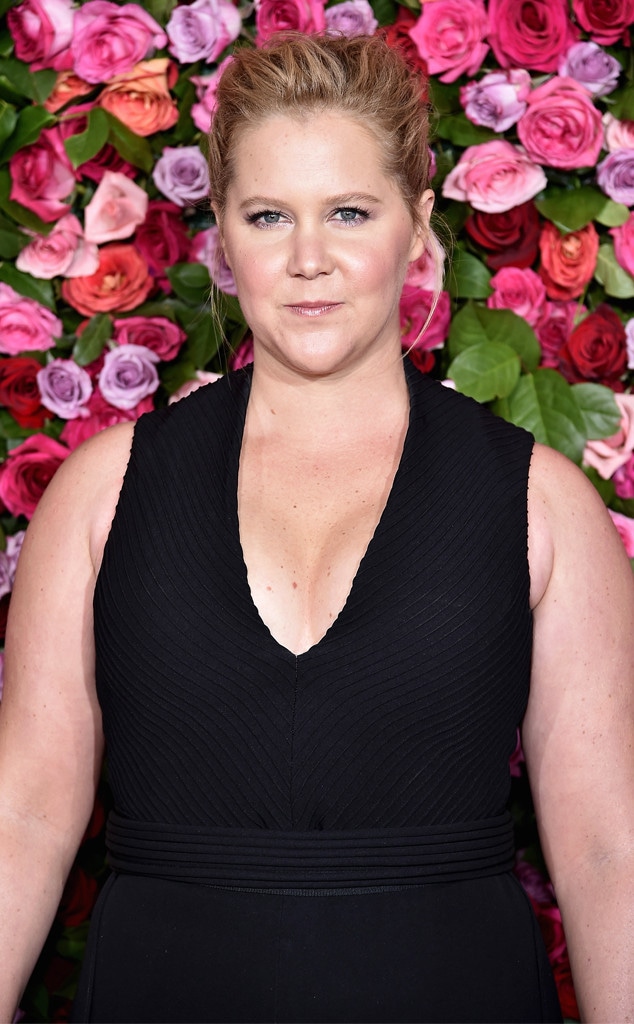 Steven Ferdman/Patrick McMullan via Getty Images
UPDATE: False alarm, y'all!
Amy Schumer is "still pregnant and puking," as she so eloquently put it on her Instagram. Taking to social media, the soon-to-be mom shared a pregnancy update with her 8.4 million followers and also gave her two cents on the medical field.
"Amy Schumer And Chris Fischer set pulses racing while the heavily pregnant Schumer flaunts her growing bump," she wrote. "Amy is still pregnant and puking because money rarely goes to medical studies for women such as hyperemesis or endometriosis and instead goes to things like dicks not getting hard enough or old guys who want harder dicks."
_ _ _ _
Are congratulations in order for Amy Schumer?
That's what some pop culture fans are asking after the actress and comedian shared an Instagram post earlier this week.
On Monday afternoon, Amy posted a photo of the book Cribsheet written by Emily Oster. While the picture seems innocent, it's the caption that is raising a few eyebrows.
"The book #expectingbetter by @profemilyoster got me through pregnancy," she wrote to her followers. "It is a fact and statistic based look at pregnancy. She is an economist at Brown University. Her follow up book #cribsheet is about children from birth to preschool. I am so grateful for her work."
As soon as the post surfaced, some fans thought it signaled the arrival of a baby.
"Uhhh congratulations? Lol idk if I'm reading too much into that," one fan wrote in the comments section. Another follower added, "Through pregnancy meaning…"
Ultimately, Amy is staying quiet and not confirming anything just yet. She would also later share a clip from her podcast called "3 Girls, 1 Keith."
Back in October, the 37-year-old first revealed to fans that she is pregnant and expecting her first child with husband Chris Fischer.
Since then, the actress has been open and honest about her journey to motherhood. As it turns out, it hasn't been the easiest ride.
During her second trimester, Amy was hospitalized for severe nausea. As a result, she had to reschedule performance dates.
"Baby's fine but everyone who says the 2nd trimester is better is not telling the full story. I've been even more ill this trimester. I have hyperemesis and it blows," she wrote. "Very lucky to be pregnant but this is some bulls--t! Sending so much love to the doctors and nurses taking great care of me and Tati! They are cool as hell! And Texas I am really really sorry and I'll be out there as soon as I'm better."
Ultimately, motherhood is something Amy can't wait to experience—even if she once thought children wouldn't be in her future.
"I have never wanted kids," she previously shared with Ellen DeGeneres. "And then I saw myself as a baby on your show and I thought, 'Who am I to deprive the world of such a beautiful baby?' I think we're going to do it, just only use my genetics."
(Originally published Tuesday April 23, 2019 at 10:07 a.m. PST)