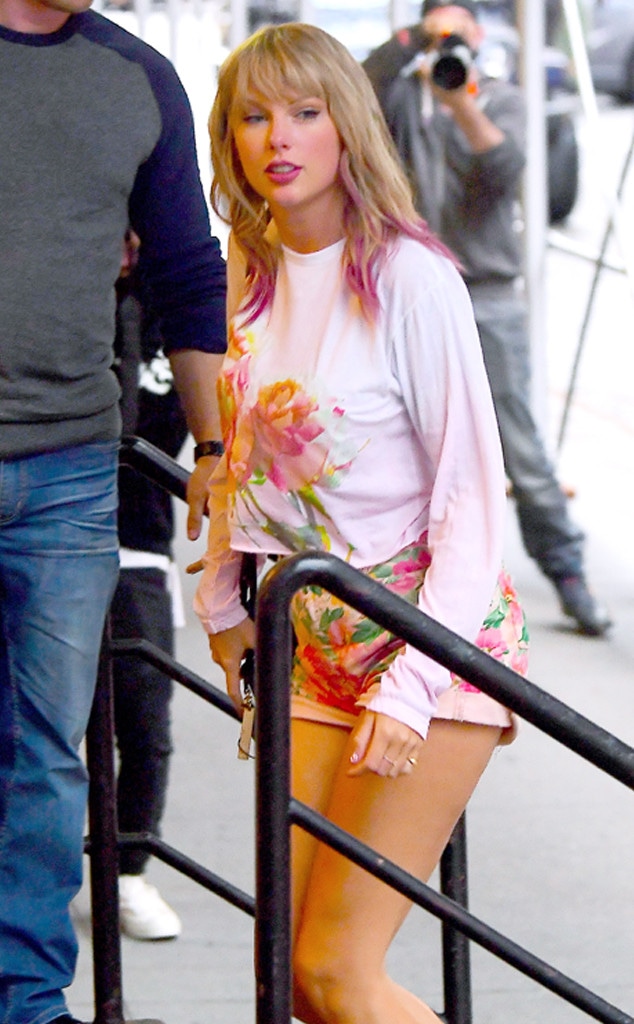 DIGGZY / SplashNews.com
Taylor Swift is probably thinking, "look what you made me do" as she rocked a fresh 'do on Monday.
The 29-year-old Reputation singer recently switched up her hairstyle and dyed her ends bright pink. Swifties might recall she debuted Barbie pink strands at the 2019 iHeartRadio Music Awards.
Although, it went unnoticed since she styled her hair in a high pony and it was more sparse. However, it seems she's been loving the playful color, because it looks like she added more pink to her tips.
If anything, her rosy hair color matches the vibe and color-scheme of her latest Instagram posts, which have sparked rumors that new music is coming soon.
On Monday, fans caught a glimpse her her colorful 'do, as she stepped out in New York City wearing a vibrant floral blouse, Urban Outfitters shorts and Gucci sneakers.
While Swifties are crossing their fingers that the 29-year-old pop star drops her supposed tunes, which many believe she's dropping on April 26 after she shared several cryptic posts, others are theorizing she's launching a clothing line.
A couple of weeks ago, the "Delicate" singer-songwriter sent fans into a frenzy after she shared a countdown on social media. She hinted that something big was happening on Friday, April 26.
For Elle's April issue, the Cats actress penned an essay titled, 30 Things I Learned Before Turning 30, where she talked about creating countdowns for stuff she's genuinely "excited about."
"I make countdowns for things I'm excited about," she wrote.
"When I've gone through dark, low times, I've always found a tiny bit of relief and hope in getting a countdown app (they're free) and adding things I'm looking forward to."
She continued, "Even if they're not big holidays or anything, it's good to look toward the future... Sometimes we can get overwhelmed in the now, and it's good to get some perspective that life will always go on, to better things."
While Taylor has been tight-lipped about what exactly it is she'll release, she's already filled her Swifties up with excitement.