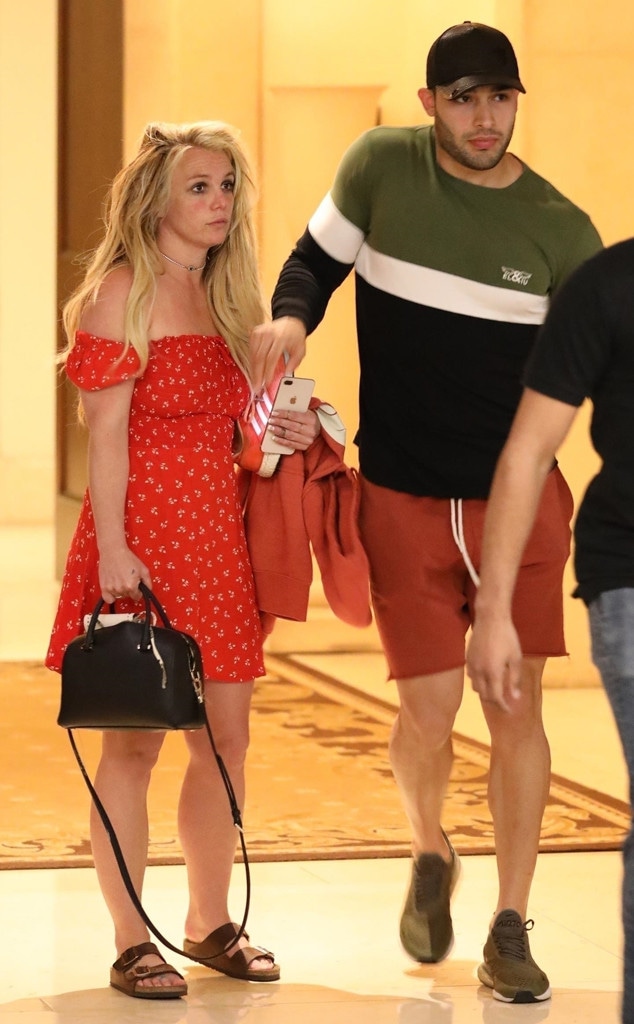 BACKGRID
Britney Spears is "looking relaxed and happy," according to a source, as she makes a rare public outing since checking into a mental health facility.
According to an eyewitness at the Montage Beverly Hills Hotel, the "Lucky" pop star was in good spirits after enjoying Easter Sunday with her long-time boyfriend, Sam Asghari.
"The singer emerged from the hotel looking relaxed and happy with Sam guiding her out and getting the door for her," the eyewitness tells E! News. Apparently, the 37-year-old songstress "spent a relaxing day at the upscale hotel" with Asghari.
"Britney appeared happy, smiling as she emerged and headed to her car in a summer dress and Birkenstocks." The source adds, "Sam is clearly looking out for his long-time girlfriend, he made sure to walk ahead of her and see her to her car."
A second source shares the same sentiments, telling us that "she looked really relaxed, totally zen and just chill" and that her 25-year-old beau "seems very protective of her."
"He immediately let her out, got the door for her and seems overall very loving towards her," the second source shares.
Ethan Miller/Getty Images
With her recent outing, it seems she's doing well. As the second eyewitness tells us, "She had a small smile and just looked chill, like she got to get away from things for a little while and enjoyed a normal day with her boyfriend."
Earlier this month, news broke the "Pretty Girls" singer entered a mental health facility to help cope with her father, Jamie Spears' health issues. At the time, a source close to the Princess of Pop previously told E! News that she "decided to do this on her own."
"It had a lot to do with the stress of her father, but both Jamie and Britney are doing much better. It's the hope that in the next week or so everything will be more stabilized, but she'll be at this wellness facility for a few weeks."
Of the treatment center, the source clarified that "this place affords her the opportunity to rejuvenate and rest, it gives her the ability to recharge with some real peace and quiet, so she's taking a few weeks to do that."
While Britney prioritizes her well-being and her father's health, her ex-husband Kevin Federline is reportedly taking care of their two sons, Sean and Jayden.