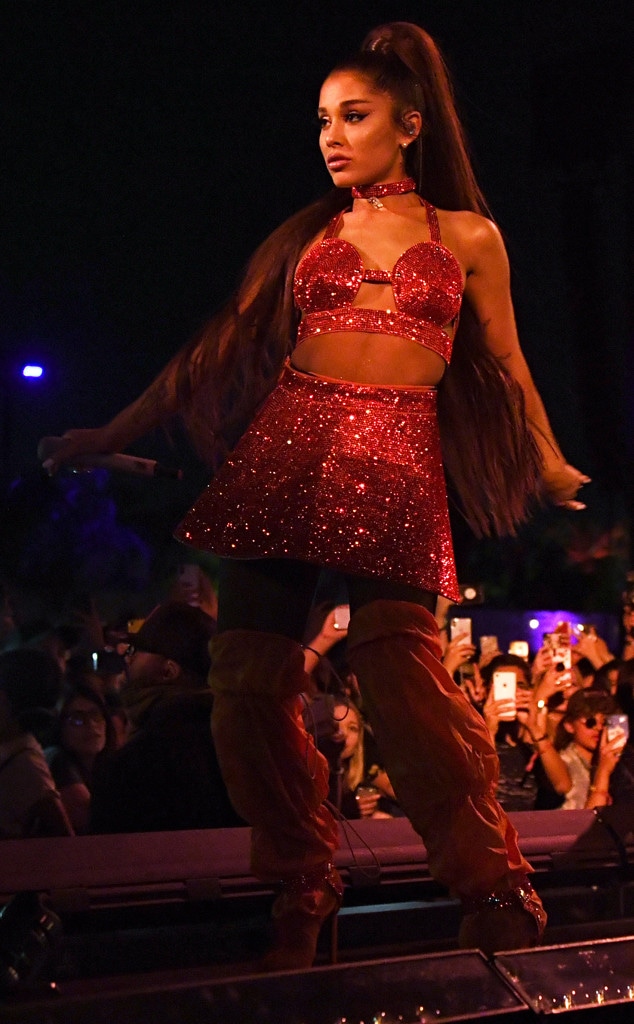 Kevin Mazur/Getty Images for AG
Orange you glad you weren't onstage for this one?
Ariana Grande has dealt with a fair share of life throwing a handful of metaphorical curveballs her way—both good and bad—but things took a bit of a turn on Sunday night during her set at Coachella 2019.
Grande made history at Coachella Arichella this year as she became the youngest person to ever headline the festival. She's also only the fourth woman to ever do so. Needless to say, her performance left her tens of thousands of fans at Coachella in total awe. One person, however, wanted to make a little bit of a more permanent mark on the historic show. 
Twitter user @KayleighPerezz caught an interesting moment on camera that shows Grande strutting across the stage towards a chair wearing her signature thigh-high boots and maroon two-piece outfit. Just as the "7 Rings" singer is about to take a step towards the mini throne, she gets hit in the chest with what looks like a lemon. Grande, being the superstar that she is, briefly peers down at the lemon as it bounces off her chest and keeps on moving. She very much so said "thank u, next" to that zesty fruit.
When life hands you lemons, maybe don't throw them at a chart-topping, Grammy award-winning, Coachella-headlining singer?
So far, the 25-year-old artist has yet to comment on Lemongate, although Arianators have come out in full force in support of the singer.
There's definite symbolic meaning behind the lemon that was hurled at the singer. Last year, Beyoncé made history at Coachella when she became the first black woman to ever headline the show. The monumental performance even got turned into a documentary called Homecoming, which was released on April 17.
Some fans are speculating that the lemon was thrown by a BeyHive member due to a pay disparity between the two artists. According to Newsweek, there were initially some rumors that Grande was paid $4 million more than Beyoncé for the show with the "God Is a Woman" singer earning $8 million to Bey's $4 million. However, The Blast reports that both women were paid $4 million per weekend, thus they reportedly each got $8 million overall.
Perhaps that's merely because she is still riding on the endorphin high of performing at the festival, which included surprise performances by both *NSYNC and Justin Bieber. The "Bye Bye Bye" singers joined Grande onstage during weekend one, where they sang and danced to "Tearin' Up My Heart." JC Chasez told the roaring crowd that it was "a dream come true."
Grande posted a pic of herself with the boy band members and dubbed them "the nicest human beings possible" and wrote about what it was like to meet one of her favorite bands of her youth.
"it can go either way when you meet your childhood heroes and no one has ever been kinder or cooler or sillier or more lovely to be around," she penned. "also how the f--k do y'all still sound and dance exactly like you did when my mom and i followed you around on tour when i was 5? thank you thank you thank you for your time and energy and i love you so much forever."
Lance Bass commented, "I [heart emoji] you."
Chasez added, "It was the most beautiful blur. Thank you, your mother, your brother, and your entire artistic family for all of it. Only you could do this."
Although frontman Justin Timberlake didn't join his former band members onstage, he took a moment to praise *NSYNC and Grande's collaboration. "You guys killed it last night," he captioned a photo of Grande with the guys. Timberlake missed out on the reunion because he was finishing up with Man of the Woods tour.
Bieber fever ran high at Coachella, too, and we're not just talking about his many cute moments with his wife Hailey Bieber and pal Kendall Jenner. Grande explained to the crowd that this duet with the "Sorry" singer was relatively impromptu.
"Coachella, I wasn't gonna bring any guests out tonight, but my friend Justin Bieber came all the way out to spend some time with y'all," she said. "And we thought it might be fun to do something for you guys. This was not planned at all. Thank you for being here Justin, we love you so much."
Bieber thanked the fans for their support and said it was his "first time onstage in like two years."
He added, "I had to get my groove back, I had to get my swag back, you know what I'm saying."
For all the Beliebers out there, he also promised there would be "an album soon."
Bieber later thanked Grande in a tweet and said, "That felt right."
Check out the photos below for some of Grande's best Coachella moments.
It's clear that the lemon toss clearly didn't sour her overall Coachella experience.