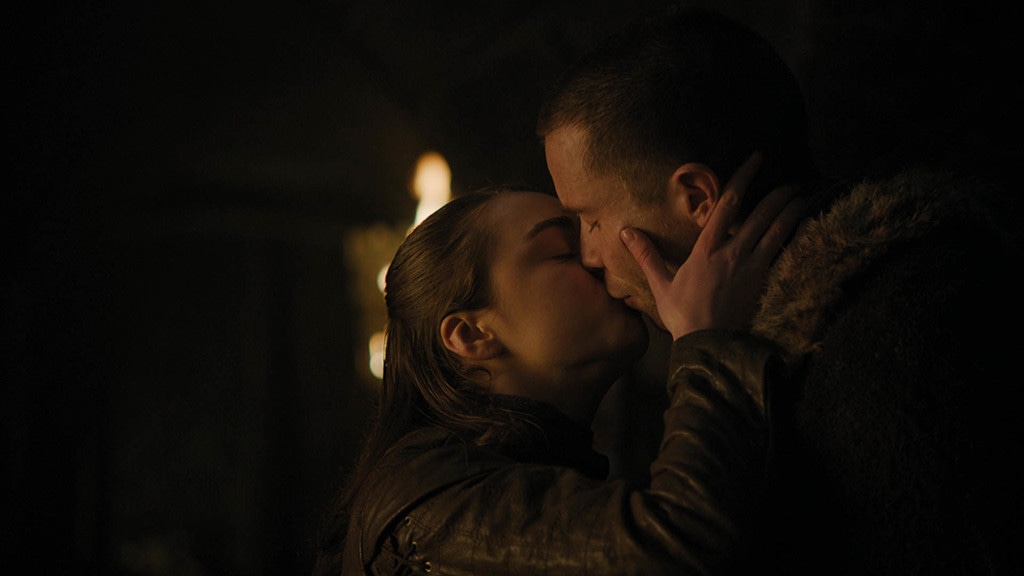 HBO
It's possibly your last night alive, you're about to face the Night King and his army of the dead. What do you do? If you're the beloved Game of Thrones character Arya Stark (Maisie Williams), you get it on with Gendry (Joe Dempsie).
In the second episode of the final season, pretty much every series regular character gathered in Winterfell to discuss their plans to take down the Night King and have one final night of merriment. Williams was tipped off to the big moment by her pal and costar Sophie Turner. She got to it in the script before Williams and told her to skip to it immediately.
"At first, I thought it was a prank," Williams told EW. "I was like, 'Yo, good one.' And [the showrunners were] like, 'No, we haven't done that this year.' Oh f--k!"
Gendry and Arya have quite a history together. In the episode, she tells him she wants to have sex if this is her last night alive.
"For us, what was interesting about this episode was always that it's our last night together, and everyone, I think, would face the end in different ways," co-creator and showrunner David Benioff said in the behind-the-scenes video below.
"Some characters want to make love for the first time because they've never done it before. There are other characters who are getting drunk and singing songs, and then there are characters who are just trying to find some human solace together, like Sansa and Theon. Everyone faces it in different ways, but they're all facing it. That's why this episode was so important to us because it's all these characters we've been following for so long and now they're all facing a common enemy," Benioff continued.
Williams, now 22, has been on the show since she was a preteen and said she was given the choice over what she wanted to show on screen. The age thing also came up for Dempsie, 31, who has been working with Williams since she was 12. He told EW he didn't want to be "patronizing toward Maisie," so they "just had a lot of fun with it."
With an uncertain fate in front of her, Williams said it was an important human moment for Arya.
"This is something she's stayed away from, an emotion we've never really seen her engage with. David and Dan were like, 'It's the end of the world, what else would you have her do?' This may be is a moment where Arya accepts death tomorrow, which she never does — 'Not Today,'" Williams said. "So, it was that moment where she says, 'We're probably going to die tomorrow, I want to know what this feels like before that happens.' It's interesting to see Arya be a bit more human, speak more normally about things people are scared of."
Game of Thrones airs Sundays, 9 p.m. on HBO.