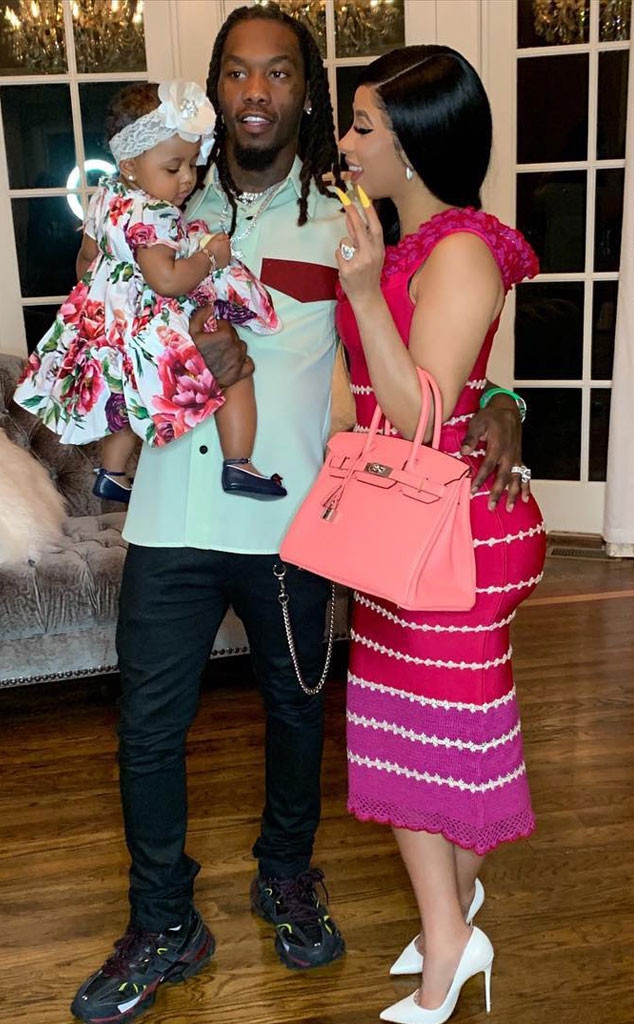 Instagram
Cardi B and Offset's daughter Kulture Kiari Cephus is adding more and more words to her repertoire every day.
On Sunday, the Father of 4 rapper shared a video on his Instagram Story that showed him urging his little girl to "say dada." After just a little bit of coaxing, she imitated him and muttered "dada."
Offset was more than pleased as he cheered her on for the new vocabulary word. He captioned the video "Yes finally."
Way to go Kulture!
The Invasion of Privacy artist posted a family photo of her own on Sunday evening. "Happy Easter from mines to yours," she captioned the picture.
Cardi explained to E! News in October at her Fashion Nova x Cardi B launch that Kulture "is totally a daddy's girl."
She elaborated, "Sometimes she be throwing tantrums and I be telling Offset when he's on tour, 'Oh my God this girl be throwing the craziest tantrums.' Then when he come around, she doesn't do it."
The "Bodak Yellow" rapper joked, "She makes me look like a liar, or like I'm exaggerating."
But Kulture knows she's a mama's girl, too, because Cardi wears her heart on her sleeve as well as on her neck and in her ears.
Ever since Cardi and Offset welcomed Kulture on July 10, 2018, they've shared just a few full-body pictures of their daughter. In February, the Grammy-winning rapper posted a photo of the family of three snuggling together in their bathing suits during a vacation in the Dominican Republic.
She explained to Harper's Bazaar in February why they were initially hesitant to post pictures of Kulture. "As soon as she was born, one month in [Offset] was like, 'She's so beautiful. Watch how people gonna go crazy," she began.
Cardi added, "Cause a lot of people were saying mean stuff, like that we don't post her because she's ugly. He was like, 'I'm about to post my baby right now.' But then we were very concerned because we were getting a lot of threats, so he said, 'The world don't even deserve to see her.'"
Cardi has also been open about motherhood and her battles with postpartum depression. She told Harper's, "I thought I was going to avoid it. When I gave birth, the doctor told me about postpartum, and I was like, 'Well, I'm doing good right now, I don't think that's going to happen.'"
The 26-year-old said it felt like "the world was heavy on my shoulders."
Cardi shared with E! News at the Swisher Sweets Awards recently that she finds herself to be "a good mom."
"I'm a good mom. I'm good at a lot of things. The best job is a mom. I'm really good at being a mom," she said.
She said of Kulture, "She is so fun, she is cool, like, I love her, she's like my little best friend. She just makes the gloomiest days like sunshine. I love it. It's is slice of heaven."