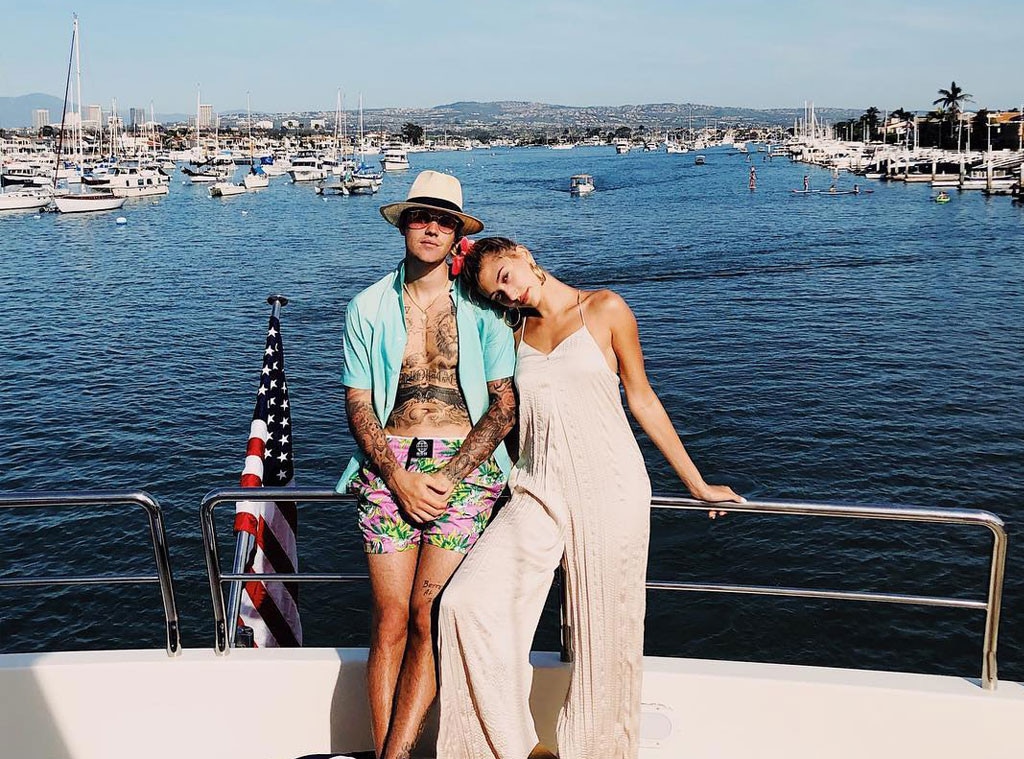 Instagram
Justin Bieber loves his wife Hailey Bieber for both her inner and her outer beauty.
The "Sorry" singer and Hailey have been partying it up at Coachella 2019 with some of their close pals, including Hailey's best friend Kendall Jenner. Kendall, who is a total staple of the festival, has posted a ton of photos on social media from her two weekends out in Indio, Calif.  Hailey, Justin and Kendall are just a few of the many celebrities who travel to the California desert to soak up some of the best music around.
On Saturday, the Keeping Up with the Kardashians star shared a series of pictures on Instagram from Friday night at the festival, including a few with Hailey. In one picture, Kendall wraps her arms around Hailey's shoulders and smolders at the camera while Mrs. Bieber holds one finger up and sticks her tongue out. The 23-year-old model is wearing a long sleeve white glow-in-the-dark shirt while Hailey has on a strapless corset top and big jacket.
Bieber seemed to be a huge fan of his wife's sartorial choices, which he made abundantly clear in the comments section of Kendall's photos.
"Baes boobs," he gushed and added two fire emojis.
This is just one of Bieber's many social media testaments to his wife.
On April 8, the 25-year-old uploaded a picture of Hailey from a Maxim photo shoot and penned a poem about how much he loved her. The picture showed her standing on a balcony in Paris with the Eiffel Tower in the background.
"Sunlight falls into the Abyss  / Just like i fall into your lips / Waves crash onto the shore / My love for you grows more and more / Sound of the crickets a true meditation / I think about you, Gods greatest creation," he began.
Bieber continued, "As i fall into this blissful state / I ponder on how you're my one true SOULMATE."
The singer said he was "grateful" that they found each other and he wrote it because he wanted to "publicly honor" her.
He also "publicly honored" Hailey last weekend when he provided a picture on social media of what it truly means to have a blended couple nickname. They're known as "Jailey," and the Canadian took it upon himself to share a photo that someone made in Photoshop of his face on Hailey's body from a photo shoot that she had recently with Adidas.
"The internet gotta chill," he wrote. "jailey for real."
In case you want to feel like a virtual honorary member of Jailey and Kendall's Coachella crew, take a look at the photos below to see how they're spending their weekends in Indio.
Hailey praised her hubby on Instagram the other day, too. "My love you are an incredible man, you make me a better human being, you make me happier than I've ever been," she captioned a photo of him. " Insanely proud of who you are and who you're becoming.. I love you more every single day."
This surely isn't the last we've seen of their cute Coachella moments together.