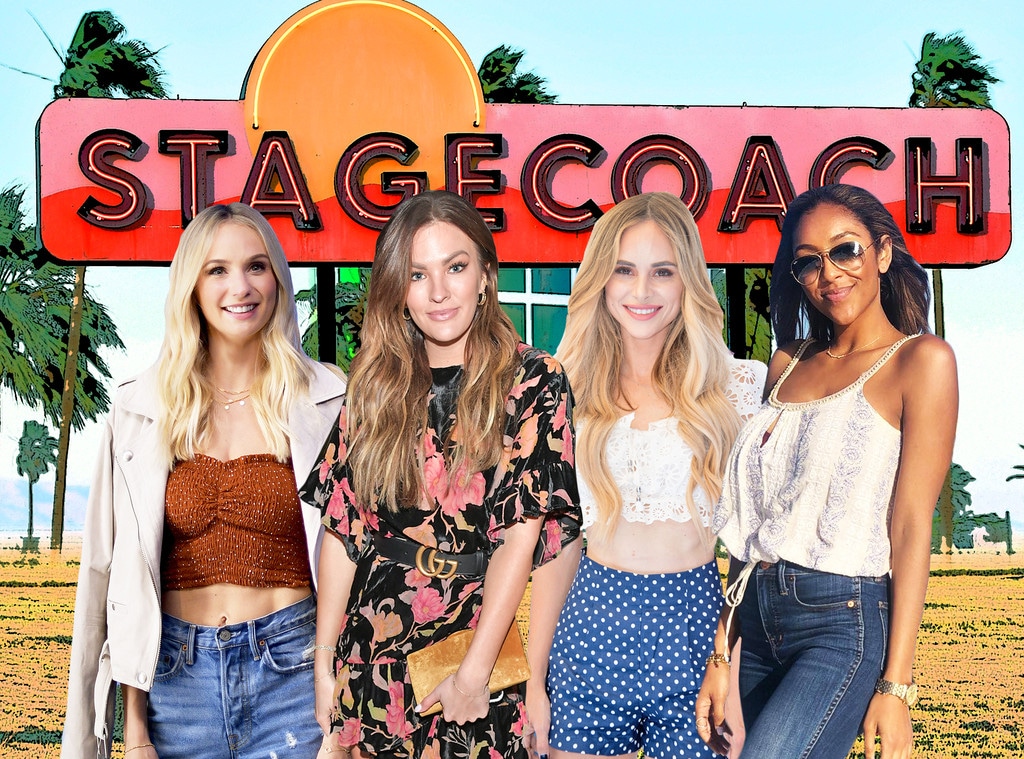 Getty Images; Instagram/E! Illustration
There's paradise and then there's the magic of Stagecoach.
Before your favorite stars from The Bachelor and The Bachelorette find out if they're heading to Mexico and given a second—or third—chance at love on Bachelor in Paradise, many find themselves traveling to a popular California country music festival.
Oh yes, we're talking about Stagecoach in Indio, Calif.
In recent years, we can't help but notice that many former contestants clear their schedules to experience three days of country music. And yes, cowboy hats, boots and beer are likely part of the weekend too.
"Stagecoach has always been my go-to getaway with girlfriends," Lauren Bushnell shared with E! News exclusively. "The weather is great and there are always so many good artists. Everyone is there to have fun and it's not necessarily all about the fashion or the pre-festival parties. It's about the venue and the music and friends."
In other words, the scene is much more chill than Coachella that takes up the two weeks before. It's also the perfect chance to run into other contestants from Bachelor Nation. While some travel together, others just so happen to meet up during the three days.
"It's always so fun to see everyone—even if it's people from different seasons," Becca Tilley shared with us before heading out to the desert. "Everyone has this automatic connection from being on the show and it's a fun environment to see everyone."
For the iHeartRadio Scrubbing In podcast co-host, she distinctively remembers night two of Stagecoach 2017 when a special female singer took to the stage and wowed the audience.
"I will never forget standing behind Amanda Stanton and Lauren Bushnell dancing and singing/yelling Shania Twain!" she confessed. "It was such a fun weekend."
Amanda also remembers singing loud and proud to Shania's biggest hits including "Man! I Feel Like a Woman" and "That Don't Impress Me Much" with her friends from the franchise.
"Everything about that trip was memorable," the creator of fashion brand Lani the Label shared with us. "It was around the time Lauren B and I were fresh off the show so we had a blast meeting everyone."
Other cast members have taken notice and are ready to experience Stagecoach for the first time this weekend. Many ladies from Colton Underwood's season told us that they are more than excited to attend this year together.
E! News has learned Tracy Shapoff, Heather Martin, Kirpa Sudick, Tayshia Adams and more ladies will be heading to Indio this weekend to experience Luke Bryan, Sam Hunt, Jason Aldean and more artists.
Paul A. Hebert for ALT 98.7FM
"I'm going to hang out with them and have a good time," Kirpa shared with E! News while attending The Woody Show's After Hours Takeover at Disney California Adventure Park. "I'm excited to see all of the girls reunite and dance to country music together all night"
Heather added, "We're all going to get an Airbnb together. I think a lot of the girls have their outfits. I'm always last minute with outfits. I'm bad at that stuff."
Perhaps we're here to help. Take a look at some of Bachelor Nation's best moments at Stagecoach in the gallery below.
We'll see you guys in the desert! Yee-haw! 
—Additional reporting by Alli Rosenbloom