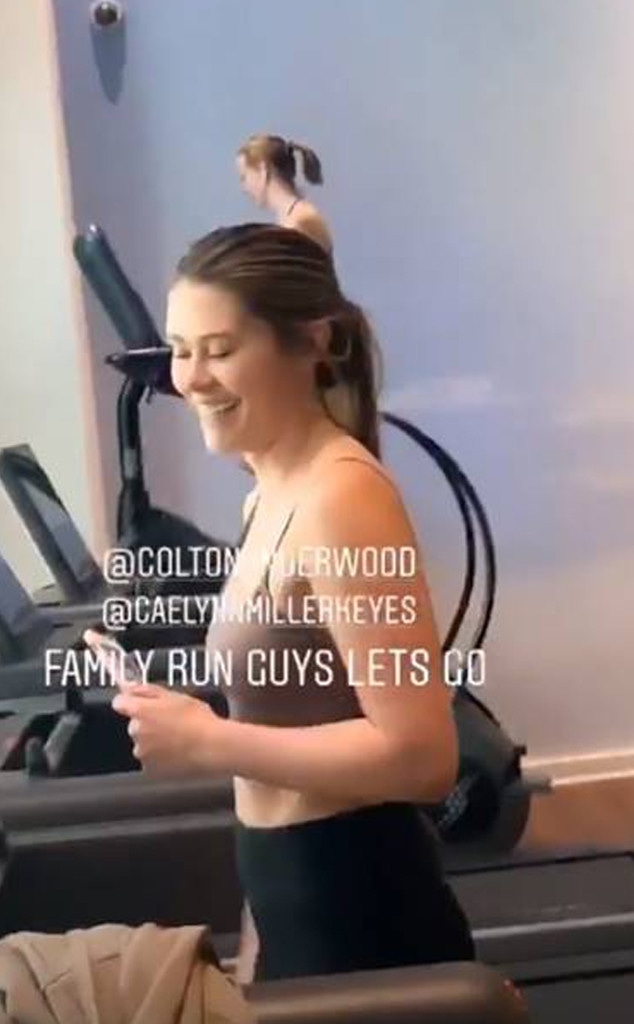 Instagram story
The "family" that runs together, sticks together!
It seems there's no bad blood between The Bachelor couple Colton Underwood, Cassie Randolph and his ex, Caelynn Miller-Keys, who was the third runner-up on ABC's dating competition series. That's right, the trio took to Instagram Stories to share video clips of their work out together, and they appeared to have a blast (which says a lot because who has fun exercising???).
"Family run guys let's go," Randolph captioned her Instagram Story, along with a video of the beauty pageant queen and her boyfriend breaking off a sweat on the treadmill. "I feel like we are all hamster friends," she wrote in another short clip.
However, Colton described the work out sesh with his girlfriend and ex a little differently. "One big weird family," he captioned his Instagram Stories after re-sharing Cassie's post of them exercising together.
Earlier this week, news broke that the three reality TV stars were all living in the same apartment complex, so it makes sense they'd see each other at the gym.
Of living in the same apartment building in Los Angeles, the former Miss USA contestant told Cosmopolitan they live only "two floors apart."
"We live two floors apart, and he's really become this big brother," Caelynn said of the former athlete." People are taken aback and weirded out by that, but our relationship has truly changed. He's always giving me advice, setting me up on dates. It's so fun [living so close to Cassie]."
She added, "It feels like we're on The Bachelor again. [Laughs.] It's a mini Bachelor mansion."
Since the reality TV series ended its 26 season with the 27-year-old star, Colton and Cassie have been inseparable. More recently, the two lovebirds were packing on the PDA while in Las Vegas.
"The two were in great spirits, and were seen smiling, laughing, kissing, hugging and taking selfies throughout the night," a source previously told E! News.