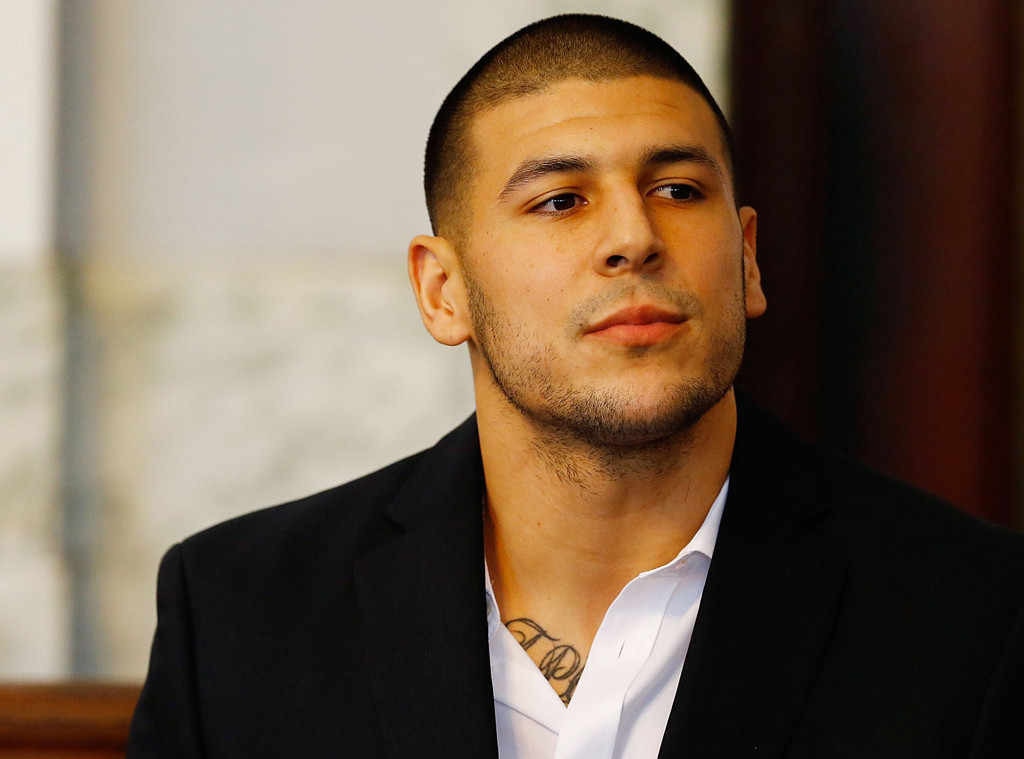 Aram Boghosian for The Boston Globe via Getty Images
When disgraced football player Aaron Hernandez took his life in his jail cell two years ago, it seemed as though the tragic end to his short short life would be the end of his story.
And in a way, it was. A life once filled with promise that had turned unspeakably violent was now over. And it seemed as though the world would just move on. But to think that is to forget all those left to pick up the pieces in the wake of his suicide, both his family and the families of those whose lives were lost in the crimes the onetime NFL star had been accused of.
And so, in that way, the story might never really be over. It certainly isn't yet.
When Hernandez was found in his cell at Souza-Baranowski Correctional Center in Shirley, Mass., having committed suicide by, per the medical examiner's conclusion, hanging himself from a bedsheet tied to the window, with "John 3:16" written both on his forehead (in ink) and on the wall (in blood), he was five days out of an acquittal in the 2012 double homicide of Daniel de Abreu and Safiro Furtado and was in the process of appealing his conviction in the 2013 murder of Odin Lloyd, a football player who had been dating Shaneah Jenkins, sister to Hernandez's fiancee Shayanna Jenkins-Hernandez—a crime that, despite a guilty verdict, there'd never been a clear motive determined.
Naturally, people wondered why, after such a legal victory, he'd still chosen to end it all.
Was it the prison drugs found in his system? The crass way he'd been essentially outed on sports radio two days prior? Nagging guilt over his alleged transgressions? Or just the final violent act brought on by a brain ravaged by chronic traumatic encephalopathy (CTE), a progressive degenerative disease found in people who've suffered repeated blows to the head and commonly found in football players who've suffered concussions? While we will likely never be sure—because how can one speak with certainty about the motives of a person no longer here?—all involved, including his fiancee and his lawyer Jose Baez, eventually came around to accept that it was the latter that had not only driven Hernandez to take his life, but also turned him into the violent, paranoid person he'd become in the final years of his life.
In the immediate aftermath of Hernandez death, lawyers for him filed a motion in Massachusetts Superior Court to vacate his murder conviction, citing abatement ab initio, a common law legal doctrine that states that the death of a defendant who is appealing a criminal conviction vacates the conviction. The request was granted on May 9, 2017, meaning that Hernandez technically died an innocent man. (Ab initio is Latin for "from the beginning" and, under Massachusetts law, the principle asserts that when a defendant dies and has not exhausted all legal appeals, the case reverts to its status "at the beginning.")
As you can imagine, that wasn't exactly a popular decision. Bristol County district attorneys immediately stated their intention to appeal the ruling. "Aaron Hernandez did consciously and voluntarily take his own life. He died a guilty man and a convicted murderer," Bristol County District Attorney Thomas Quinn told reporters, according to the Hartford Courant. "You can't just snap your fingers and say he wasn't convicted, and an antiquated, medieval doctrine shouldn't change that."
When ADA Patrick Bomberg argued the state's (ultimately losing) position in court prior to the abatement, he implied that Hernandez had killed himself with knowledge of the law that would help overturn his conviction. "This is not a defendant who has arrived at killing himself by happenstance; that is not what the evidence shows," he said. "The defendant should not be able to accomplish in death what he could not accomplish in life."
Ursula Ward, Lloyd's mother, was present at the hearing and spoke outside the courthouse afterwards. "I know you are looking for me to be angry, but I am not. In our book he is guilty and will always be guilty," she told reporters, fighting back tears. "No one wins today. One day I will get to see my son, and that is the victory I am going to take with me."
The state made good on their promise to appeal the ruling, eventually taking it to Massachusett's highest court in a November 2018 hearing. "He goes through a full trial, a jury who speaks for the public convicts him and because he dies, in this case commits suicide, the whole thing is wiped out like it never happened? It's not fair or just and should be changed," Quinn told reporters then. 
John Tlumacki/The Boston Globe via Getty Images
And last month, the Supreme Judicial Court was ready to rule. Not only did they reinstate Hernandez's murder conviction, but they also declared that the legal principle used to overturn it in the first place was "outdated and no longer consonant with the circumstances of contemporary life," effectively wiping it out of existence. In its place was a new rule that states that, when a defendant dies while an appeal is pending, the conviction will stand, but the court record will note that the conviction was neither affirmed nor reversed.
In response, Hernandez's lawyers filed documents on April 12, 2019 asking the SJC to reverse its decision to reinstate the conviction, stating that the decision to do away with the antiquated doctrine should only apply to future cases. The argument notes that the court only applied the new rule to Hernandez and not to any other prior cases where it was successfully used to overturn convictions.
While lawyers have been going back and forth on the state of his conviction, a separate legal battle has been going on concerning Hernandez's six-year-old daughter Avielle Janelle Jenkins-Hernandez, born on her father's 23rd birthday, and her legal right to sue the NFL over his CTE diagnosis. After researchers at the Boston University CTE Center released a statement in September 2017 diagnosing Hernandez with Stage III CTE, typically seen in deceased players with a median age of 67, his fiancee sued the NFL on behalf of their daughter, attempting to hold them accountable for his death. 
The $20 million suit claimed the league was "fully aware of the damage that could be inflicted from repetitive impact injuries and failed to disclose, treat or protect him from the dangers of such damage."
"Aaron Hernandez succumbed to the symptoms of CTE," the suit read. "As a result of the defendants' conduct and the injury experienced by Aaron, Avielle Hernandez was deprived of the love, affect, society and companionship of her father while he was alive."
Speaking at a news conference, Baez reiterated, "Not only were the results positive, but we're told it was most severe case (BU) had ever seen for someone of Aaron's age."
George Rizer for The Boston Globe via Getty Images
The case eventually made its way out of Massachusetts state court, where it was initially filed, and into federal court in Philadelphia, where lawsuits alleging the NFL hid what it knew about the risks of concussion injuries had been consolidated. And in February of this year, U.S. District Judge Anita Brody ruled in a way that severely limited Hernandez's daughter's ability to sue. 
In her ruling, Brody asserted that Hernandez was effectively retired at the time of his death, therefore binding him and his family by the class action settlement for NFL retirees. "The crux of the issue is whether Hernandez was 'seeking active employment' as an NFL football player as of July 7, 2014. He was not. On this date, Hernandez had been imprisoned — without bail — for nearly a year," the judge said in her 19-page order. "Because A.H. did not plead that Hernandez was taking active steps towards employment as an NFL football player as of July 7, 2014, and because it would have been impossible for Hernandez to do so while indefinitely incarcerated, Hernandez is a retired football player within the meaning of the settlement. Allowing A.H.'s suit to proceed would be allowing the 'relitigation of settled question at the core' of the NFL settlement."
Long story short, because no one took action to opt out of the class action when Hernandez was still alive, in the court's eyes, the ability to sue individually was forfeited. As such, the suit was thrown out. And by ruling that Hernandez was bound by the class action, because he never joined it when he was alive, the family can not seek up to $4 million in compensation for suicides related to CTE under the class action settlement.
Family lawyer Brad Sohn, who is representing Hernandez's daughter in the case, is considering an appeal. "I have enormous respect and continue to have enormous respect for Judge Brody and the work that'd been done in connection with this settlement, but I do find myself still struggling to find the reasoning behind this specific opinion," he said. "Upon satisfying our concerns we will take the necessary next steps. That will be an appeal, or a number of other possibilities as well."
According to Sohn, Hernandez had not retired but still hoped to be exonerated and return to the league, meaning that his daughter ought to be able to pursue a "loss of consortium" lawsuit in Massachusetts. 
"No matter what anybody wants to say about Aaron Hernandez, she will have to live with the fact that she doesn't have a parent for the rest of her life," Sohn said. "It remains our position that the NFL is responsible for the damages that she has because of his CTE."
Hernandez may be gone, but it's clear that the effects of his alleged crimes and death will linger on for quite some time.