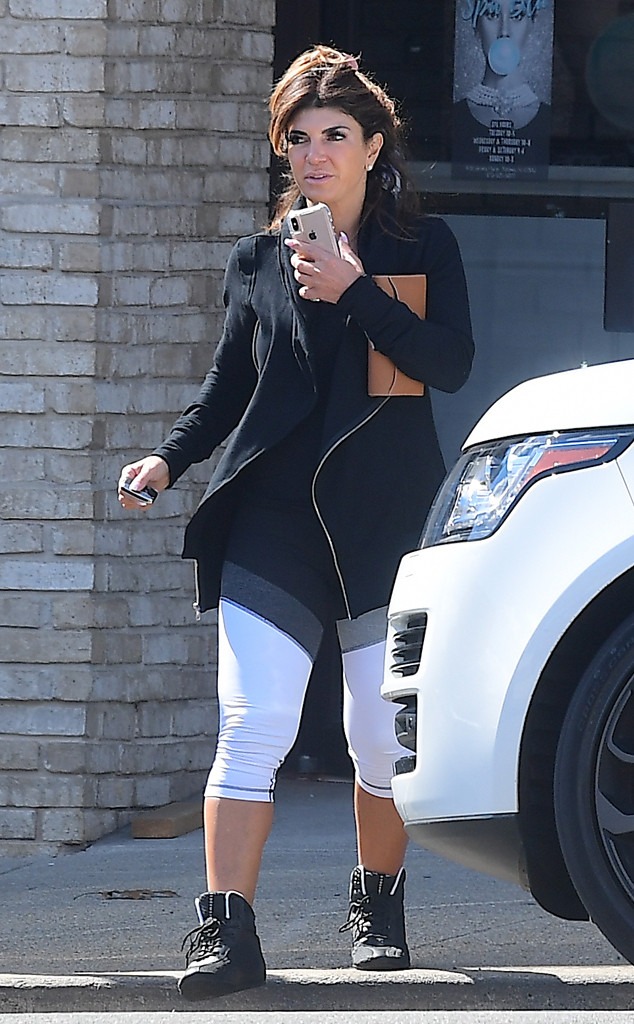 DIGGZY / SplashNews.com
Teresa Giudice is putting one foot in front of the other. 
The Real Housewives star was photographed leaving a New Jersey salon on Thursday, marking her first public outing since news broke that Joe Giudice might very well face deportation after all. Teresa looked upbeat as she chatted on the phone. The Bravolebrity wore a black and white athleisure ensemble during the mid-day outing. 
She didn't comment directly on the latest update in Joe's legal case, instead sharing a childhood photo of her daughters with their dad. "Joe with the girls decorating eggs, days like this I love having photos," Teresa wrote on Instagram.
This morning, news broke that the Board of Immigration Appeals had denied Giudice's request to fight a judge-ordered ruling that would send him back to his native Italy. 
The Giudice family attorney told E! News in a statement, "We are extremely disappointed that the Board of Immigration Appeals has denied Mr. Giudice's appeal. We have filed a stay with the Third Circuit Court of Appeals and will continue to fight to keep Mr. Giudice in the United States, the only country he knows, and reunite him with his wife and four daughters."
As for how Teresa is grappling with the ongoing legal drama, a source previously told E! News she's already "mentally preparing to leave him."
Explained the insider, "She was taking it day by day and was hoping the decision by the Board of Immigration Appeals would not have turned out this way. She is extremely loyal and even when she probably should have divorced him before, she didn't. Now it's like the decision might be made for her." 
Last month, 46-year-old Giudice was released from prison and into U.S. Immigration and Customs Enforcement (ICE) custody. Joe, a permanent U.S. resident, had entered prison in late March 2016 and was initially supposed to spend 41 months behind bars.
A judge ruled last October that he would be removed from the United States upon his release, which Joe and his legal team appealed. 
Teresa previously told Watch What Happens Live's Andy Cohen that moving her entire family to Italy is not likely.
"It's like starting a whole new life," she explained. "And they've been through so much already. So, I mean, I'm not doing a long-distance relationship. I'm just not doing it. I want somebody with me every day."