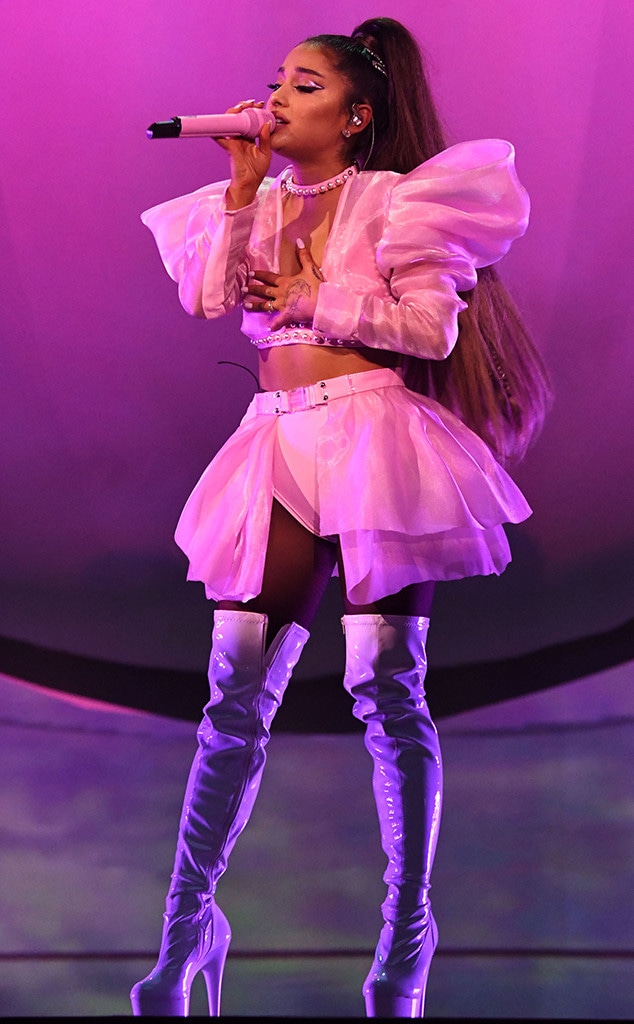 Kevin Mazur/Getty Images for Ariana Grande
The one thing that makes Ariana Grande different from the rest is the fact that she's open and honest with her fans.
On Thursday, the 25-year-old singer kept things real when a fan tweeted, "Music is your therapy and I love seeing it heal you." While many expected the "Thank U, Next" crooner to agree with her Arianator, she revealed that's not always the case.
"Making it is healing," she replied in a since-deleted tweet (which was captured by several fan accounts). "Performing it is like reliving it all over again and it is hell."
Swiftly after she commented on the post, fans rushed by her side to show an overwhelming amount of support. Many told her they "wouldn't be mad" if she ended up canceling the rest of her Sweetener tour. However, despite feeling "confused and tired," she was adamant that she "won't do that."
When a fan asked if touring was good for her health, Ari responded, "I don't think it is."
"honestly. it's been v hard. i have [so much] on my mind and it's so heavy," the "God Is a Woman" songstress shared. "but i'm trying hard." She added in another tweet, "i just feel empty and i wanna have more to say / better energy to give to u and rn i don't have anything. love u."
Kevin Mazur/Getty Images for AG
This revelation comes off the heels of Grande's ground-breaking 2019 Coachella performance (she's the youngest headliner for the festival).
More recently, the 25-year-old actress opened up about her mental health struggles. Taking to her Instagram Stories, she revealed the "terrifying" levels of PTSD she had after getting a brain scan.
"Didn't mean to startle anyone with my brain thingy," she wrote a day after sharing her brain scan picture. "It just blew me away. I found it informative and interesting and wanted to encourage ya'll to make sure you check on your brains / listen to your bodies / take care of yourselves too."
She continued, "I love science and seeing the physical reality of what's going on in there was incredible to me. I mean, I feel it all the time, but seeing it is totally different and super cool."
For Ari, when she feels ready and more "healed up," she wants to talk more openly about her PTSD. "I am constantly working on my health / learning how to process pain (aren't we all). Everyday is different but I'm doing my best."