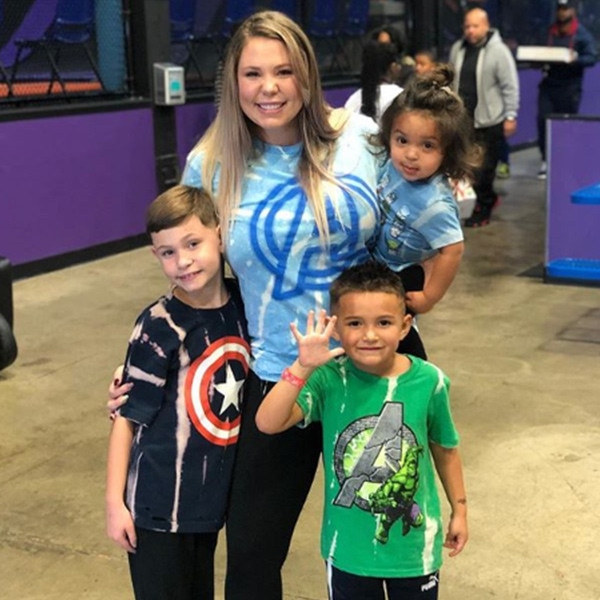 Instagram
Kailyn Lowry is getting candid about the personal struggles she faced after becoming a mom.
In the latest episode of her Coffee Convos  podcast with co-host Lindsie Chrisley, the Teen Mom 2 star looked back on the days after she welcomed her first child Isaac.
As it turns out, Kailyn experienced emotions she wasn't expecting to feel.
"I didn't feel a connection with Isaac right away. I didn't cry when he was born. I think I was just so tired and there were 13 people in the delivery room," she shared. "It was camera crews and family and friends and all the nurses. It was just so draining and I couldn't nurse the way that I wanted to. I didn't even deliver at the hospital I wanted to."
Kailyn continued, "Nobody stayed in the hospital with me, at all. From the time I gave birth until we went home."
Another complication was the fact that Isaac was "super jaundiced" and doctors would reveal his skull was going to be fused together.
"There were so many things so by the time Jo's mom picked me up from the hospital to take me home, she was like, 'Are you ready to go home?' and I was like, 'No.' Because I wouldn't have the nurses to help me," Kailyn admitted. "I was so disconnected."
Another symptom Kailyn experienced with Isaac was fatigue. It was completely different from her early months with Lincoln and Lux where she described herself as a "champ."
"I was so tired the first six to eight weeks I would sleep on the floor in Isaac's nursery," Kailyn explained. "Like I could not…I couldn't…Jo's dad had to come up and talk to me and be like, 'You need to leave this room.'"
When asked if she thinks she's experienced postpartum, Kailyn believes "to some degree."
"I mean, I got over it and I didn't need medication and I didn't see anybody," the Pothead Haircare owner shared. "I'm like, okay that was probably some degree of postpartum."
Fast-forward to today and Kailyn is grateful for her happy family that causes every day to be an adventure.
"Some days with these 3 go so smoothly I wonder how I got so lucky. Other days, I feel like I'm failing & not sure how we will make it through the day. This morning started off a little rough but by 7:30 everyone was happy & fed," she wrote on Instagram. "Hopefully this day reset & the smiles in this pic set the tone for family pictures later. My fingers are crossed everyone smiles & we get even just one pic!"
Teen Mom 2 airs Monday nights at 9 p.m. on MTV.