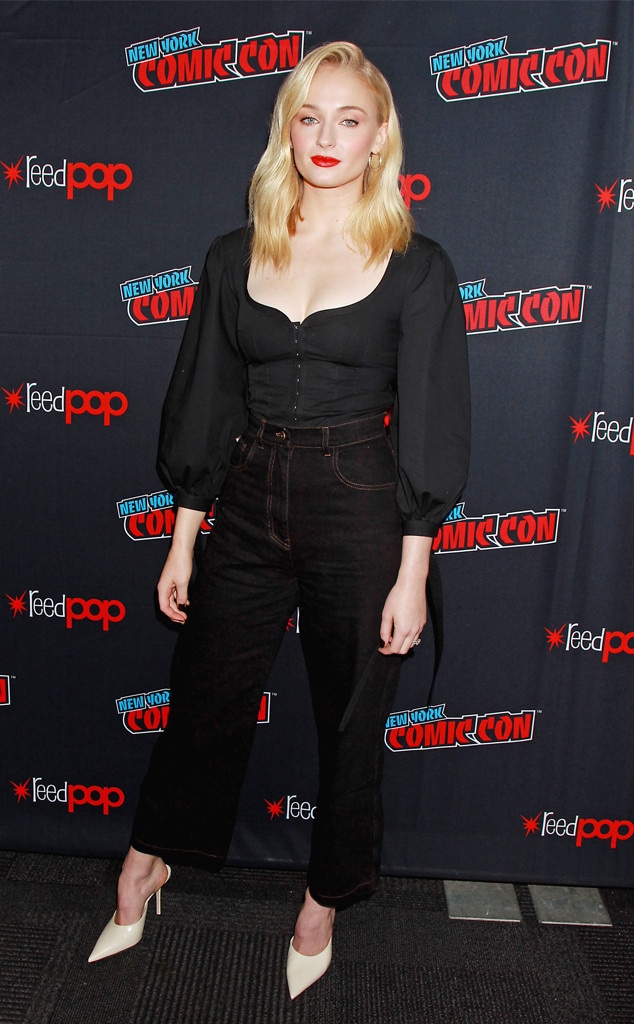 Dave Allocca/StarPix/REX/Shutterstock
Sophie Turner is opening up about the impact that fame has had on mental health.
Fans first got to know the Brit as a young Sansa Stark when Game of Thrones premiered in 2011, which shot her to fame as a young teen. However, the rise in popularity came at a price says the 23-year-old. 
In an interview with Dr. Phil on his podcast, Phil in the Blanks, the actress is revealing that negative comments about her character on social media caused a decline in her mental health. "I would just believe it. I would say, 'Yeah, I am spotty. I am fat. I am a bad actress.' I would just believe it. I would get [the costume department] to tighten my corset a lot. I just got very, very self-conscious," she explains to the host. 
Eventually, these feelings of insecurity led to symptoms of depression, like the desire to isolate one's self and a lack of motivation, which happened "all of a sudden." The sense of isolation was worsened by the fact that she chose a career over going to university like the rest of her friends and her two brothers.
She explains, "I had no motivation to do anything or go out. Even with my best friends, I wouldn't want to see them, I wouldn't want to go out and eat with them."
Sophie adds, "I just would cry and cry and cry over just getting changed and putting on clothes and be like, 'I can't do this. I can't go outside. I have nothing that I want to do.'"
These problems persist until today. "I've suffered with my depression for five or six years now. The biggest challenge for me is getting out of bed and getting out of the house. Learning to love yourself is the biggest challenge," she admits.
Watch:
Sophie Turner Gets Candid About Experimenting With Women
While her struggles with mental health have been significant since she was about 17, the star says she doesn't think she is capable of hurting herself. "It's weird. I say I wasn't very depressed when I was younger, but I used to think about suicide a lot when I was younger. I don't know why though," the Game of Thrones star explains. "Maybe it's just a weird fascination I used to have, but yeah, I used to think about it. I don't think I ever would have gone through with it. I don't know."
The actress eventually sought therapy and treatment, which helps to make her "feel much better." She shares, "I'm on medication and I love myself now, or more than I used to, I think."
Moreover, the star says she is taking a break from the acting world now that the final season of Game of Thrones is done filming. The only plans that Joe Jonas' bride-to-be has is taking this time to "focus" on what is "more important" to her: mental health.