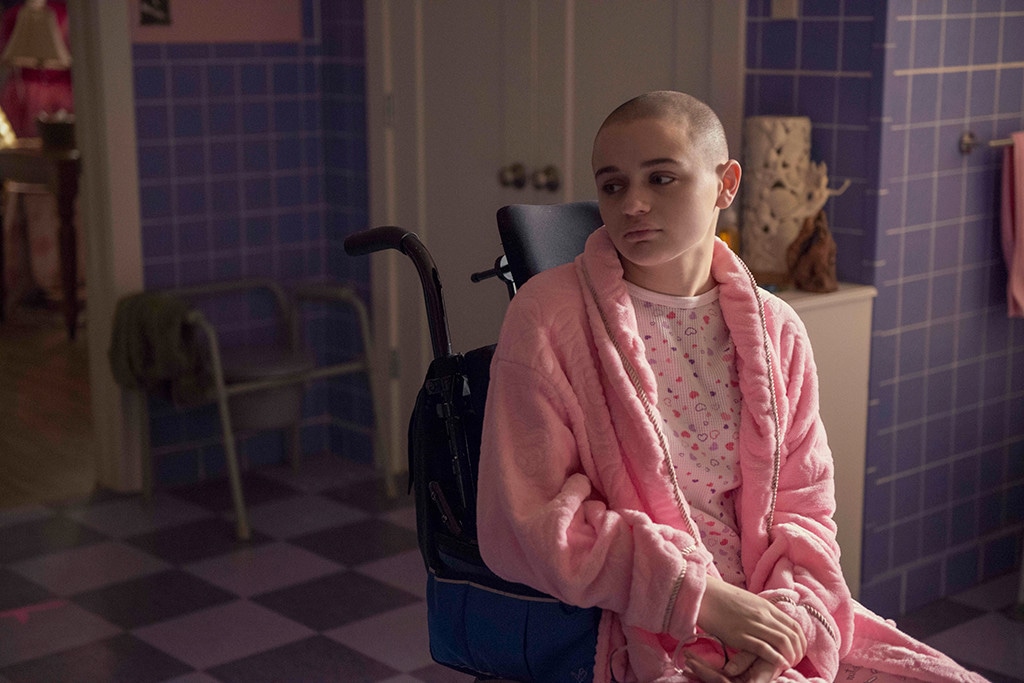 Hulu
Whether you're aware of it or not, you've probably seen a movie or TV show starring Joey King. At just 19 years old, she's amassed an impressive list of credits, from Fargo and The Flash to The Conjuring and The Kissing Booth, but it's safe to say her latest project, The Act, will make you see Joey King a little differently.
And that's just what she wanted.
"It is very different from the things I've been doing. That's why I love it so much, because I was able to showcase something that I haven't showcased before, that I can completely transform myself, that I am capable of portraying a different person. It was really exciting for me," King told E! News about playing Gypsy Rose Blanchard in The Act, a true crime series based on the startling true story about Gypsy and the murder of her mom Dee Dee Blanchard.
"This role, the way I approached her, was very much different than how I've approached any other role. I decided to strip away everything I thought I knew about acting, about anything, and just completely try and dive in and become someone else who's alive," she continued.
The Act tells the now-familiar story of Gypsy and her mother Dee Dee Blanchard (Patricia Arquette). It's well-chronicled story (see HBO's Mommy Dead and Dearest), and one that continues to make headlines. Dee Dee reportedly suffered from Munchausen syndrome by proxy and told people—including Gypsy—that her daughter suffered a number of ailments throughout her life, including leukemia and muscular dystrophy, and was confined to a wheelchair. It wasn't true.
The series, which is based on real events and also includes fictionalized elements, tells the story of Gypsy's growing independence, relationship with then-boyfriend Nick Godejohn (played by Calum Worthy) and involvement in the murder of Dee Dee.
To take on the role, King did her homework, including watching interviews with the real Gypsy and reading everything she could get her hands on. Through her research, she was able to nail Gypsy's unmistakable voice, impressing the show's producers.
"Joey came in without makeup, and with glasses on, hair pulled back with a scrunchie. We had asked auditioners not to do any kind of voice impression, because we wanted the actress to be concentrating on the substance of the scene, not to get caught up in any fakery," executive producer Michelle Dean told E! News. "Nonetheless as soon as she spoke, Joey made the character's facade seem so rich—you couldn't take your eyes off of her. Nick [Antosca, executive producer] and I knew instantly that we'd found our lead."
The relationship between Gypsy and Dee Dee in the show is complicated to say the least. King said she's not a method actress, so to get into Gypsy's headspace she just tried to imagine being in that situation with Dee Dee.
"This situation, it was so tragic and so kind of traumatizing and toxic, that when you put yourself in the mind space of being in that character's position the feelings and the emotions really just flow through you," King said.
King's understanding of Gypsy and her circumstances is what got the actor the part, according to Dean.
"From the first time we saw Joey audition, you could tell she understood the character in her bones," Dean said. "She knew how to trade between the genuinely sunny demeanor and the intelligence and hurt that lurked beneath it. And that was, I think, what we were drawn to—her adeptness at switching codes."
Gypsy is a complicated character with a tragic story of alleged abuse. Along with that baggage, Gypsy had many quirks that King worked to nail, like her voice, look (King shaved her head and wore a few different sets of teeth during production) and a specific way of carrying herself with "childlike movements," King explained. Besides the physical challenges, King said she had to come to terms with the fact she was playing something she wasn't used to—a real, live person.
"One of the bigger challenges was knowing this person is real, knowing that are alive right now and that I'm portraying someone who is still in prison as we speak. That was something that I definitely did keep in mind a lot. One thing that was important for me was, because it was so emotional and so heavy, I had to find a release. I couldn't be…so aware all the time, and stressed out all the time that I was going to mess it up or do it wrong, or that I'm playing a real person and I can't screw that up. So, me and Patricia, we just made sure that we made time to have fun, smile, and have a laugh together on the set," King said. "But a lot of the times we had to stop ourselves and be like, 'Oh my god, this really happened. This is insane.' And then it would completely darken the whole mood. Because once you think about the surroundings and what you're actually filming actually happened, it just becomes so sinister and made me so sad."
Try as she might, there were times when she brought Gypsy—and the mindset she went to in order to nail the character—home with her. But she had a way to handle that.
"Oh my gosh, I would just grab some hummus and pita and watch HGTV," she said with a laugh.
When it was time to officially say goodbye to The Act, King said she spent time alone on the dark, quiet set of the Blanchard family house.
"I just had 30 minutes where I sat, looked around, and took in all the experiences while filming in that house. It was really emotional for me, I got really sad because that set—everyone on that set became family to me," she said.
Stepping into Gypsy's shoes was a transformative experience for King, but is it an experience she's ready to replicate?
"I am so open to anything. I'm so young and I have so much life ahead of me that I think it'd be silly to say, 'Oh, I want to do this from now on.' I'm about to start filming The Kissing Booth 2, and I'm so excited for that because it's so different from what I just filmed," King said. "I just can't wait to explore where my career is going to go from here. At this moment…I would love to take on roles that require as much of me as this one did, it was such a great experience for me."
The Act premieres new episodes Wednesdays on Hulu.