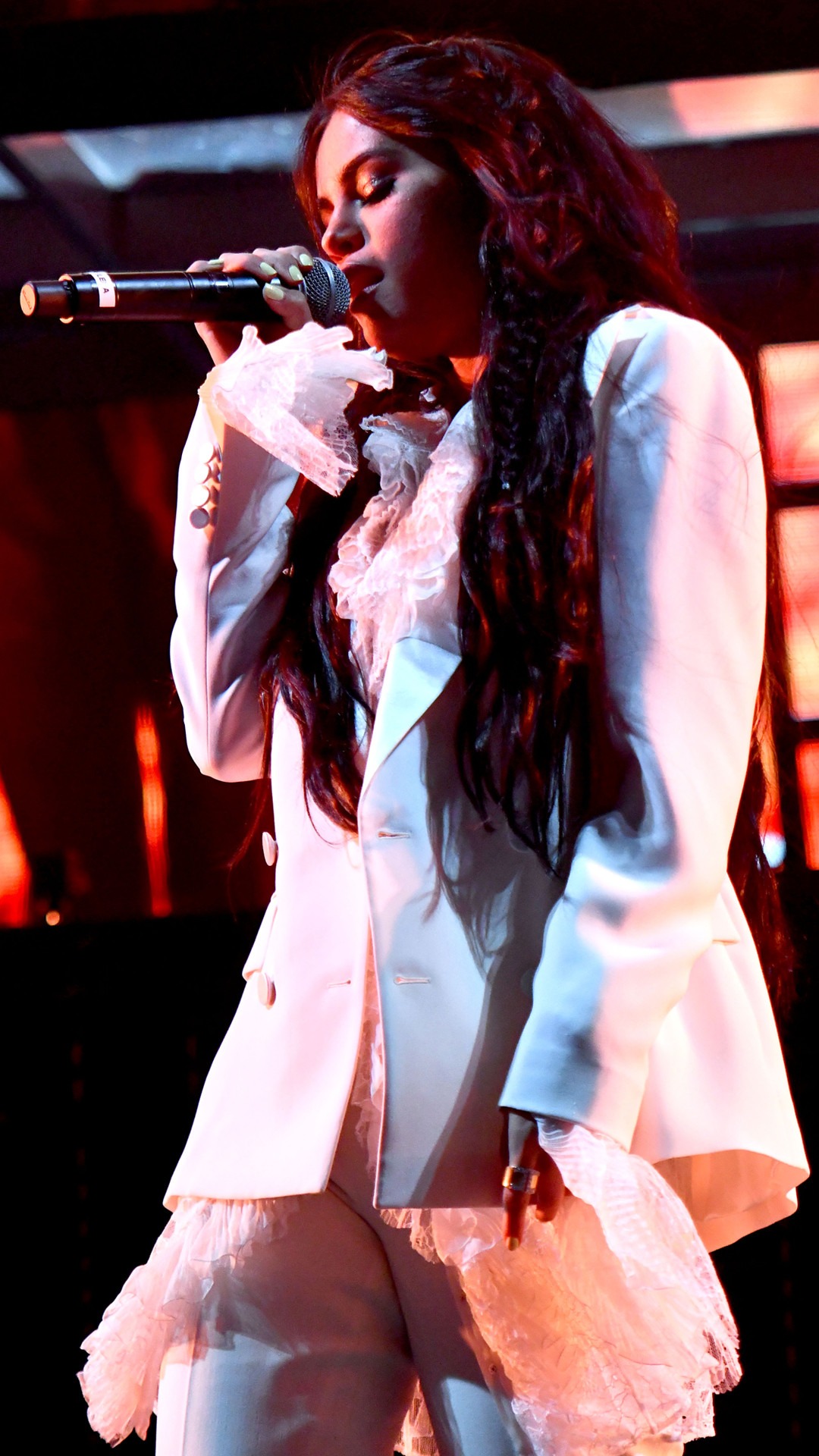 Scott Dudelson/Getty Images for Coachella
It's time to put those winter sweaters into hibernation and celebrate the return of spring. Let's start with our nails because nail art is having a serious moment in 2019 and we need to know more!
We enlisted celebrity manicurist, Tom Bachik, to help us break down the top nail trends for this season. Bachik works with Jennifer Lopez, Selena Gomez, Victoria Beckham and tons more celebrities whose nails always look fresh and chic.
"With my clients, and especially when we're creating nail designs or any type of art, I want it to feel like their personality. Their fashion preference shows off who they are, because that's what nail art is, it's a way to show off who you are. It's your personality and your style," Bachik shared with E! News. 
Let's start our spring style off on the right hand, err, foot with these top nail trends. 
A Little Bit of Length 
Typically, the spring is a popular time for a shorter nail but not this year. 
"A lot of my clients, even though it's spring, they're wanting longer nails," Bachik explained. "Everyone's wanting a little bit of length to their nail and not major, they're not looking for stiletto's or anything. I do a service which is a full coverage tip that can be put on or taken off." 
The full coverage tip is great for scaling back your length after a big event, which Bachik and JLo took full advantage of when filming her "Medicine" music video according to Bachik, "Jennifer always loves a little bit of length and we'll even exaggerate that for music videos. We did six different looks for Medicine. That was a lot of fun over two days!" 
Tailored Square Shape 
It's time to refine your square shaped nail and tailor it to this spring trend, "We're going to see more length, surprisingly, but we're also going to see more square shapes," says Bachik. 
The celebrity manicurist explains that his clients are asking for more square shapes but "still want an elegance to them. So even though they're square, we still do them tapered. Not like a coffin but still with a taper to them so it elongates that finger versus a big, 1980's mall nail." 
Neon Pastel
While a "neon pastel" trend may seem entirely contradictory, and slightly confusing, Bachik says it's real hot for spring. 
More traditional neon colors are definitely having a moment in fashion right now thanks to the Kardashian's and Jenner's and we're not mad at it. "For spring and summer, neon is emerging and I think the Kardashian's have a lot to do with that. Kim running around in a yellow Lamborghini in a yellow dress with yellow hair...people are like, I want neon!" 
The spring neon isn't quite neon though, the trend is more of a pastel or a "white-washed" neon, according to Bachik. It's a neon mixed with "pastels but not Easter pastels, they're bright undertone pastels."  
If you're not feeling an entirely neon nail, you have options! If you're into a little subtle bling, neon gem stones are emerging as a trend too. "Even Swarovski just came out with a neon gemstone, yellow, blue, green—they're really cool! I'll be using those in the near future," Bachik revealed. 
Classic Black and White 
Spring is going back to black and white. Bachik says it'll be a combination of your classic black or white to a black and white printed design. "Black and white nail art, like we're already seeing the cow print on Ariana Grande and Kendall Jenner, you'll probably see different animal prints done with black and white." 
Lopez was right on the mark with the white nail trend just in time for her surprise engagement to former New York Yankee third baseman Alex Rodriguez, and her fresh white polish was no coincidence! 
Bachik reveals, "I don't think [JLo] knew! There was no talk mentioned, nothing was brought up. She wanted her nails beautiful because they were taking off for the weekend but that's normal, we always want to make sure her nails are perfect. So all of a sudden I'm sitting there and I see a notification of the ring. I'm texting her like, 'Jen, congratulations!' Oh my god, amazing!' She's like, 'yeah, we're so happy.' And then she goes, 'oh and by the way, the nails look good too.'"
While trends are great to keep up with, Bachik wants you to just stay true to yourself. Your mood can often dictate which direction you want to go in with nail colors and nail art. The same goes for his clients, "a lot of it is just mood and how [clients] are feeling." So listen to your mood, paint it on your nails and have a fabulous spring full of gorgeous manicures!