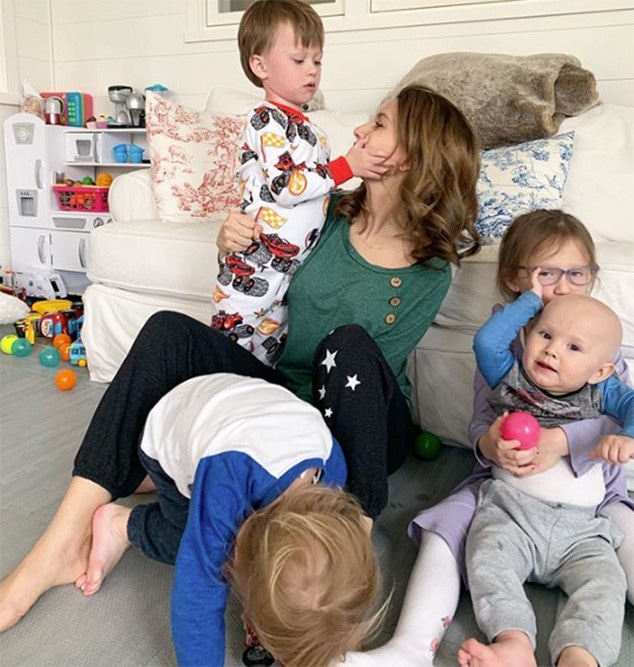 Instagram
In the aftermath of her miscarriage, Hilaria Baldwin is being gentle with herself. 
The yogi and Alec Baldwin's famous wife confirmed last week that she had suffered a miscarriage. "There was no heartbeat today at my scan...so it's over...but I have some pretty strong and amazing heartbeats right here," she captioned a photo of her with her husband and kids on Instagram. "I am surrounded by such love and I feel so fortunate. Thank you all for listening, for your support, and for sharing your own personal stories."
Now, as she moves forward with her life after their loss, Baldwin shared how she's currently adapting physically. 
"I'm being super gentle with my body right now, considering what it has just been through...but I start getting stiff and uncomfortable due to lack of my typical movement," she told followers while sharing a video of herself stretching. "Here are some light stretches I turned to today that have helped me, while sticking with my recovery. They feel good and I think you may like them too #letsmove2019 ...and yes: Carmen likes to peek."
In the midst of grief, the star previously explained how she's been coping during this hard time. "When I get sad, I like to remind myself that sadness passes like a season. I like to look at my blessings, my happiness, and always remembering that I have so many more good times to look forward to," the mom of four said on Instagram.
"It is a balance of sitting with grief, as we don't want to shove it away and not address it...but also not let it cloud how wonderful life is."