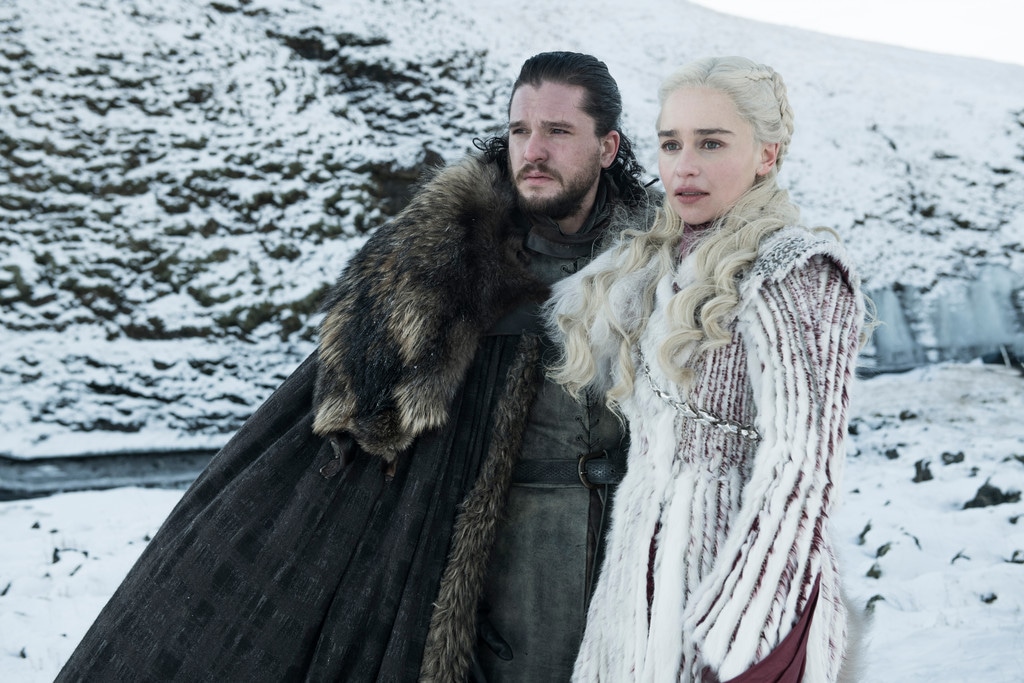 Helen Sloan/HBO
Well, Jon Snow now knows something. Don't tell Kit Harington we made that joke. Warning, spoilers for the Game of Thrones season eight premiere follow.
The eighth and final season of Game of Thrones is  here, and with it came the reveal we've been waiting for, Jon Snow learned the truth: his real parents are Lyanna Stark and Rhaegar Targaryen. He's not only the true heir to the Iron Throne, but he's also been hooking up with his own aunt.
Jon didn't believe it at first, since that means the honorable Ned Stark lied to him for his whole life (and a whole bunch of other significant things) but Sam (John Bradley) promised him it was true. 
Sam also did some learning, like the fact that Daenerys Targaryen (Emilia Clarke) killed his family. He wasn't too thrilled with that. This all happened at Winterfell, but it wasn't the only significant happening. After all, Game of Thrones has just six episodes to wrap up everything. Other major happenings in the first of six episodes:
Sansa (Sophie Turner) finally met Daenerys and things are...frosty. That's not a winter pun, they're clearly rubbing each other the wrong way. Who is the true woman with the power in Winterfell?
Daenerys and Jon rode dragons together. It was cute! Then Jon and Daenerys had, um, relations together while the dragons watched. Speaking of the dragons, they're not doing well in the North.
Arya (Maisie Williams) finally reunited with Jon, and they discussed the frostiness between Sansa and Jon's aunt/lover. Arya proclaimed Sansa the smartest person she knows. Will Jon listen? Meanwhile, Arya crossed paths with the Hound (Rory McCann) while going to meet Gendry (Joe Dempsie). Gendry and Arya kind of flirted, then she asked him to make her a weapon out of dragon glass. You know that's going to be badass.
Meanwhile, there was a lot of unrest at Winterfell. There's a whole army there now, how do they feed them (and dragons)? Plus, the noble lords and ladies put their trust in Jon Snow, not Daenerys. Tyrion Lannister (Peter Dinklage) crossed paths with Sansa and Bran (Isaac Hempstead Wright). Bran...well, he kept popping up, making people uncomfortable. The episode ended with Jaime Lannister (Nikolaj Coster-Waldau) arriving at Winterfell and seeing him alive and well.
Speaking of the Lannisters, Cersei (Lena Headey) was up to her normal nefarious ways. When she wasn't sleeping with Euron Greyjoy (Pilou Asbæk) and being all mysterious about whether or not shes actually pregnant (or if Euron got her pregnant, thus messing with the prophecy?), she was sending Bronn (Jerome Flynn) to kill her brothers with the same crossbow Tyrion killed her father. Obviously she's not sending her army to deal with the White Walkers.
On the topic of the Greyjoys, Theon (Alfie Allen) saved his sister (Gemma Whelan) from Euron and while she headed for the Iron Islands, he started on his way back to Winterfell.
The only major death of the episode was little Ned Umber. He left Winterfell to gather supplies and troops for Jon, but never made his way back. Nope, the Night King and his troops got him, turned him into a zombie as a message. They're almost at Winterfell and mean business. Business meaning death.
Game of Thrones airs Sundays at 9 p.m. on HBO.