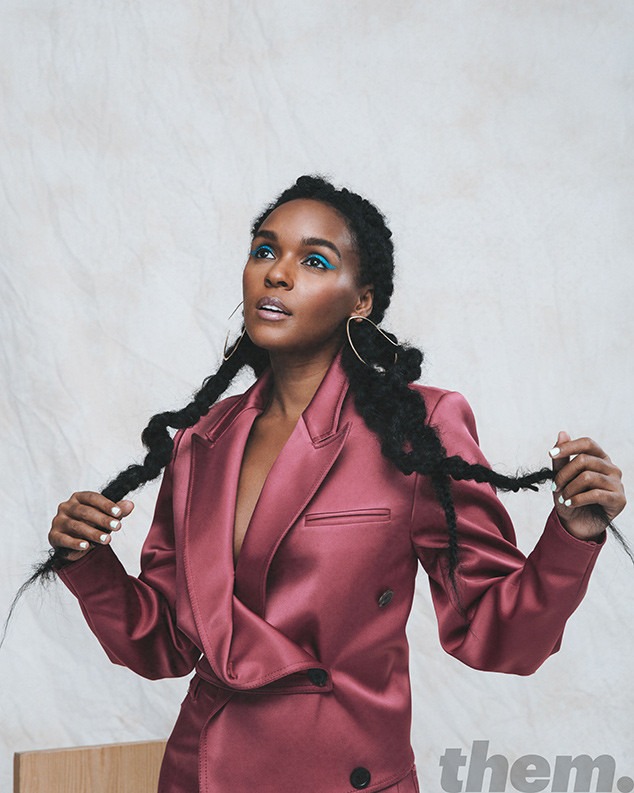 Justin French
For Janelle Monáe, coming out was far from easy. In her words to Lizzo, "I was terrified."
Last year, the 8-time Grammy nominee publicly addressed her sexual orientation for the first time, identifying as "a queer black woman in America" in an interview with Rolling Stone. Now, in a published chat with the fellow performer, the triple threat opened up about discovering her sexuality and discussing it with the world. 
"It's been a journey. For me, sexuality and sexual identity and fluidity is a journey. It's not a destination," she told Lizzo in an interview for them, Condé Nast's LGBTQ+ brand. "I've discovered so much about myself over the years as I've evolved and grown and spent time with myself and loved ones. That's the exciting thing—always finding out new things about who you are. And that's what I love about life. It takes us on journeys that not even we ourselves sometimes are prepared for. You just adapt to where you are and how you've evolved as a free thinking person."
However, Monáe did not anticipate a very positive response to her revelation. "I thought people were gonna say, 'Oh, she's doing this as a publicity stunt.' I thought I wasn't gonna be able to go back home and be at all the barbecues," she said. "I had anxiety. And a lot of it was just untrue. It was my fear of what people were gonna say. And I'm thankful that I didn't allow that fear to get in the way of my freedom."
Making her acclaimed third studio album, Dirty Computer, also pushed her to talk. 
"I knew the title of this album since before The ArchAndroid, so I've been sitting with it for some time. There were just conversations that I had to have with myself and my family about my sexuality and the impact that speaking honestly and truthfully about it through my art would have. I grew up in the Midwest...I spent time in Kansas. I grew up there, in a very small town, and I went to a Baptist church; to be anything other than heterosexual is a sin in that community, and growing up, I was always told I'd go to hell if I was. There was a part of me that had to deal with what that meant," the songstress explained. 
"After I had those conversations with myself and I saw a therapist, I had to be able to talk about what it meant to identify as bisexual. What does that mean? How would discovering that impact the relationship I was in at the time? How do I talk about it with my family? How do I go back to my church?" she continued.
"The bottom line is I had to have conversations with myself and the folks that love and care about me, and realize they may not understand what it means for me to be a person who identifies as queer in this world. I'll also add that it wasn't like I wanted to even make it a declaration. I knew that by being truthful through my art, people were gonna have questions, and I had to figure out a way to talk about it."
The star continued, "In having those talks with myself, I realized it was bigger than just me. There are millions of other folks who are looking for a community. And I just learned into that. I leaned into the idea that if my own church won't accept me, I'm gonna create my own church."
The star has since seen the influence her story has had on other women. 
"One thing I've realized even more was that when you walk in your truth, you can inspire and encourage people to walk in theirs,'" she told Lizzo. "I watched this episode of Queer Eye the other day, and there was this woman, Jess. A young girl from Kansas who really touched me. And I think she touched a lot of people," the artist recalled.
"It was a special episode because I could relate to her—I knew what it meant to be that young and living in the Bible Belt. And she wanted so badly to be this strong, black, queer woman, and she said that I had influenced everything from the way she was dressed to the way she was seen," she continued in the interview for them. "I just said to myself, 'Man, the fact that my album has reached another young black woman like her, and it's helped her in her life, it makes me feel like I'm walking in my purpose and it's really what I'm supposed to be doing.' And I can't give up."